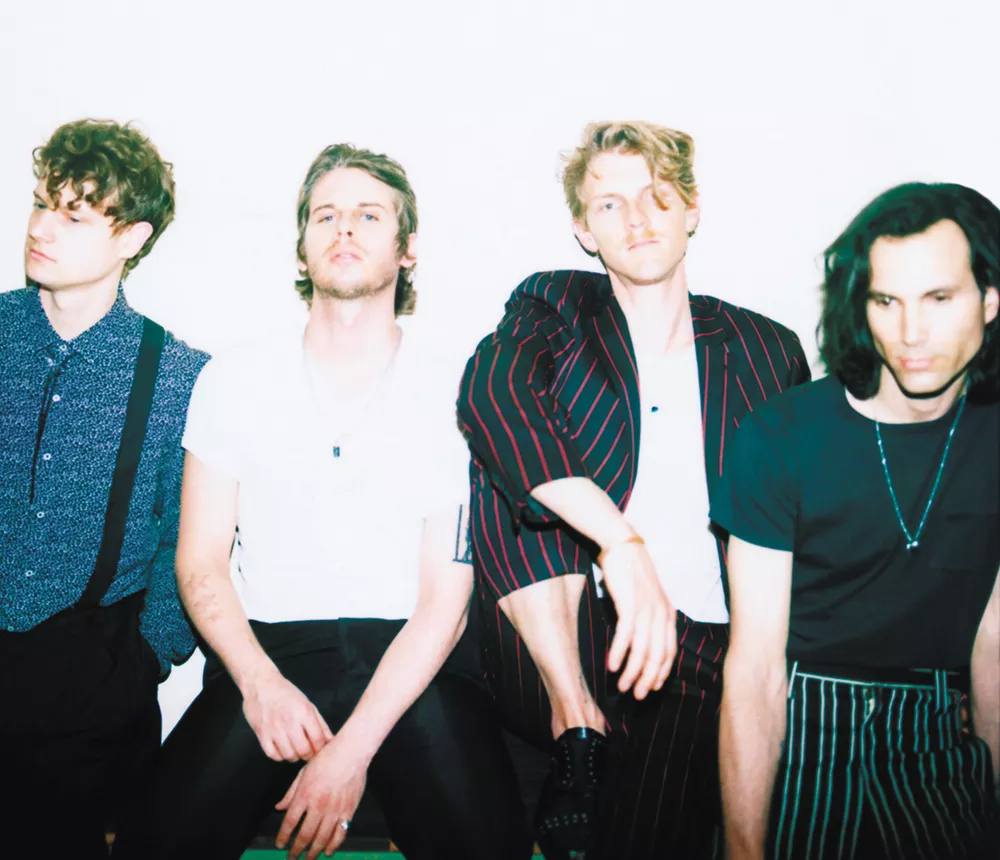 Back in the summer of 2011, it seemed like "Pumped Up Kicks" was always playing somewhere. The song, recorded by the Los Angeles band Foster the People, appeared to come out of nowhere, and it was both maddeningly catchy and seemingly inescapable.
But "Pumped Up Kicks" actually had a relatively slow ascendance to mainstream saturation: Frontman Mark Foster first released it as a free online download in early 2010, and it would take more than a year for the single, with a bouncy pop melody set idiosyncratically to lyrics about the violent thoughts of a troubled youth, to crack the Billboard charts.
Looking back on it now, Foster the People keyboardist Isom Innis says the band's rise to popularity really did seem like an overnight development.
"I feel like you don't really have perspective on how big a song is, because you're just busy all the time, every day," Innis tells the Inlander. "One day we're playing 100-cap rooms and only 50 people are standing in there. And then all of a sudden, you're traveling the world to almost every continent, and you're playing every night to sold-out rooms.
"It's weird — when you're in that moment, you're almost the last person to know how big it is."
Innis originally joined the band as a hired gun, going out on tour with Foster and company right as "Pumped Up Kicks" was starting to gain traction and their debut album Torches was released.
"My first rehearsal, it was in this industrial rehearsal space in downtown L.A.," Innis says. "It was before any music had come out. Mark had sent me a couple demos — he was working on 'Helena Beat' and 'Houdini' at the time. It was really exciting, but it was really crazy. ... The music came out and we went on the road for three years, without stopping. Over time, we've become like a family."
On the band's subsequent two LPs, the slinky pop of Torches developed in a more muscular and experimental direction. Foster the People's third album, the recently released Sacred Hearts Club, is pulling from all kinds of disparate influences — the free-association rock and funk of Talking Heads' Remain in Light, the hip-hop samples of late producer J Dilla, the twisty krautrock of Can — and it's far more in tune with contemporary, radio-friendly electronica.
Innis says the record started gestation about three years ago when he and Foster began jamming and improvising in actor Danny Masterson's Bronson Island recording studio, which was previously owned by Chuck Berry.
"When we went to write this record, we didn't put limitations on what we were doing," Innis says. "We weren't trying to characterize what we wanted the songs to sound like. We started making beats, we started jamming. We'd follow an idea wherever it went. After a year and a half, we had a huge chunk of material we then got to start refining and connecting dots, seeing where we could piece certain sounds together."
Although the band's sound has stretched and grown since the days when "Pumped Up Kicks" first became a summertime earworm, Sacred Hearts Club proves that Foster can still produce songs whose poppy melodies only occasionally betray the darkness of the lyrics. It's a drunk, disoriented album, bubbling over with themes of hedonism and images of late-night bacchanalia. The slyly titled "Doing It for the Money" ("Close your eyes / We're gonna run this light") and "I Love My Friends" ("They got no money / Because they're dumb and reckless") are the kind of nightclub-ready bangers that practically give you the side-eye as you dance along to them.
The band is about to take these songs on the road, having recently finished up a three-week European tour and playing a handful of festivals. Innis says the crowd reaction to the newest tunes has been strong, likely because these songs, more than anything they've ever written, were put together specifically with the live shows on the brain.
"When we wrote the record, we were writing the songs with playing live [in mind]," Innis says. "Having that experience of touring the world to draw on, it's something we keep in mind when we're writing music. ... We're trying to come up with parts that you're gonna wanna stand by for the rest of your life, or for as long as people want to come to your shows." ♦
Foster the People with Palm Springsteen • Sun, Sept. 3 at 8 pm • $35 • All-ages • Knitting Factory • 919 W. Sprague • sp.knittingfactory.com • 244-3279