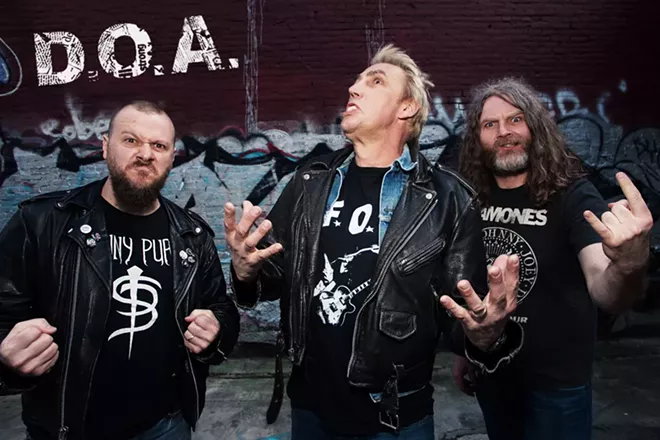 Y
ou might recall last summer
when a visiting punk band, D.O.A., had their backdrop stolen when their van was broken into after stopping in Spokane.
We're happy to report that, eight months later, the backdrop has been returned.
Details about how the backdrop was returned to the Canadian punk band are sparse, but frontman Joe Keithley posted a photo of himself on Instagram happily reunited with the big black banner on Monday. He wrote:
"The legendary backdrop that was sewn together by friends in 1985 was stolen from our van after a show in Spokane June 16, 2018. We are very grateful to Dusty [O'Brien] from Wasted Breath, who followed the 'Musicians Code' of always helping sisters and brothers of our musical fraternity getting their ripped off gear returned. Many many thanks."
An intense and grueling Instagram investigation revealed that, yesterday, Dusty O'Brien also shared a photo of the backdrop with the caption "MISSION ACCOMPLISHED! WE GOT THE BANNER BACK!"
The banner was stolen from D.O.A.'s van after a show at the Pin on June 16, along with some band merchandise and "Paddy Duddy's legendary snare." O'Brien responded to the band's original Facebook post about the stolen items, calling upon the local music scene to help return the backdrop and missing items.