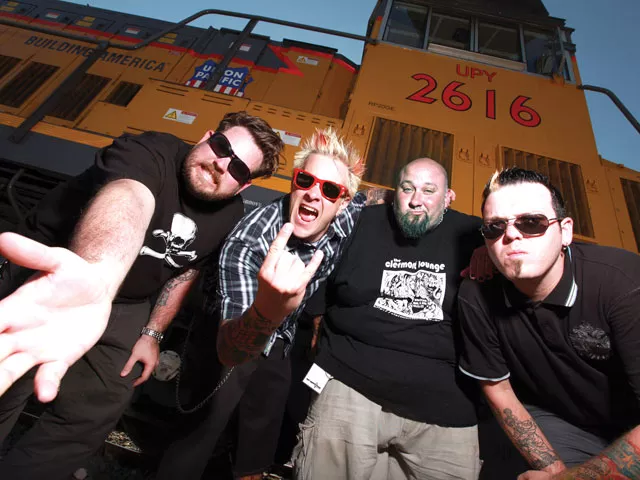 Miley Cyrus. Jonas Brothers. Zac Efron. Four thirty-something guys from Texas with beer guts. One of these clearly stands out.
But surprisingly, they all share the same audience. A funny thing has happened to the pop punkers in Bowling for Soup as they have made their musical journey over the last 15 years. The more they age, the younger their fans get. And we're not talking a little younger here. Bowling for Soup's core audience has transformed from liquored-up, barhopping Texas dudes to pre-tween, Disney Channel-loving kiddie boppers.
Best known for the singles "1985" and the Grammy-nominated "Girl All the Bad Guys Want," Bowling for Soup's sound was seasoned over years of touring and stints on the Warped Tour. The group's tunes have always had a snotty punk attitude mixed with a few dirty jokes, not exactly what anyone would expect to crossover to the Mickey Mouse crowd. Even frontman Jaret Reddick has found his audience's demographic shift a little weird.
"We started out as a bar band 15 years ago, so we've always sort of had that crowd," he says. "As we started to get on college radio, college kids started to come. And then '1985' and 'Punk 101' were both huge hits on Radio Disney, and our crowd got really, really young."
Scanning the crowd at one of Bowling for Soup's shows makes this point readily evident. Hovering around the front of the stage are hoards of middle school-aged kids decked out in Hot Topic apparel and ready to see a rock show. It could very well be the first concert these young'uns have attended, and they beam youthful exuberance (even if it is sometimes misplaced). At a BFS show in Spokane a few years ago, Mêlée (the piano pop opening act) actually scolded the kids for moshing during most of their set, making a wisecrack about how it was not, in fact, a Dead Kennedys show.
Reddick says this influx of new fans has forced the band to tone down their wild antics a bit.
"We try to keep it pretty PG-13, just understanding … there are going to be some young kids there," he says. "But we still have to do our show."
In order to reach the target demo, the band recently wrote the Emmy-nominated theme song for the Disney Channel's Phineas and Ferb. While some groups might be a bit miffed by the loss of "respect" that having a predominantly young audience carries, Bowling for Soup is just happy people still care.
"Rule No. 1 from when we very first started is when it's not fun anymore, we're gonna quit doing it," says Reddick. "If you were asking me what my job description is, I would say, 'to make people smile.' At the end of the day it's not to write a funny song or a witty song, it's just about trying to make people happy."
Bowling for Soup plays with Just Surrender, Small Town Nation and Rain on My Parade at the Blvd on Monday, Feb. 8, at 6 pm. Tickets: $15; $18, door. Visit www.brownpapertickets.com or call 455-7826.