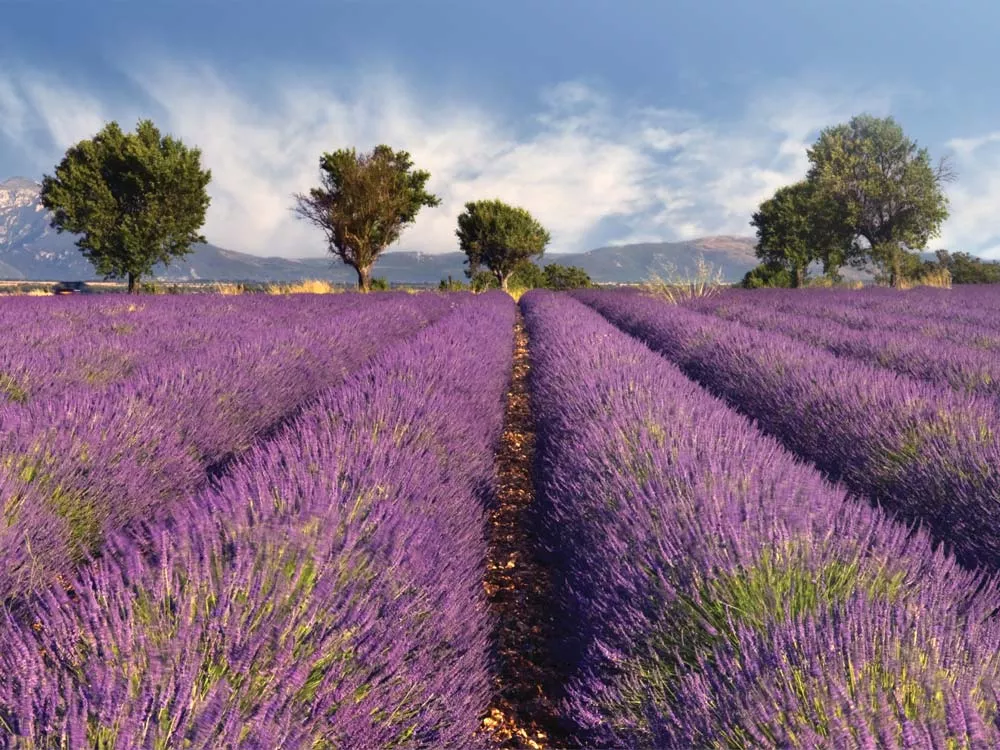 Fragrant lavender bushes spill down the hillside, their flowering tips protruding like purple paintbrushes. Maggie Smith of Fleur de Provence Lavender Farm steps gingerly between the rows of Royal Velvet, Purple Elegance and Princess Blue as honeybees buzz around her ankles.
"Winter was really hard on the girls," she says of her plants.
Like everything else at Green Bluff this year, the lavender is a little bit late, but the season is coming on strong.
Usually associated with scented soaps, lotions and sachets, lavender isn't the first herb that comes to mind when you're thinking about getting dinner on the table, but Smith has several rows devoted to culinary lavender.
"The difference between culinary and regular lavender is the oil content. There's usually less of it [in culinary lavender] and it's sweeter," she explains, plucking a stem of peppery, mild White Melissa. Smith likes to bake scones, cookies and berry crisp with lavender-infused sugar. The lavender gives it a little bit of special flavor, says Smith, who likes the fact that she's using a fresh, natural ingredient. "It's healthy for you," she says.
The oil is stored in the buds, which can be used fresh or dried. Dried buds can be ground with a coffee grinder or rolling pin and stored in an airtight jar or frozen for later use.
Lavender is a member of the mint family, and its citrusy, floral flavor pairs well with thyme, sage, rosemary, fennel and oregano. Sprinkle it onto salads, bake it into breads, or steep it into lemonade. (If you don't want your culinary creation to taste like a bar of lavender-scented soap, says Smith, use it sparingly.)
"I love it in savory dishes," says Garden Gate Lavender's Vivian Nielsen, who adds lavender to roasted potatoes and grilled steak. Impress your guests at your next backyard barbecue by throwing a few lavender twigs on the fire to add an unusual, smoky flavor to your grilled chicken or ribs. Ground lavender can also be used directly on meat or fish as a rub before grilling — the lavender stems themselves can be used as skewers for kebabs. Look for Garden Gate's lavender spice blend at the Main Market or visit them at the Spokane Farmer's Market.
"Lavender's one of those fun things to experiment with when it's in season," says Derrick Hansen, who developed a line of jams with lavender for his family's Green Bluff orchard. Hansen puts the dried lavender buds in disposable tea bags and cooks it along with the jam to impart flavor and a subtle lavender color. Ellie Grubich, owner of Ellie's Edibles in Green Bluff, makes lavender-infused caramels. "Lemon and lavender are just exquisite together," she says of one of the popular caramel flavors. She also makes a lavender caramel sauce, perfect for topping ice cream or lemon cheesecake.
If you're not up for cooking, try lavender in your favorite beverage. Steep it in tea or add a few dried buds to coffee grounds before brewing. Toast the arrival of summer with a glass of bubbly poured over fresh lavender flowers. For a refreshing adult beverage, pick up a bottle of Spokane's Dry Fly gin for your favorite martini. "We use local lavender in every batch of gin we make," says distiller Patrick Donovan. "The lavender flavor really shines through at room temperature."
The season won't last much longer, so pick up some local lavender and get creative. If you're tempted to nip some buds from a roadside bush, hold off. Buy from a reputable source to insure the lavender you are ingesting has not been sprayed with chemicals.
Fleur de Provence, Green Bluff: www.lavenderongreenbluff.com 466-4236
Fat Cat Lavender, Green Bluff: www.fatcatlavender.com 991-0643
Garden Gate Lavender Farms, Medical Lake: www.gardengatelavender.com 244-0767
Leisure Lavender sells lavender at the Liberty Lake Farmer's Market, Saturdays 9am-1pm.


---
LAVENDER MARGARITAS
Courtesy of Fleur de Provence Lavender Farm
1 cup tequila

1/3 cup triple sec

1/4 cup limeade concentrate

1 cup coconut milk

2 cups frozen unsweetened raspberries

2 cups frozen unsweetened blueberries

4 ice cubes

1 teaspoon dried lavender buds
In a blender, combine the tequila, triple sec, limeade, lavender buds and coconut milk. Blend until mixed and then gradually add the frozen berries and ice. Blend until smooth. Serve in salt-rimmed glasses and garnish with a sprig of lavender.
Serves 8-10

---
SALMON WITH LAVENDER AND BASIL
4 salmon steaks

1 teaspoon dried lavender

5 large basil leaves, chopped

2 tablespoons tamari

2 tablespoons fresh lemon juice
1/3 cup olive oil
Combine all ingredients except salmon and whisk together to form a marinade. Place salmon on hot grill, skin side down. Baste with marinade frequently, cooking until salmon is flaky. Apply remaining marinade and serve.
Serves 4