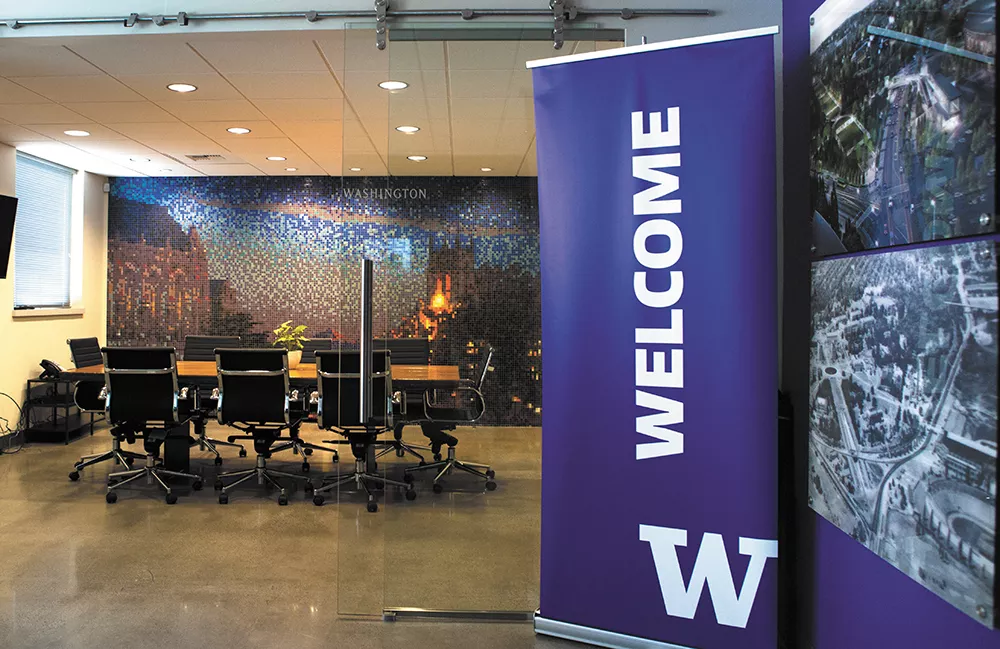 When the Washington state legislature looked at two diverging proposals this spring for medical education in Spokane — one from Washington State University and one from the University of Washington — it said, with the commanding voice of both houses and both parties, "Why not both?"
It was the exact outcome that civic boosters had been rooting for. A win-win for the universities, but especially a win for Spokane.
Many of the local backers of WSU's proposal for its own fully accredited medical school had pointed to what they saw as the University of Washington's comparative lack of investment in Spokane. Most of the research dollars, ink and headlines went to Seattle. Some students sent to the UW medical school in Spokane even initially saw it as a kind of misfortune. Colloquially, it was nicknamed "getting WWAMIed," after the med school's WWAMI program. (WWAMI is an acronym standing for the program's five-state partnership: Washington, Wyoming, Alaska, Montana and Idaho.)
But no one can accuse the University of Washington of ignoring Spokane now. Most dramatically, the UW moved into the old Visit Spokane building. Its mark — a bold white "W" — now hangs on brick building in the middle of Main Avenue. And at night? It glows purple.
"They were seeing they needed to increase their presence," says Catherine Brazil, a third-generation Husky who is the UW's new director for Spokane and Eastern Washington. The creation of her position is yet another recent UW investment in the area.
"We are a centerpiece for folks in the alumni association to have events to bring people together," says Brazil about the UW Spokane Center. Local students can visit the center and learn about the university, or at times meet with admissions officers. Brazil hopes that community groups, like the board of Greater Spokane Inc., will hold meetings at the Center.
"I'm hoping we get more students from Spokane and this region going to the University of Washington," Brazil says. "I hope you'll see more of the 'purple presence' in all facets."
That presence includes research and innovation. Brazil says that Vikram Jandhyala, director of UW's CoMotion hub, has been chatting with Tom Simpson, one of Spokane's most visible startup gurus. CoMotion focuses on connecting researchers with businesses to spark startup companies.
"Vikram is already thinking of Spokane and what he wants to do in bringing innovation" to the city, Brazil says.
Still, the UW School of Medicine, mostly through the WWAMI program, remains the central way that the University of Washington impacts Spokane.
"I think it's great that we increased funding for UW medical education in Spokane," says state Rep. Marcus Riccelli. "We're moving forward to really make Spokane a hub for medical education."
The UW is still working out the details of separating the WWAMI program from Washington State University, and still talking with Gonzaga University about slipping into WSU's former role as WWAMI partner.
For now, a new crop of 40 UW medical school students has arrived on the campus. For the first time, all of them will stay in Spokane all four years — no transferring back to Seattle or leaving the area until they're done. Thanks, in part, to a massive curriculum overhaul.
"The new curriculum vastly improves the classroom experience, gets students into the clinical setting more quickly and allows us to offer all four years of medical school in Spokane," interim UW president Ana Mari Cauce said in a statement in May.
It's the natural evolution of what's called the "flipped classroom" model, where textbook learning, lectures and basic instruction often happens at home. Classroom time is spent on discussions, or — this is key — in medical clinics, from the very start.
"Instead of being in a lecture six to eight hours a day, students will be in class no more than four hours a day," says Suzanne Allen, the UW School of Medicine's vice dean for academic, rural and regional affairs. "We're starting the new curriculum with two weeks of clinical immersion."
The organization of the curriculum has been streamlined as well, Allen says, focusing on a comprehensive understanding of treating specific parts of the body.
Instead of learning about the kidney's biology in one unit, pathology in another, and potential pharmaceutical treatments in another, she says, "now you'll learn the anatomy and the physiology and the pathophysiology, the medication and physical exam" in one unit.
The university has hired eight new faculty members from the local area to make it possible.
"The exciting part of medical school is when you feel like you're practicing medicine, when you're in the clinics learning hands-on," says Kim Blakeley, a UW Medicine spokeswoman. "They're extremely excited about that."
And by keeping students in Spokane all four years, Allen says, the likelihood that they'll remain in the region to practice medicine becomes that much higher. That, ultimately, is the UW investment that will pay off in the long run. ♦