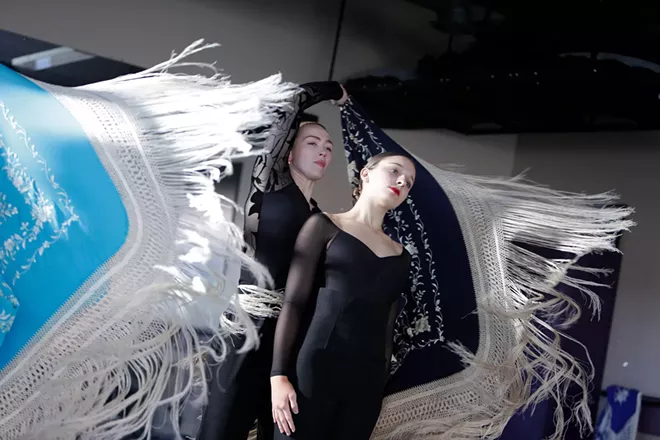 There's something intangible about flamenco, says Monica Mota.
"It lights everything on fire, and you can't understand why," says Mota, who founded the Spokane-based group Quiero Flamenco. "You're crying, but you're not sad."
Mota was already a professional ballet and modern dancer when, at age 19, she fell in love with flamenco, a genre she describes in part as "the opposite of ballet." While ballet emphasizes form and containment — thus requiring its dancers to make a very difficult thing look easy — flamenco emphasizes feeling.
"It's like letting everyone know how hard it is," she says, laughing. "Something happens and you react, there's no hiding any of that. Our goal isn't to look a certain way; our goal is to convey an emotion."
Flamenco, in short, is all about having something to say and saying it.
For the past year, Mota, along with her highly credentialed volunteer team of dancers and musicians, has been working on Quiero Flamenco's next show, "Poeta." It's inspired by and shares a name with a 1997 Vicente Amigo album, with much of the show's music written by local guitarist and composer Mellad Abeid.
"Poeta" is the seventh flamenco show Mota has produced since relocating to Spokane and starting Quiero Flamenco in 2017. It's the most ambitious show the dance group has attempted.
"It's a contemporary show," she explains. "Typically, in flamenco, you have a singer, guitarist and dancer, and those three elements improvise."
But in "Poeta," there's also choreographed dancing, not to mention far more local dancers and musicians than productions in years past. The performance also innovates by incorporating elements of contemporary and modern dance.
"When you do something like what I do, you are pressed to stay traditional because [flamenco] is a cultural thing," Mota says.
The dancer believes Quiero Flamenco's more traditional past shows were a success, which is also why she's so motivated to try something new.
"I've always wanted to move more in [this] vein. I really want to do this," she says.
Notably joining the cast for "Poeta" is the award-winning, San Francisco-based flamenco dancer and choreographer Fanny Ara. A company member of Caminos Flamencos and a principal dancer for the New York-based Flamenco Vivo Carlota Santana, Ara has performed flamenco across the U.S. and abroad for roughly two decades.
"I'm a big fan of Fanny Ara," Mota says. "I think she's one of the best female dancers in the country. I lucked into getting her to come!"
Not only will Ara take the stage, but she, too, choreographed some of the show's transitions. Accompanying Ara is the accomplished composer and multi-instrumentalist Gonzalo Grau, who, among his many credits, has been nominated for a Grammy for Best Tropical Latin Album.
Mota says that, above all, Quiero Flamenco's audience should expect "energy."
"All of your nerve endings are on fire," she says. "It's pure energy, it's all emotion." ♦
Quiero Flamenco Presents: Poeta an Evening of Contemporary Flamenco • Fri, Feb. 10 at 7 pm • $32 • All ages • Bing Crosby Theater • 901 W. Sprague Ave. • quieroflamenco.com