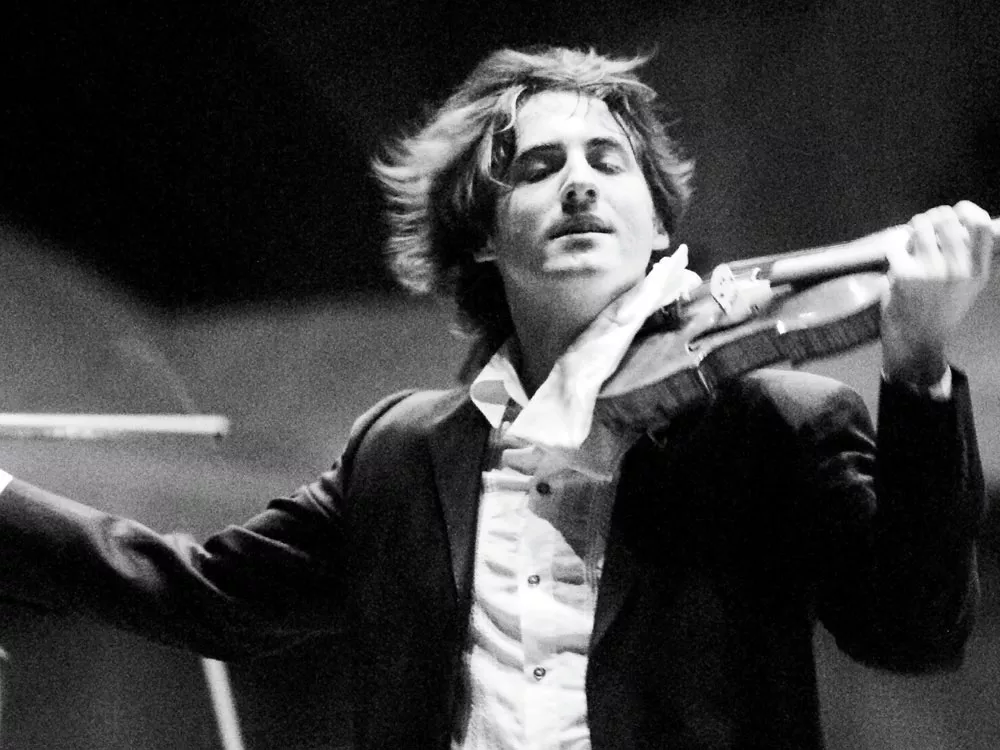 "I spent three, four weeks in my friend's basement in L.A., like an athlete preparing for the Olympic Games. I would feel completely wiped out at the end of the day. I was icing my hands after each session."
Philippe Quint is recounting how he prepared for last month's release of his Paganini: Arrangements for Violin and Piano by Fritz Kreisler.
Quint — who performs Alexander Glazunov's violin concerto this weekend with the Spokane Symphony — is too busy practicing to agonize over the 99 percent of Americans who couldn't care less about Paganini blah blah Kreisler.
"No! It's 98! We need that 1 percent," Quint says, laughing.
"But you know, I hear all this about classical music dying, not being popular, not being mainstream — I disagree with that. "I played at the Interlochen Festival [in Michigan, in July] — the Korngold concerto — and there were 2,000 youngsters attending the festival, mobbing the hall and waiting for autographs," he says. "There was a line of 300 kids, asking me to sign sneakers, cases, instruments, T-shirts.
"So when I have this sort of experience, I don't have any doubts. We are not in trouble. You know, people hardly ever say, 'I hate classical music' — hardly ever. What they say is: 'It sounds so beautiful, but I don't know much about it.'" Sure, Paganini and Kreisler have to compete today against all kinds of music. "But I don't go around trying to convince people that they should listen to classical music," Quint says. "My point is that we need to introduce our music to young people at an early age, so they can make their own choice."
This weekend, thousands of people will choose to hear Quint play Glazunov's romantic, playful, intense concerto. He's ready for the challenge: "I have been playing the Glazunov for about 10 years," he says, his slight Russian accent coming over the phone from his New York apartment. "And I have to say that this is one of those concertos that you fear.
"With other concertos — the Mendelssohn, Bruch, Sibelius — if you can pick them up three days before, you can manage it. But with the Glazunov, it's a whole different structure. It needs special attention.
It just goes nonstop, and there are a lot of technical traps. Musically, it's so very intense — it's heavily orchestrated, and you have that slow movement in the middle of the first movement, so he was breaking structure from the traditional three-movement structure."
The standard line about Glazunov is that late in life, feeling like a traditionalist who was being passed by, he looked for solace in the bottle. As a conductor, he famously botched the premiere of Sergei Rachmaninoff's first symphony — and may have been drunk at the time.
"It´s such a cliche ... I don't even like vodka."
Glazunov's imbibing amuses Quint. "You know, it shows in the concerto," he says, laughing. "There are some melodies — they are so stretched, so free, that maybe he was drinking a bit." Then he turns mock-diplomatic: "Or at least, these passages lead me to believe that something other than musical inspiration was at work.
"But I assure you," he goes on, still being mischievous, "there will not be too much re-enactment of this before the performance. I may have some water before, but … It's such a cliché. I grew up in St. Petersburg, so everyone says, 'He's Russian, he loves vodka.' But I don't even like vodka."
In performance, the Glazunov concerto lasts about 21 minutes. Midway through, in a flashy solo passage, the violinist gets to show off with a series of rapid-fire double-stops — alternate fingerings with the left hand that make the single instrument sound like dueling violins. "It's a challenging cadenza, very unviolinistic," Quint says. "His idea of doublestops was that you were imitating the flute or clarinet, so that the violinist is accompanied, at some times, by himself.
"This is also, with Paganini, a link," Quint says. (The violin virtuoso of the 1820s and '30s possessed such fiery technique that many listeners truly believed that he had sold his soul to the Devil.)
Glazunov's finale also features a lot of pizzicato (plucking the violin's strings), which Quint attributes to the composer "bringing the Russian folk tunes into his music," adding that Glazunov is "doing an imitation of the balalaika" (a three-stringed Russian lute with a triangular body). Performers on the balalaika, Quint explains, usually sit down and hold the instrument parallel to the ground.
Quint grows mischievous again. "If I had time during the concerto — this adjustment would be funny — I would put my violin under my arm and start plucking it," he says.
All that fretting over Russian composers, and no vodka chasers … Philippe Quint deserves his little jokes.
The Spokane Symphony Orchestra plays music of Rimsky-Korsakov, Glazunov and Shostakovich at the Fox on Saturday, Sept. 25, at 8 pm and on Sunday, Sept. 26, at 3 pm. Tickets: $20-$42; $7-$11, student rush. Visit spokanesymphony.org or call 624- 1200 or (800) 325-SEAT.
Excerpts from our interview with Philippe Quint
Though he'd just as soon put the whole thing behind him, Philippe Quint is the lost-violin guy who made news two years ago. So let's just stifle the urban legend: Yes, it was a 1723 Stradivarius, worth millions — but no, he didn't lose the damn violin. He knew perfectly well that it was in the back seat. He was unloading the trunk — and the cabbie just drove off, oblivious. After a miserable half-day that involved, among other frantic searching, an appeal to the New York City taxi commissioner, Quint recovered his precious fiddle — and then was gracious enough to play a free thank-you concert for cab drivers at the Newark airport.
He plays the 1708 Ruby Strad now.
The Inlander: You've claimed that each violin is like a person, with mood changes. What have you learned lately from the Ruby?
Philippe Quint: Well, it's warming up to me. It's a great instrument, a fantastic instrument, in fantastic condition. It is said to have been played by [Pablo] Sarasate [the Spanish virtuoso of the late 19th century], who left great comments about it.
What can I tell you? It's easy to play — user-friendly, so to say. It has an incredible palette of beautiful colors.
It's so good when you have a stable instrument on the road — you don't have to make too many adjustments.
[Quint recalls his student days:] I am very fortunate to have studied with Isaac Stern — that was a miracle. When Dorothy DeLay [Quint's teacher at Juilliard] arranged for me to play for Isaac Stern — who I had grown up with, I had all his records — it was like playing for Paganini. And Paganini was, truly, the first superstar. Before Michael Jackson, before Elvis and Led Zeppelin, there was Paganini.
And is Paganini on your encore list?
[laughs] The encore is always supposed to be a surprise!
Did you learn anything from your recent Paganini album that has crossover value for the Glazunov?
Paganini is a lot of acrobatics. But you can use him to build your stamina. Some of the more technically challenging material [is similar]. But Glazunov was primarily a pianist [though he played multiple instruments], and he didn't spend much time to make things comfortable for the violinist. It's challenging sometimes to find the fingerings or bowings that will make Glazunov's ideas in the concerto work.
What about Glazunov's conservatism in composition?
He was writing [in 1904] on the cusp of the Romantic era and a new century with progressive ideas. This was trying for him: Does he go with the new time, and with something really pioneer-like? Or does he stay with what he learned from Rimsky-Korsakov [whose Russian Easter Overture is also on this weekend's program]?
He was one of the first composers to bring the Russian and Romantic moods together. But he was accused by his students, like Shostakovich, of being too conservative.
In an article in Strings magazine, you refer to yourself as a "soldier of music." What are you fighting for or against?
Actually, I think that was Rostropovich. [Go here for Dmitri Shostakovich's remark to Mstislav Rostropovich, the cellist: "We are all soldiers of music. And there are no generals among us."]
But the idea is: Put the composer ahead of your ego. No individualistic, egotistical interpretations — that is the most essential part of performing. The composer has to come first.
In general, around those works, you should mostly try to concentrate on the musical sense. Again, just as in Paganini, I think that a lot of musicians try to execute the technical parts perfectly. But somehow, this can become monotonous … metronomic … stale.
This is where, in performance, you try to go in the opposite direction. You should let the melody flow, just as if the composer had just written it.
You've said that you perform concertos differently each time?
You become a different person each time you play it. It is such a joy to come back to reinvent what it is that I missed. When I listen to the tape of a performance after, I am always horrified. And I say to myself, 'Next time, next time….' But sometimes you have to let the work rest for a period of time, and then come back to it, as if it's something new.
How much time have you spent practicing today?
Today? Oh, great question. Not that much. I did four hours' special work with my violin.
Special work?
I was with a friend, filming my violin.
You have worked directly with contemporary composers like Ned Rorem and with John Corigliano [on the Red Violin Caprices].
In modern days, we are very fortunate to have firsthand experience with composers — we can get suggestions from them directly. It would be lovely to e-mail Bach, but we don't have that.
Trivia:
Quint's mother, Lora Kvint, still lives in St. Petersburg and composes rock operas. She is sometimes referred to as the Andrew Lloyd Webber of Russia. "Quint" is an Italian name. (The violinist re-spelled his name upon emigrating to the United States in 1991 and eventually becoming a U.S. citizen.) Quint's great-great-great-grandfather was an officer with Napoleon's army. After being wounded in 1812, he decided to stay in Russia.