Fred Armisen is a man of many talents. And voices. And identities.
As a cast member on Saturday Night Live, and later as a creative force behind the cult series Portlandia and Documentary Now, the comedian and actor has racked up an impressive catalog of alter egos. Armisen, currently on tour, hits Spokane this Friday, and reviews from other cities make it sound like his performance will include a mix of stand-up, improv, music and audience Q&A.
Here are a handful of Armisen's weirdest and most memorable characters, and some of the bits you should brush up on before heading out to the Bing.
"The Prince Show"
Armisen currently holds the third longest tenure of any cast member in the history of Saturday Night Live, so it's no surprise that he developed countless recurring characters during that stint. I'm particularly fond of his ever-smirking riff on the late, great rock legend Prince, who, in this recurring series of sketches, is the host of a bizarro-world talk show, shot at Paisley Park deep into the night. Prince is often vanishing into thin air and whispering strange requests of his guests into the ear of his co-host and interpreter Beyoncé, played by Maya Rudolph. (Example: "Prince wants you to go back there and sit on that giant cupcake.") Now that Prince is gone, these sketches take on an almost bittersweet quality.
Portlandia
It's pretty much a requirement that anyone living in this corner of the country has seen (and begrudgingly related to) Armisen's IFC sketch show, which he co-created with Sleater-Kinney guitarist Carrie Brownstein. There are too many memorable, dead-on character pairs residing in the series' just-barely-through-the-looking-glass version of Portland, but here are some of the best: Peter and Nance, who are so well-intentioned when trying new things that they're instantly susceptible to all the dangers of the world; Bryce and Lisa, whose entrepreneurial endeavors include pickling un-pickleable objects and putting illustrations of birds on everything; and, of course, Candace and Toni, the militantly feminist owners of the Women and Women First Bookstore (which is based on In Other Words, a real bookstore in Portland).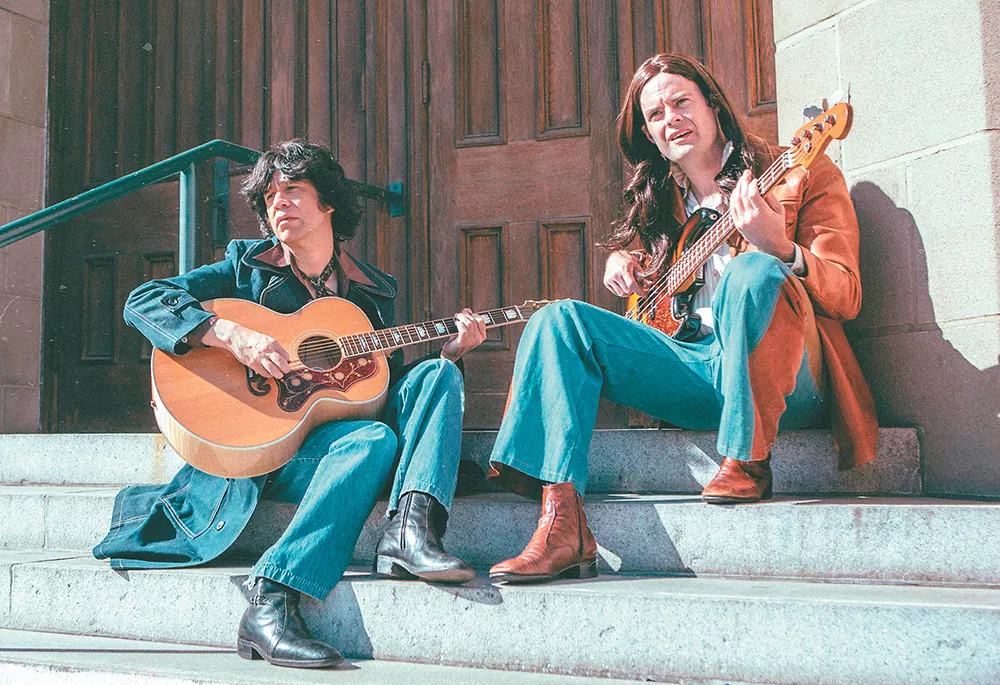 Thunder Ant
Even before Portlandia, Armisen and Brownstein were skewering white, liberal entitlement and first-world problems in short internet videos under the name ThunderAnt. Some of the sketches still available on YouTube: Two wildly incompetent restaurateurs respond to their negative Yelp reviews (to a customer who got food poisoning: "At least you're not dead"), a Portland pet adoption agency with remarkably high standards (of one dog, Armisen says, "She wants to live in a home with no children and no adults"), and a public access music show called Boink! Candace and Toni also made their debut in a ThunderAnt short.
Robert Durst
On the Netflix comedy Unbreakable Kimmy Schmidt, Armisen pops up in an almost inexplicable supporting role as certified weirdo and suspected murderer Robert Durst, the real-life subject of the once buzzed-about documentary series The Jinx. It's one of the stranger comic touches in a show that revels in strangeness, but Armisen finds a way to make the character into something more than just a straightforward impression. I plan to check back on the show to see if his performance is still funny long after everyone has forgotten who Durst is.
His fake bands
If you haven't seen Documentary Now, the brilliant Independent Lens parody series that Armisen co-created with fellow SNL alums Seth Meyers and Bill Hader, you need to. (Its two seasons are currently streaming on Netflix.) Each episode intricately spoofs a specific documentary — Errol Morris' The Thin Blue Line, for instance, or the Maysles brothers' Grey Gardens — and some of the series' highlights focus on Armisen's jokey musical endeavors. Consider the Eagles parody act the Blue Jean Committee, whose smooth, yacht-rock sounds belie their vicious backstage drama. Or Test Pattern, a nod to Talking Heads and the band's high-concept film Stop Making Sense, directed by the late Jonathan Demme. Also deserving of a shout-out: Ian Rubbish, a Johnny Rotten-style punk icon Armisen trotted out during his final SNL season.
"Weekend Update"
Armisen developed a slew of characters on SNL's "Weekend Update" news segment, usually with other performers — he and Kristen Wiig as perpetually unprepared singing duo Garth and Kat; he and Vanessa Bayer as the childhood friends of various third-world dictators; he and Will Forte as another singing duo, Gunther and Patrick, whose songs were defined by Forte's hilarious falsetto singing. Particularly memorable was Armisen's improvisational political commentator, the indifferently named Nicholas Fehn, who would riff on the day's biggest headlines without ever completing a coherent thought, let alone getting to his punch line. Hopefully Armisen's actual show doesn't follow suit. ♦
Fred Armisen with Jacqueline Novak • Fri, July 7 at 8 pm • $27-$32 • Bing Crosby Theater • 901 W. Sprague • bingcrosbytheater.com • 227-7638