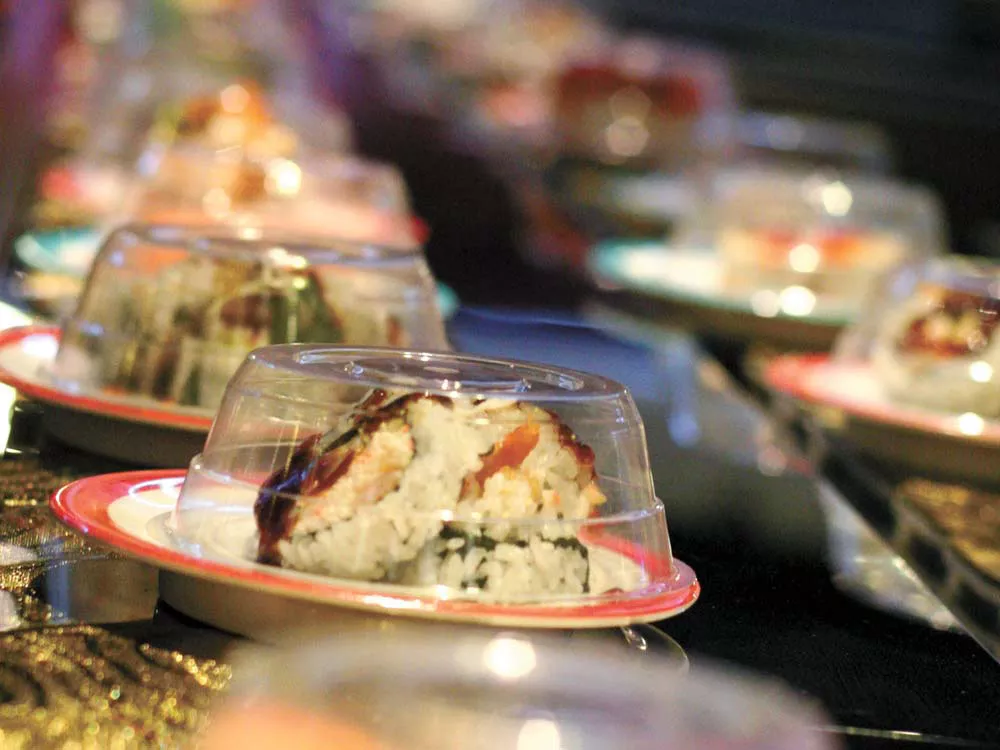 Sushi Maru was busy, but not full, on opening night last Friday. Even if it had been empty, there was plenty to draw the eye. It's hard to ignore the sushi tracks running the length of an open-floor restaurant that has enormous circular white lights and constant movement of plates.
Kaiten Sushi (in America, often colloquially called "conveyor sushi") is a dining experience tailor-made for people who hate ordering off a menu without knowing exactly what will arrive. The food you ultimately choose will slide by in little suitcases, like at an airport baggage claim. You pick out whichever one has your name on it.
There are no surprises here: Each plate is a different color, each color has a set price, and at the end of the night, you rack up your colors and numbers and pay accordingly. Yellow plates ($1.50) include miso soup and edamame. Light blue plates ($2.25) feature a fresh-tasting salmon nigiri with soft, supple rice. Magenta plates ($2.75) include seaweed salad and hamachi. Red plates ($3.25) include the salmon hand-roll, the geisha roll and the kamikaze. Navy blue plates ($3.75) include the bigger rolls like the Hurricane (stuffed with crabmeat and topped with various colorful fish and avocado) and the Mount Fuji Roll (an exploding mountain of crab). Green plates ($4.50) offer a couple of different sashimi options.
It's evident that Sushi Maru rushed to open for the holidays. Chopsticks boasting the Bellevue address may have been shipped from the coast along with the fish. And really, the place is eventful enough without Christmas music cheesing up the chic Asian atmosphere.
Any return trip to Sushi Maru will be as much about the experience as the food. Watching the sushi-go-round is worthwhile, if only for the giddy joy of "winning" the "game" of snagging that plate you've been eyeing before someone else snipes it. And I will definitely go back for that scrumptious crab mountain, the Mount Fuji Roll. On a navy blue plate. For $3.75. (Leah Robin)

Sushi Maru • 808 W. Main Ave. (in River Park Square) • Mon-Fri 11 am-9 pm, Sat 11-9:30 pm, Sun noon-9 pm • 455-3900
---
Super Deluxe
Bill Alles is giving you yet another reason to check your Facebook. The owner of Churchill's Steakhouse spends 2-6 hours a day slicing USDA Prime beef into the steaks his customers shell out big bucks ($24-$49) for. But during that process, there's stuff left over – pieces that don't fit into the steak. Alles thought it would be a damn shame to let all that fancy meat go to waste – so he decided to grind it up into a gourmet hamburger.
The burgers are served downstairs in the lounge, which features rich wood paneling and booths with red velvet seats. They are enclosed enough to conjure a sense of privacy and coziness — which is nice when you're about to mow the hell out of a burger.
You have two (delicious) options if you want a hamburger at Churchill's — the first is the Caprese burger (normally $11), which has fresh basil, fried mozzarella, Beefsteak tomato, crispy sweet onions and balsamic syrup. The other is the bacon cheddar burger (normally $12), which comes with Nueske bacon, Cougar Gold cheese, spicy mustard aioli, house-smoked chipotle sauce, Beefsteak tomato and red onion. The patties are bulging and juicy. Biting into these hamburgers is a borderline religious experience — one that comes with a side of fries.
Also special: the burgers can be cooked rare, which isn't generally allowed for ground. Because Alles only uses meat from the back of the cow, and not the meat by the belly, he says there is no risk of the meat containing E. coli.
The gourmet burgers are a way for Churchill's to draw in a younger crowd, who might not be willing to drop $40 on a steak. Alles also created Burger Night, when you can nab one of the delicious patties for a mere $7. The catch? He only announces the deal the night of, and only on the restaurant's Facebook page.
And if burgers don't do it, Alles has what he calls Mis-steak Night. When he cuts his steaks, sometimes he winds up with some that just barely fall underweight, and therefore can't be served in the restaurant. On these nights, you can score a steak that would normally run around $36 for just $15.
"I always sell out when that day comes," says Alles. (Tiffany Harms)

Churchill's "Burger Nights" • Dates by announcement, 4-10 pm • 21 • Churchill's Steakhouse • 165 S. Post St. • 474-9888