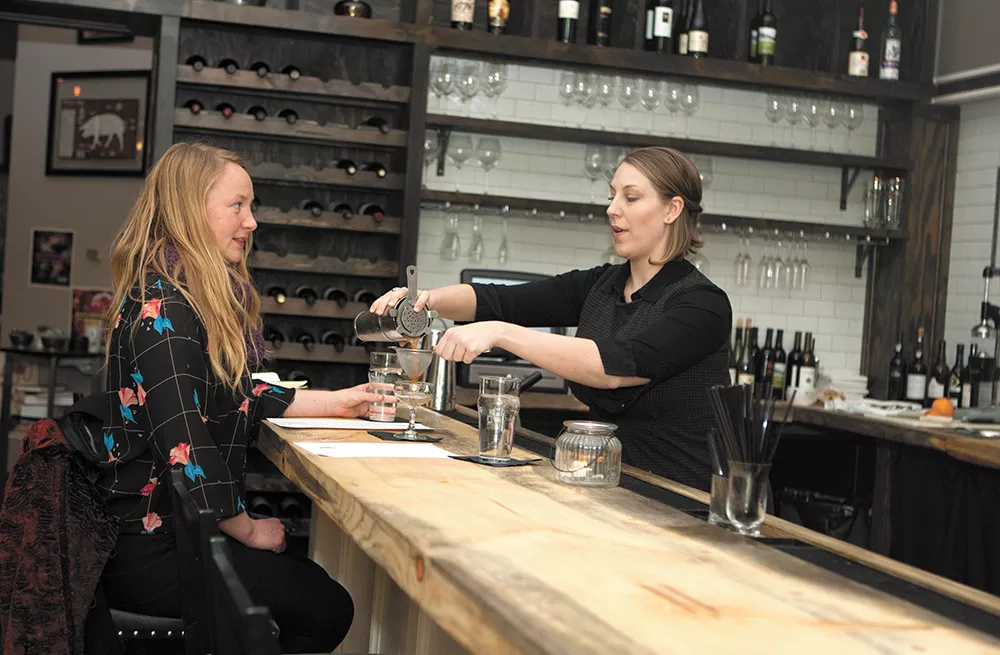 For more than half of this year, the activity behind the olive-green velvet curtains on Main Avenue in downtown Spokane remained a quiet mystery.
Quiet because neither Santé nor its neighboring tenants wanted the banging and clanging of construction work to disturb customers during business hours. A mystery because the French-inspired, locally sourced restaurant and charcuterie didn't put a strict deadline on a pending reveal, even though executive chef and owner Jeremy Hansen had announced the bar addition would open in August, in time for Santé's fifth anniversary.
But at the time, Hansen and his culinary team also were preparing for the memorable impression they made at the prestigious James Beard House in New York City. The invitation to prepare a meal there — Hansen's highlighted Inland Northwest ingredients — is extended only to chefs who embody culinary education and appreciation.
As with anything done well, taking one's time usually pays off in the end. The extended effort Hansen and his wife Kate invested into the Butcher Bar is definitive proof.
Tucked into a cozy back corner of Santé, the craft cocktail and small plates bar debuted at the beginning of December. It seamlessly melds the farm-to-table and no-waste culinary philosophy Hansen and the restaurant are known for, both in menu and décor.
The Butcher Bar's no-frills cocktail menu is peppered with local, housemade infusions, tinctures, jams, and infused honey. Glass Mason jars with handwritten labels noting these concoctions are lined up on a richly toned wooden shelf behind the utilitarian bar.
Listed in the top two thirds of the bar's one-page menu, its cocktails don't have the sassy, snappy names that have become standard since the upswing of the handcrafted cocktail movement. Instead, drinks are listed by the featured liquor — brandy, bourbon, gin, mezcal, etc.
"We like it that way because we want people to think about what they're drinking, more than having a cocktail to have a cocktail," Hansen says. "Names are neat and fun, but ultimately we like to accentuate what it is that we're doing and eating, and celebrate those things."
Though cocktails are a new foray for Santé, Hansen is also using the Butcher Bar to highlight a new small bites menu featuring odd bits of the animals butchered for the restaurant. Rotating dishes he plans to feature include head cheese, pork and beef tongue, seafood mousseline and sweetbreads. ♦
Butcher Bar • 404 W. Main • Open daily from 3 pm to close • 315-4613 • santespokane.com