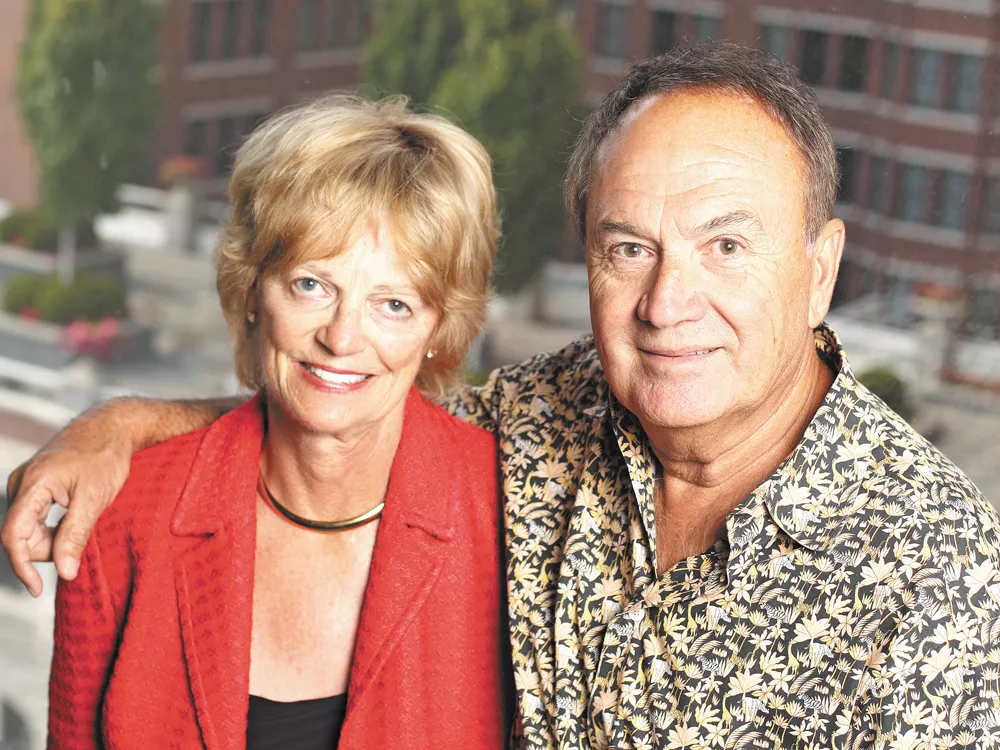 This is Walt Worthy's vision: upon exiting the INB Performing Arts Center, one's eyes would rise to meet a 15-story hotel, with more than 850,000 square feet, planted on the parking lot south of the downtown arts center.
The block — bounded on the south by Main Avenue, the arts center to the north and Washington and Bernard streets on the flanks — would be pure tourist commerce. The proposed new hotel's 700 rooms, courtesy of a big chain like Marriott or Hilton, would increase the number of hotel rooms downtown by about 25 percent.
It's the kind of coin-flip decision only a developer like Worthy, who restored the Davenport Hotel and built the Davenport Tower, can make.
"We've been toying with this idea for about two months now," Worthy said at a press conference last week announcing the plans.
Worthy hasn't released any sketches of the building. The name-brand hotel chain hasn't been named, although Marriott and Hilton are both in talks. Ground-breaking, it is hoped, will be in early 2013, with construction to be completed a year later.
Does anyone have any details on this behemoth?
"The concept right now is that Walt Worthy will build us [a] garage that covers the entire ground floor, and then we'll sell him the air rights so that he will own the hotel above that," says Kevin Twohig, executive director of the Public Facilities District, which manages the Spokane Arena, Convention Center and INB Center.
Will convention-goers fill whatever Worthy builds? Between 1990 and 2005, attendance for convention centers around the country fell, according to a Brookings Institution study. And a 2009 survey of businesses by the trade publication Meetings and Conventions found that 20 percent of responding businesses were canceling conventions in the wake of backlash against the lavish practice.
"Yet despite these trends, new and expanded centers are being constructed in communities all over the country," states the Brookings study, which adds: "Demand for convention center space is not keeping pace with its growing supply, severely limiting the ability of individual centers to accrue hoped-for economic benefits, and ultimately calling into question the value of these large public investments."
So why build?
"The short answer is this is what we're hearing from our meeting planners," says Dana Haynes, spokeswoman for Visit Spokane. "All of them have said you need a convention center headquarter hotel."
Conventions have brought in more than a million visitors in each of 2012 and 2011, according to Haynes. That's up from 965,000 in 2010 and 852,000 in 2009. The average occupancy rate for hotel rooms in downtown Spokane is about 61 percent.
Harry Sladich, executive vice president of Red Lion Hotels Corp., says any depression of convention rates is due to the lackluster economy.
"You have to remember that over the past three years, most associations are in the same boat as most Americans," he says.
"I've heard for years that this Skyping and video-conferencing would just decimate the industry — it has not," Sladich says. "There's just something about meeting and shaking hands face-to-face."
Nor is Twohig, the PFD director, concerned.
"We're not in the hotel business, we don't know how to build a hotel, much less operate one or anything else," he says. "We're happy to have an operator and a developer who's going to do it."