Known to take off for a quick adventure in the woods at a moment's notice, the rugged outdoorsy woman in your life usually prefers sleeping under the stars to a weekend binging TV. She often grabs her trusty backpack and tent and takes off to connect with nature on the shores of one of the Inland Northwest's many massive lakes. Being as prepared as she is, she's likely already got a decent camping and hiking setup, but here are a few more things that could make her time outdoors even better.
EAGLES NEST OUTFITTERS SINGLENEST HAMMOCK (a)
Sleeping in a tent is nice, because it keeps the bugs and little critters away, but after a day of hiking around, few things are more relaxing than stringing up a hammock to lounge in and enjoy the view (or a snooze). This hammock for one comes in many colors, and if they don't have the one you want at the Mountain Gear retail store, you can ask if they'll bring one over from their online store's warehouse. It's worth noting: This model doesn't come with straps, but the store also offers a variety of options to help you get in the trees. $60 (hammock only) • Mountain Gear • 2002 N. Division St.
MSR POCKET ROCKET 2 (b)
Whether she's backpacking or just trying to save space, this teeny pocket-sized stove from MSR can be game-changing for your outdoors adventurer. At only 2.6 ounces, and able to boil water for those backcountry meals in less than 4 minutes, the stove packs a deceptively powerful punch. What's even better, the small (read: packable) fuel canisters for these stoves tend to run only about $5 and can last up to an hour. $45 (stove only) • Hyperspud Sports • 402 S. Main St., Moscow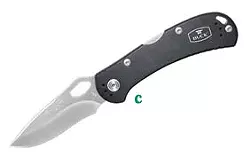 SPITFIRE KNIFE (c)
The importance of a good sharp knife should not be underestimated — it can be one of the most essential tools in the outdoors. Buck Knives, based in Post Falls, has known that for more than a century. The Spitfire knife is easy to open and locks in place for safety; plus it comes with a forever warranty that guarantees it'll be useful for as long as she wants to use it. You can also have it engraved for a few extra dollars. $51 • Buck Knives • buckknives.com
HYBRIDLIGHT PUC EXPANDABLE LANTERN/CHARGER (d)
Similar to that lightweight stove, this lantern can save a ton of space by collapsing down into a 2-inch-tall puck-shaped flashlight. There's a solar panel to charge the light, as well as a USB port, and with a full charge, it can provide light for 50 hours. What's more, you can use it to charge a cellphone. $27 • White Elephant Surplus Stores • 12614 E. Sprague Ave., Spokane Valley ♦