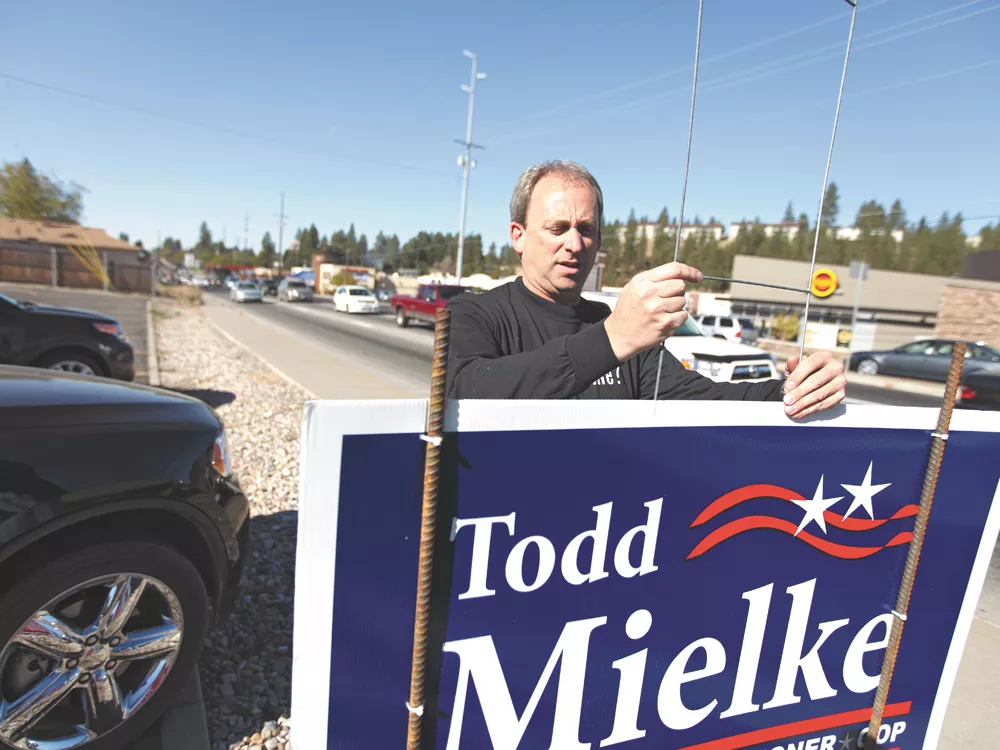 As Republican County Commissioner Todd Mielke runs against his opponent, Democrat John Roskelley, neither one of them can exclusively claim the mantle of experience. Mielke may have held his county seat for eight years, but Roskelley held the same position for nine years before that.
Mielke can talk about leading the county through the real estate boom, the market crash and the recession. But Roskelley can talk about the impact of the ice storm of 1996 and the terrorist attacks of September 2001.
Together, they're vying for what may be the most powerful position in the county. There are only three commissioners in Spokane County, and they run the judicial, legislative and executive branch of county government. Together, the board makes decisions about county funding, county laws and how and where the county grows.
With 17 years of county history between them, both Mielke and Roskelley have plenty of fodder to brag about and with which to attack their opponent.
The Regulators
Any look at Roskelley's record shows a bevy of regulations and restrictions, both aesthetic and environmental. And he's proud of that.
"I actively went out and looked for things that needed to be changed or upgraded," Roskelley says.
Roskelley has crusaded against what he called "visual pollution." To him, most billboards are ugly clutter, so he says he fought to "basically ban" their construction. When he spotted a massive cell phone tower on Mount Spokane driving home one night, he says, he began proposing height restrictions and other limitations.
"This place would be a pincushion of cellphone towers if I hadn't noticed it," Roskelley says.
He put restrictions on sex shops and strip clubs, pushed to ban motorized boats on the Spokane River and required railroad companies to upgrade the protection around their above-ground hazardous waste tanks.
"Regulations are not stopping people from having jobs," Roskelley says. That's a myth, he adds, pushed by groups like Greater Spokane Incorporated.
But Mielke says Roskelley didn't talk to businesses when considering pushing his new restrictions.
"I don't think he did any of those by dialoguing with the business community and asking what would help them," Mielke says. "A lot of people perceive that he was pursuing additional regulation on them based on his own impression of what he liked."
Mielke, on the other hand, says that under his own tenure, the board updated regulations to make the county more business-friendly.
This year, tractor manufacturer Caterpillar was considering locating a factory in Spokane, Mielke says, but was worried about Spokane's industrial height restrictions. Normally, the process to change the restriction would have taken months, but Mielke says commissioners managed to push it through in three weeks.
"Normally, there would be a lot more analysis done," Mielke says. "It was made a top priority." If the county hadn't fast-tracked the change, Mielke says, the county would have lost the factory and the jobs that went with it.
Roskelley, however, believes that if county stuck with its conventional process, Caterpillar would have come anyway. He says that he's not sure that attracting businesses is the board's job, but that the right regulations can improve an area's quality of life. Great quality of life, he says, attracts businesses.
Mielke's focus on development and Roskelley's focus on the environment becomes especially clear in their land use decisions. This year, Mielke and the current board of commissioners plan to modestly expand the Urban Growth Area, the boundary where developers are allowed to build more densely. But Roskelley, who judged Spokane land use controversies for years on the Growth Management Hearings Board, says studies show that there's more than enough land available for Spokane to grow. Increasing the Urban Growth Area, he worries, would just mean more sprawl.
Budget Battles
Spokane County has had to balance its budget despite rising health care costs, plummeting property values and loss of tax revenue after annexation. How the commissioners spent that money can highlight their values.
Roskelley says when he arrived on the board in 1995, the county was $500,000 in debt, and when he left it had a sizable reserve. He and the other commissioners, he says, went through the budget line-by-line, axing expenditures as small as newspaper subscriptions for departments. Roskelley says he had proposed to put county employees on the state medical plan, which would probably increase their insurance co-pays. He thinks that's one reason why county employee unions endorsed Mielke over him.
Under Mielke, however, the county still has a large reserve, managed to build huge projects like a new waste-water treatment plant and did it all despite five years of national economic calamity. Mielke says that if he'd had his way, the reserve would be even higher.
Years later, he's still critical of where Roskelley cut. Roskelley voted to eliminate Crime Check, a service that citizens called to report non-emergency crimes. The city had withdrawn its funding, and Roskelley didn't think the county should pay for all of it. Mielke, though, asked voters for a tax increase to bring it back.
But Roskelley saw that tax increase as mostly an excuse to shore up other law enforcement-related budgets, not just restore Crime Check. He wrote numerous newspaper columns against the measure. And even today he isn't sure the service is worth it. When his truck got broken into recently, he says, he and his wife were angry at the slow speed and "ridiculous questions" of the Crime Check responders.
Roskelley's attacks on Mielke's budgets center on his tax increase proposals, especially in light of Mielke's purchase of the Spokane County Raceway, a troubled track that's cost the county more than $7 million. Even many of Mielke's strongest supporters believe it was a mistake.
"I would say that obviously, with the benefit of hindsight, it's not a decision I would have made," says Republican commissioner candidate Shelly O'Quinn.
If it wasn't for the raceway purchase, Roskelley says, the county wouldn't have even needed to ask residents for more funds to buy a new animal control facility, a proposal voters strongly rejected last fall. Roskelley wants to turn animal control, golf courses and the raceway into enterprise funds, meaning he'd raise fees and ticket prices so each would pay for itself.
Mielke, by contrast, continues to see the raceway as another form of recreation worth supporting — like the parks, the pools, the golf courses or Avista Stadium.
"We're a diverse community," Mielke says. "I'm trying to provide recreation opportunity for people of all interests."