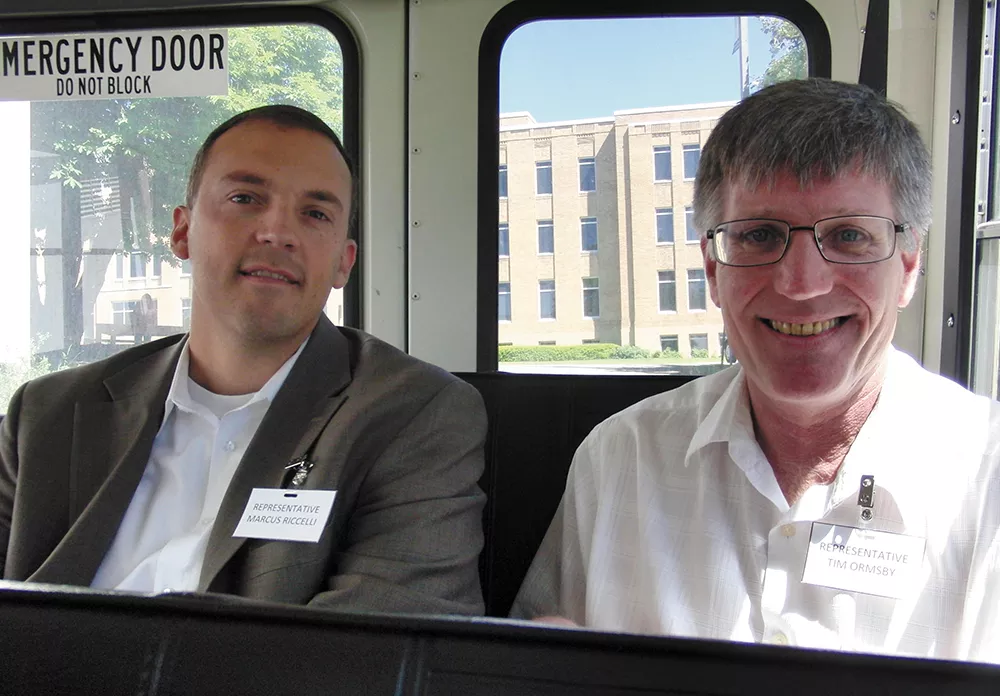 On Monday morning, in the Eastern State Hospital dining hall, a lanky young man in glasses and a tie leans into the microphone at the podium and shuffles his notes. He introduces himself to the small gathering of elected lawmakers and state officials sitting below him around circular tables. He has their rapt attention.
"A patient is not all that I am or all that I hope to become. I'm a brother and a son. I'm a musician. I'd like to go to college," he says. His initials are D.L. and he's been living in Eastern State Hospital's Forensic Unit since 2009, after pleading not guilty by reason of insanity. "Mental illness is not a societal challenge that can be met by locking those affected away...
"Please," he continues, "remember that recovery happens."
Earlier this month, Washington legislators representing Eastern's 20-county catchment area were invited to tour the hospital and listen to a presentation by seven NGRI patients. On Monday, four showed up — Rep. Leonard Christian, R-Spokane Valley; Rep. Jeff Holy, R-Cheney; Rep. Timm Ormsby, D-Spokane; and Rep. Marcus Riccelli, D-Spokane. It was the first time state lawmakers had been invited to Eastern for an "open house" with patients and staff, according to officials at the state's Department of Social and Health Services.
In the patients' prepared remarks for the lawmakers, they criticize the frenetic media coverage following Eastern patient Phillip Paul's escape from the Spokane County fair in September of 2009 — citing Spokesman-Review columns that called Paul an "insane killer" and likened him to Hannibal Lecter. Most of all, they call for the repeal of a 2010 state law forbidding patients at state psychiatric institutions from leaving hospital grounds unless they have a court order.
Sandi Ando, the public policy chair of Washington's National Alliance on Mental Illness, says the open house was an unprecedented victory for the patients who had been lobbying hospital administration for months to meet with their representatives.
"It's time for people to start hearing these voices, because these are not voices of people who do not connect with reality. These are voices of people who really understand the issues and really have important things to say," Ando says. "And they are, most of all, human beings."
Before the 2010 law, high-level patients could earn the privilege of taking supervised reintegration trips into Spokane. Accompanied by hospital staff, they could go to sporting events, grocery stores and restaurants. They were able to visit group homes and take classes in community college. The law, patients argue, hinders their ability to gradually reintegrate into society.
In 2013, Rep. Tami Green, D-Lakewood, introduced House Bill 1458 to repeal the law. Her bill died in committee in the most recent legislative session. Three patients at Eastern and Western State Hospitals are now suing the state in federal court, alleging that the current laws violate their constitutional and civil rights to adequate mental health treatment.
None of the visiting lawmakers said they would readily support Green's bill without further study. But some, like Riccelli — who wasn't a member of the legislature in 2010 — admitted the law was "reactionary."
"We're asking folks as they get better to reintegrate into society, but we're just closing all opportunities for them to have those kind of baby steps into reintegration," Riccelli says. "We shouldn't be isolating folks."
Holy, a retired Spokane police officer who represents the district where Eastern is located, had visited the hospital multiple times as a cop, but until Monday, he'd never met with patients as a lawmaker.
"These are the most vulnerable, period. This is our priority of government," he says. "The biggest thing I learned is there is some real value at this point to somehow provide access to at least community college and higher education, because they're looking for skill sets and a way out, and if nothing else, validation to better themselves."
For first-term legislator Christian, the visit was a "huge learning opportunity" — one, he says, that's challenged his "stereotyped opinion" of what a state psychiatric hospital is.
"I just figured I'd come and see it, and see if my fears were true," he says. "It's not. So far, it's been unfounded." ♦