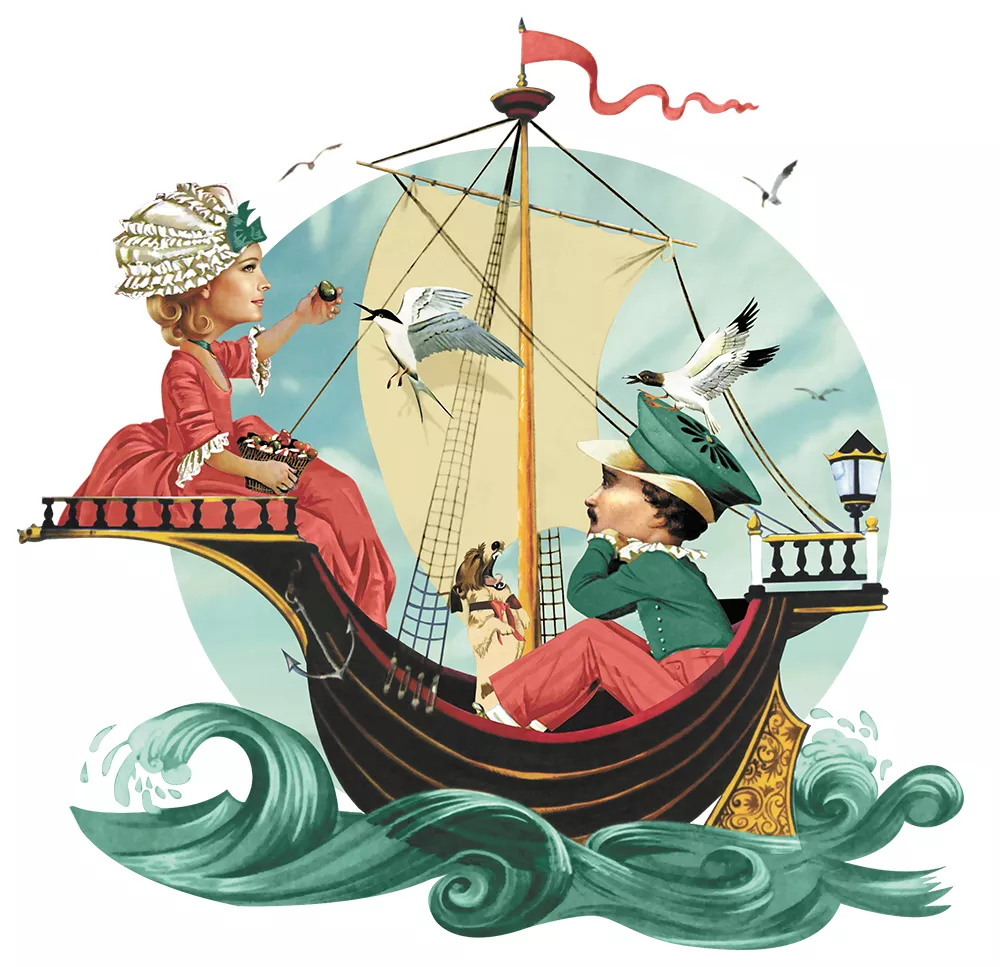 Best Health Club | YMCA
It's the only fitness club with a song written about it — welcome to the YMCA. With three locations in Spokane and a host of programming activities (with a wallet-friendly membership cost), it's no wonder readers voted the YMCA the best health club in the area. (ELI FRANCOVICH)
2nd PLACE: MÜV Fitness; 3rd PLACE: Boxfit; NORTH IDAHO'S BEST: Peak Health & Wellness, Hayden
---
Best Biking Trail | CENTENNIAL TRAIL
With more than 60 miles of trail, the Centennial Trail system extends from Spokane all the way to Higgins Point in Coeur d'Alene. Ride the whole thing, or just bits and pieces. Either way you'll be blown away by the scenery, including long stretches along the Spokane River. (EF)
2nd PLACE: The Route of the Hiawatha; 3rd PLACE: Fish Lake Trail
---
Best Bike Shop | WHEEL SPORT
I'm not going to lie. Sometimes I go to Wheel Sport simply to stare at the bikes I'll never own. To the employees' credit they never kick me out and are more than willing to sit down and chat. Whether it's planning my next cycle adventure, or just daydreaming about buying that $7,000 road bike, they're supportive. For that, I'm thankful. (EF)
2nd PLACE: The Bike Hub; 3rd PLACE: Two Wheel Transit; NORTH IDAHO'S BEST: Terra Sports
---
Best Outdoor Recreational Supplies | REI
Sure, REI's staff is knowledgeable and friendly, and the local store is chock-full of sweet gear. But you know what's even better? For $20 you can become a lifetime member, thus securing yourself an annual dividend. It may be only about 10 percent, but when you get that sweet, sweet dividend notice in March, you'll be wriggling with joy. (EF)
2nd PLACE: Mountain Gear; 3rd PLACE: Mountain Goat; NORTH IDAHO'S BEST: Cabela's
---
Best Place to Snowboard | MOUNT SPOKANE
You could chalk up Mt. Spokane's enduring popularity with snowboarders to its rapid addition of terrain parks in recent years. These are designated areas with jumps, slopes and rails — both natural and manmade, all of which fall under the blanket term "features" — where riders of various skill levels can attempt and perfect new tricks.
In the past two years alone, the nonprofit ski and snowboard facility has built two such parks. The first is Progression Park, which Kristin Whitaker, marketing and mountain services manager, describes as "an introduction to freestyle."
"It gets people learning tricks with low-consequence features, small jumps, low, easy rails. It's a really great place for people to learn and excel. And then they can take their skills into the big parks."
The second and newest is Gnarwood Forest Natural Park. Situated among the forest conifers, it allows freestyle boarders to take advantage of the mountain's natural landscape — with the added bonus of some deliberately placed hybrid features such as logs and rails.
But 10 years of Best Of wins don't come solely from new parks with cool features. It has to do with how diligently Mt. Spokane has worked to create a welcoming, inclusive culture for skiers and snowboarders.
"Over the years, we've been putting effort into growing the snowboarding community up here," says Whitaker. "Mt. Spokane's philosophy as a whole is to introduce people to the sport of skiing and snowboarding. Folks are learning here and staying here. And we've got a really great partner in Spokane with Pistole Board Shop. He's helped us out quite a bit with developing these parks — even in terms of helping purchase some features and holding fundraising events for the park."
That communal philosophy informs all of their activities. For instance, the park staff has a ubiquitous social media presence as well as a dedicated online hub where boarders can ask questions, request new features, share photos and get honest info about snow conditions. The accessibility and approachability has played a huge part in making riders feel at home on Mt. Spokane.
"We exist to serve the community, and that's what we do," Whitaker says. "We listen to feedback and provide the services folks are asking for. We're all about our snowboarders and our skiers, getting them up here and having fun in the mountains." ♦ (E.J. IANNELLI)
2nd PLACE: Schweitzer; 3rd PLACE: 49 Degrees North
---
Best Place To Ski | SCHWEITZER
Snow? What's that? OK, so it wasn't the best season. But Schweitzer Mountain Resort made the best of it. With 2,900 acres of skiable acreage and 92 trails, there's something for everyone, even when the snow is sparse. (EF)
2nd PLACE: Mt. Spokane; 3rd PLACE: 49 Degrees North
---
Best Place To Actually Catch Fish | WILLIAMS LAKE
Just southwest of Spokane, Williams Lake is a great spot for local anglers. As the award indicates, it's a great place to catch a fish, whether you're fishing from the resort docks, or from your own boat. Local veteran fly fisherman Frank Slak says, "The setting is really nice out there in the coulees southwest of Spokane." (EF)
2nd PLACE: Lake Roosevelt; 3rd PLACE: Lake Pend Oreille
---
Best Beach | COEUR D'ALENE CITY BEACH
Coeur d'Alene City Beach is an idyllic strip of sand just a short walk from the heart of downtown. In the summer it's thronged with sunbathers, volleyball players and picnickers. In the spring, winter and fall it's the favored haunt of hand-clasped lovers. Either way you'll feel refreshed. (EF)
2nd PLACE: Sandpoint City Beach; 3rd PLACE: Boulder Beach, Spokane River
---
Best U-Pick Farm or Orchard | WALTERS' FRUIT RANCH
Though the orchard itself has been standing since 1977, it wasn't until '92, when Mark and Arlene Morrell purchased the land, that its magic truly began to flourish. With their special touch, what was once a simple array of apple trees became an autumn haven for Green Bluff goers across the Inland Northwest. That haven is now known as Walters' Fruit Ranch.
It's one of the many U-Pick fruit orchards situated in Mead's Green Bluff, but there's something about Walters' history, extensive selection of fruit and mouthwatering pies that call thousands of guests to its acreage every year. Closed from the beginning of the year until mid-June, it seems that more and more people spend that time longingly awaiting the annual Father's Day weekend opening. The Morrells themselves are without question included in this group.
According to daughter-in-law and orchard co-manager Morghan Morrell, Walters' is the definition of a family business.
"My in-laws really grew the business into what it is, adding a store and a café," Morrell says. "And now my husband and myself have really taken over the business."
Morrell and her husband Jason, son of owners Mark and Arlene, met while working at the ranch and married in 2008. Since then, the two have expanded the orchard from fruit alone to pumpkins and even homegrown Christmas trees, which allow them to stay open to the public all through December.
This expansion is respectable on its own, but when compared to everything Walters' was already offering, it's even more mind-boggling. The family fruit ranch offers U-Pick cherries, peaches, strawberries, nectarines and pumpkins, plus 22 varieties of U-Pick apples. There is a full espresso café that serves famous huckleberry pancakes, Arlene's homemade take-and-bake pies in 27 flavors, and even an adult version of their already renowned cider.
"The newest addition to our store is our housemade hard apple cider, which is made from our apples and run through our apple press," Morrell says. It currently can only be found at the ranch itself, but it's well worth the trip.
Walters' offers customers a few tricks from up their sleeves, including a unique play area for children made up of dried peas instead of the typical sand, as well as a tractor-pulled wagon whimsically named the "Fruit Loop Express" which will drop guests off at whichever section of the orchard they wish to explore. But for Morrell, Walters' is as special as it is because it needs no gimmicks.
"We really try to focus on the fruit and the customer service," she says.♦ (KAITLYN ANSON)
2nd PLACE: Siemers Farm; 3rd PLACE: Harvest House
---
Best Marina | BOARDWALK AT THE COEUR D'ALENE RESORT
Located at the base of the Coeur d'Alene Resort, the Boardwalk Marina will take care of all your boating needs. It's surrounded by one of the world's longest floating boardwalks and offers 367 total slips, potable water, supplies and a gas dock. The marina also has access to the resort's world-class amenities, and Coeur d'Alene's quaint downtown. (EF)
2nd PLACE: Conkling Marina & Resort, CdA; 3rd PLACE: Cavanaugh Bay Resort & Marina, Priest Lake
---
Best Golf Course | DOWNRIVER GOLF COURSE
Built in 1916, the Downriver Golf Course is one of Spokane's oldest courses. Over the years it's changed significantly, but still remains a Spokane staple. With relatively cheap prices it's easy to play the day away, 18 holes at a time. (EF)
2nd PLACE: Indian Canyon; 3rd PLACE: Coeur d'Alene Resort Golf Course
---
Best Place For A Nearby Weekend Getaway | SANDPOINT
It's just a hop, skip and a jump from Spokane, but you'll feel like you're in a different world. Sandpoint sits on the shores of pristine Lake Pend Oreille. The downtown, while small, is vibrant with shops and restaurants. The Festival, a yearly summer concert series, brings bands from far and wide. And it's close to nature. So head on over for a fun-filled weekend. (EF)
2nd PLACE: Priest Lake; 3rd PLACE: Leavenworth
---
Best Running Club | THE FLYING IRISH
At first gander you might be intimidated by the Flying Irish's weekly Thursday night runs. With between 400 and 500 people surging down the Centennial Trail, it's hard to imagine making friends.
However, the reality is much different. For the past 10 years, the Flying Irish running club has provided like-minded Spokanites a weekly gathering place. In recognition of that fact, Inlander readers selected the Flying Irish as Spokane's best running club.
Cassie Dickerson's story exemplifies the club's impact. When Dickerson moved to Spokane in 2010, she hardly knew anyone. Her sister, an avid local runner, suggested she join the Irish.
"I'm not super fast, so I was looking for a way to keep running and stay motivated," she says.
Dickerson says she was intimidated at first, but just kept showing up. Soon she found herself immersed in a loving and supportive running community.
"We have people that are extreme elite runners to people who walk," she says. "We have ages from 10 years old to 80 or 90."
Dickerson even met her husband, Tim, at a post-run event. Now he's an avid runner. Their story is typical of the Flying Irish. While it might not be marriage, lasting and meaningful relationships are formed regularly.
Now Dickerson is the volunteer coordinator. Her job, she says, is to focus on giving back to the Spokane community. Flying Irish volunteers have worked Bloomsday water stations and other local running events.
"Hopefully this year we can do quite a bit more," she says.
Club president Brendan Dowling started running with the Irish in 2007. Like Dickerson, he says he didn't know a soul in Spokane. Years later, he's intimately connected to the community.
"Basically, the general philosophy is just to make running fun, and just trying to make a social community based off running," says Dowling.
He believes that spirit of inclusion has earned the Flying Irish running club its reputation and the Best Running Club designation.
"Winning Best Of is just a little bit of a recognition for what we've been trying to achieve for the last five to 10 years now," he says. ♦ (ELI FRANCOVICH)
2nd PLACE: Bloomsday Road Runners Club; 3rd PLACE: Fleet Feet Racing Club