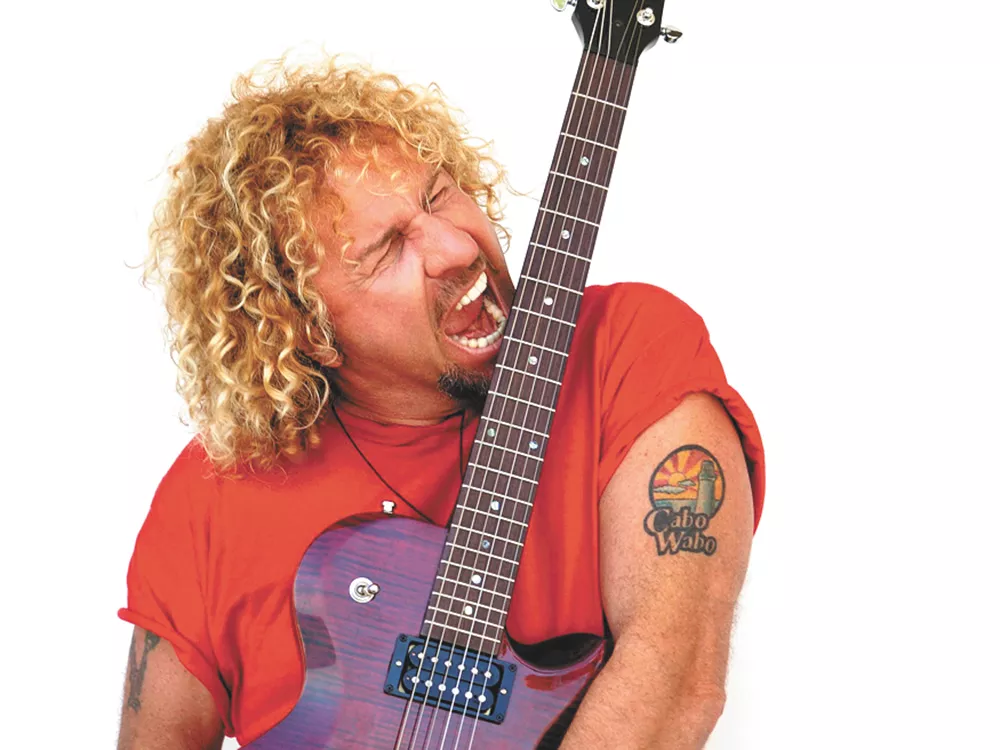 There's a warm glow about Sammy Hagar that's apparent whenever he steps on stage. Big smile, T-shirt sleeves rolled up as he punches the air, red tennis shoes properly suited for running and jumping. He's energetic, personable, and passionate.
I saw Hagar for the first time on Aug. 3, 1999 at Riverfront Park. My sister won tickets from KKZX and convinced me that taking our parents to see "the guy from Van Halen" on a Tuesday was going to be a great time. I thought she was crazy. Turns out, big sisters are pretty smart. Hagar was 51, I was 15, and that concert changed my life.
The Sammy Hagar playlist for beginners
"Red" The Red Rocker's true anthem
"Your Love is Driving Me Crazy" The ultimate '80s track
"Fillmore Shuffle" The obscure cover
"(Sittin' On) The Dock of the Bay" The lesser-known cover of Otis Redding's classic
"Returning of the Wish" The late-model cheesy love song
"I've Done Everything for You" The one Rick Springfield made famous
"I Can't Drive 55" The one everyone knows...
"Little White Lie" The sweet, sweet revenge song
"High Hopes" The dose-of-reality rabble-rouser
"There's Only One Way to Rock" The perfect pre-concert pump-up
— ASHLEY GRAHAM
No joke. Hagar is solely responsible for classic rock making me a weirdo in high school, and for me nowadays being the quirkiest 29-year-old in most conversations. I'm not his typical fan — I was a year old when "I Can't Drive 55" charted, and I absolutely swim in every size-large Cabo Wabo shirt I've bought. Instead, I was won over at that age (when the rest of my summer concertgoing involved Peakfest with Eve 6) by the guy's stage show, the ease with which he interacted with fans and their devotion.
Since then, Hagar's released albums, toured with Van Halen, become a Rock and Roll Hall of Famer, formed Chickenfoot, written a biography, launched a rum line and opened restaurants. Now that I live in San Francisco, I even hit one of them up in Roseville, Calif., on his birthday last year. A dude who many lost track of after his '80s and '90s heyday, and who I so easily could have overlooked were it not for that first experience, has remained a constant throughout my entire adult life.
What I didn't know in 1999 was that being a Redhead (Red Rocker devotee), is a lifestyle. Stop by the bar around the corner from a Hagar concert before the show and you're guaranteed to see an obvious gaggle (they'll be the ones in Cabo tees, goatees and visors, just like the man). Hagar has spent decades earning their respect, providing good tunes and good times — whatever he does, they'll buy it and go to four of the tour stops that follow. (I'll be clocking my first this Saturday at Northern Quest with my awesome parents). A night listening to Sammy Hagar is a night well spent.

Sammy Hagar and the Waboritas • Sat, Aug. 17 at 8 pm • Northern Quest Resort & Casino • 100 N. Hayford Rd., Airway Heights, Wash. • $69 and up • northernquest.com