A rosy red streak runs from the gills to the tail of the aptly named redband trout — Spokane's iconic fish, and historically a significant source of food for the Spokane Tribe of Indians.
In the past decade, though populations of the city's signature fish have remained relatively steady, the numbers are far below historic levels.
The dwindling population is primarily due to habitat degradation, invasive predatory species and poaching, says Spokane Riverkeeper Jerry White, who is working with the Silver Bow Fly Shop and the Spokane Falls chapter of Trout Unlimited, among other community groups, to raise awareness of the fish's history and how to preserve it.
A Washington Department of Fish and Wildlife (DFW) survey of the upper Spokane River found fewer than 1,200 fish in 2008, down from a height of about 19,000 in the 1990s and '80s. Redband are considered a "sentinel" species by the DFW, meaning their survival is a metric for the river's health. Anglers on the Spokane River are not allowed to keep redband they catch.
The City of Spokane has teamed up with the Spokane Indians Baseball Club to add a little excitement to efforts to preserve and protect the showy redband.
Last year, the Indians started wearing special redband trout-themed jerseys — powder blue with red accents and speckles to mimic the fish. The team also introduced a new fishy mascot, Ribby. A part of the proceeds from the sales of the redband apparel — available all season long — go toward conservation efforts, says Otto Klein, senior vice president of the ball club. Last year, the efforts raised more than $10,000, Klein says, with more to come from this year's sales.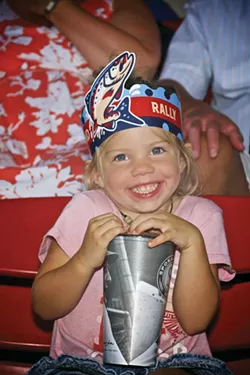 Some of the money will be used for additional signage around the river, Klein says. Another portion will be used to fund grade school students' field trips to Spokane's newly renamed Redband Park for educational days. (Last spring, the Spokane Park Board voted unanimously to change the names of the areas previously known as Glover Field and the Peaceful Valley Riverwalk to Redband Field and Redband Park. The section of the river that flows nearby is where many redband spawn in late April through June. Young redband typically emerge in July.)
"I would envision each year we're adding to our merchandise line, because of the popularity of the campaign," Klein says. "It's not stopping. We're going to continue with this brand for the Indians. This is our most focused conservation effort by the team."
Indians Redband Rally Games • Sat, Aug. 25, and Sat, Sept. 1, at 6:30 pm • $5-$20 • Avista Stadium, 602 N. Havana, Spokane Valley • milb.com/spokane • 343-6886