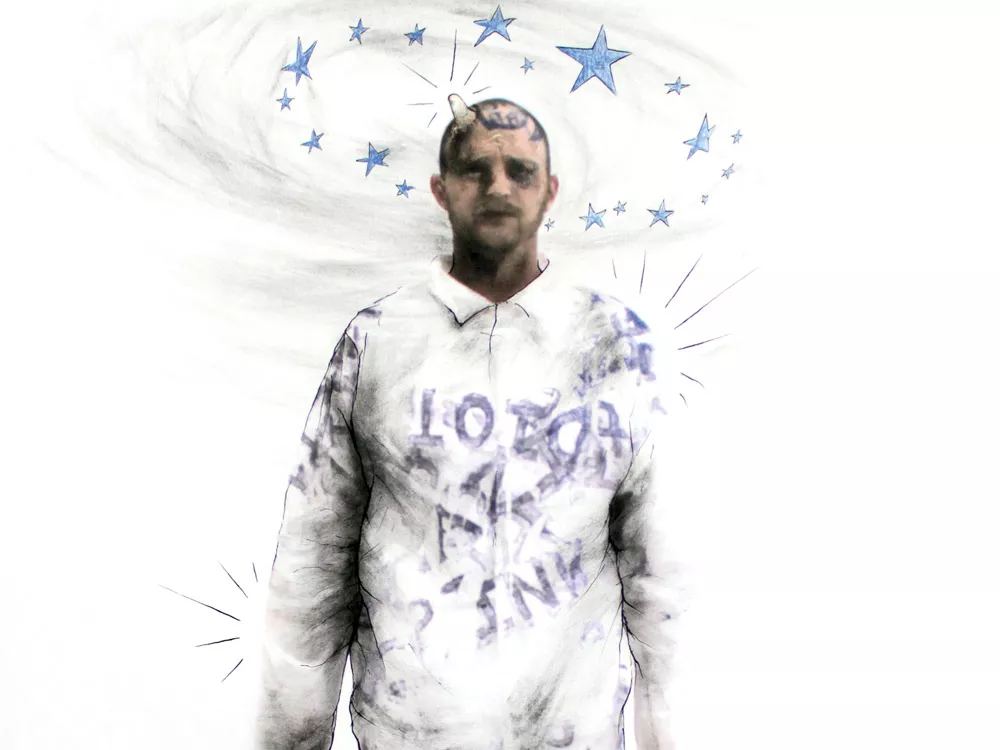 A
bald-headed man in white coveralls
stands in the center of a white room. Another man — also in coveralls, also bald — walks up to the first. Carefully, calculatedly, he raises the weapon in his hand — a foam boffer of sorts — and smacks the first man across the belly.
WINGNUT. The word is painted across his stomach in bright American red.
It repeats. The painted man gets back at the other guy.
PINKO, in star-and-stripes blue, reads his leg.
In minutes, the two are covered in labels: liberal, hipster, moron, redneck, feminazi, rightwing.
The men onscreen are Scott Kolba and Lance Sinnema, two local art professors and members of Spokane's premier art community. They're hitting each other. Hard.
The fight is comedic and, to some extent, choreographed.
And it's one of several elements of the pair's upcoming exhibit, "Escalation," at Saranac Art Projects.
Kolbo and Sinnema had been talking about staging a fight like this for months. Frequent lunch buddies, the pair, who both teach at Whitworth University, noticed their noontime conversations turning gradually more toward politics. The election. The polarized parties.
In the ongoing health care debate, both men were growing frustrated with how immovable politicians seemed to be becoming.
"Neither side would give an inch, and if somebody did give an inch, they'd be called names," Sinnema says.
Those names — redneck, socialist — became the artists' inspiration for a joint art exhibition: a show that would investigate the language being flung between the extremes of the political spectrum. And where best to find such name-calling? The pair started watching the comments on news sites — The Inlander, The Spokesman-Review, and a host of national media outlets. They began seeing the same words popping up again and again.
"We were just trying to read the way that people were discoursing about political things there," Kolbo says.
The pair realized how essential nasty language was becoming to political discourse — and how frequently, they felt, political terms were being misused.
"It doesn't seems like most people know what it means to be a socialist," Sinnema says, "so it's just a word to describe somebody you don't agree with."
"I was noticing that everyone was calling each other Nazis," Kolbo says. "It's kind of a common thing, if some other political party is in power. You start hearing 'This is the way Hitler started —'" Motivated by the ire of online commenters, the two assembled "Escalation," an exhibition of drawings, ceramics, faux-propaganda posters and video, in which the two artists literally pummel each other with words.
It's there — in the blows to each others' faces and limbs — that the two poke fun at the comedy of it all.
And though the humor is the focus, there is an element of the show that seems to wonder: Is all this pointless name-calling becoming destructive?
"My children ask me questions about politics more and more, like what words mean," Kolbo says, "At school, some kid will be like, 'Do you like Obama?' and my daughter will be like, 'Yeah, I like Obama.' They're like, 'I hate Obama!' "[They'll ask] what is wrong with being a Democrat or a liberal?" he says. "And I'm like, 'Well nothing. Why would you think there's something wrong with that?'"

"Escalation" by Scott Kolbo and Lance Sinnema — On display March 2-31 — Saranac Art Projects — 25 W. Main Ave. — Opening reception: Fri, March 2, from 5-8 pm; closing event: Sat, March 31, at 5:30 pm — saranacartprojects.wordpress.com