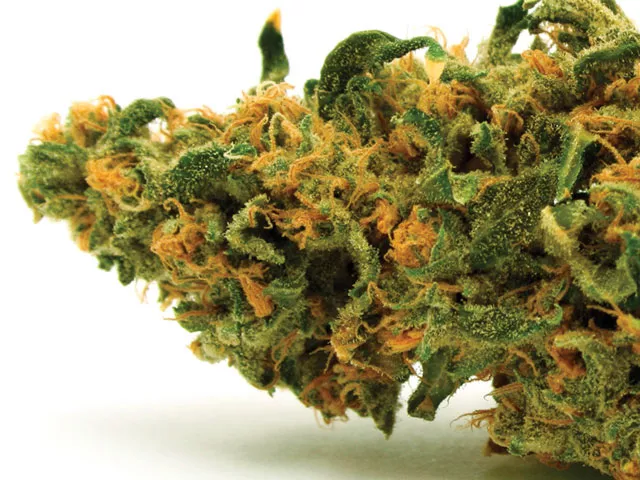 Save money with marijuana. That's the message coming from Rep. Timm Ormsby, a Spokane Democrat in the state Legislature who wants to make marijuana possession about as bad as driving over the speed limit.
It's not about growing it, selling it or taxing it, he says. But by decriminalizing pot, the state could save $16 million every year.
"We spend an awful lot of money, law enforcement time and court time statewide pursuing marijuana cases. I would much rather see those resources dedicated toward treatment and the social services we've decimated," he says. "This isn't, 'Let's start passing pot out to kids.' This is about not giving a criminal record to somebody that is otherwise law abiding."
The bill, HB 1177, comes from Rep. Dave Upthegrove (D-Des Moines) and already has a strong start — it was heard on the third day of the legislative session. Rather than facing 90 days in jail and a fine of up to $1,000, people caught with small amounts of pot would be nailed with a $100 fine.
"It remains illegal," Ormsby says. "But it decriminalizes it."
It's not the only pro-reefer bill floating around the Legislature this year. The other bill, HB 2401, is sponsored by Rep. Mary Lou Dickerson (D-Seattle) and calls for the full legalization of marijuana.
Under this bill, the state's 160 government-run liquor stores would sell pot to people over 21 — while charging a hefty 15 percent tax. The revenue would support the state's substance abuse and prevention programs, which are facing drastic budget cuts. Dickerson has said her bill could raise $300 million annually, as much as liquor sales raise for the state.
Ormsby says he's not behind the full legalization because it's "not a short-term fix. There's federal drug law. You know there's been this dust up." He's referring to the clash of state and federal governments over the proliferation of medical marijuana laws. Even though Washington is one of 13 states that have approved the use of medical marijuana, the federal government still classifies marijuana as one of the most dangerous drugs available. Ormsby says decriminalizing pot would show immediate savings.
Washington state — behind on its bills by $2.6 billion — isn't alone in its bid to fi x its budget woes with the relaxation of cannabis laws.
California (with a $26.3 billion budget deficit), Massachusetts (short $2.6 billion in its budget) and New Hampshire (with its $70 million revenue shortfall) are also getting in on the action. Hawaii State Sen. J. Kalani English told the Honolulu Advertiser that he's going to an introduce a bill to regulate and tax marijuana dispensaries in his island state (which faces its own $1.2 billion budget shortfall).
Still, the decriminalization bill has to pass the state House, Senate and win Gov. Chris Gregoire's signature.
"This bill has a much better chance [this year]. I have heard influential folks not discount or dismiss it. It very well may rise to the level of being considered because of economic and financial reasons," Ormsby says, adding that the bill was driven by common sense.
"We should be focused on the people that scare us and not the ones that make us mad."