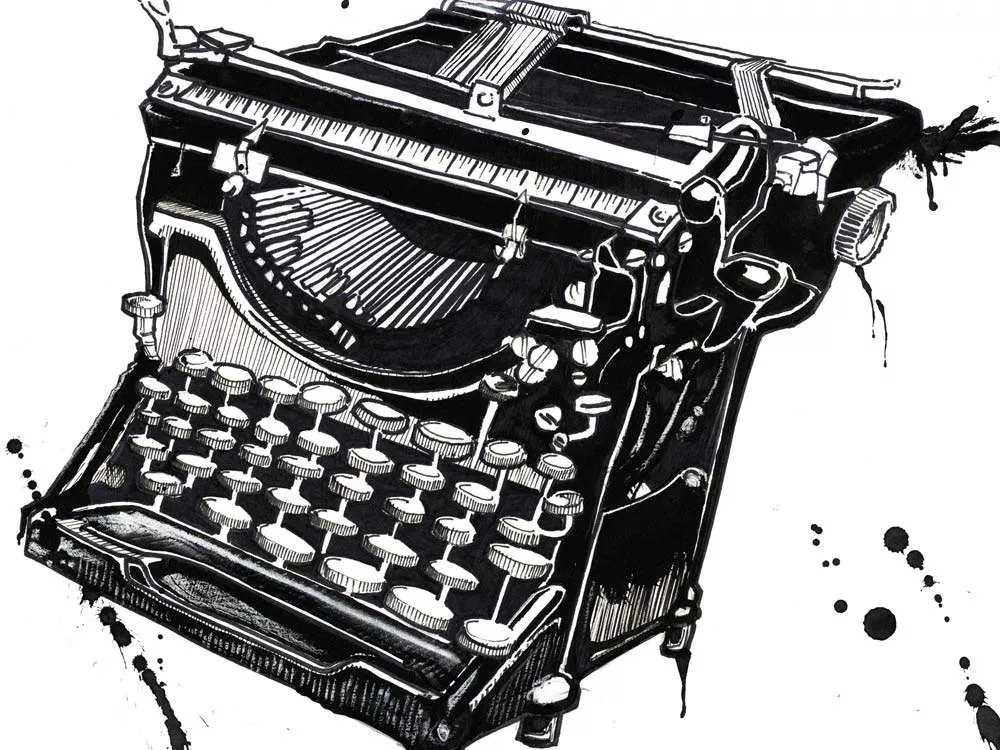 As humans, we treasure the "aha!" moments in life, rare though they may be. Sometimes it's in the people we meet — the notion that someone "gets" us — while other times it's a song, a poem or even an artwork. It's certainly the feeling an artist gets when he or she creates something they're at least a little bit in love with — a feeling Austin Stiegemeier readily embraces.
With paintings and prints that combine the contemporary relevance of pop cultural references with exceptional craftsmanship and an innovative narrative and figurative point of view, Stiegemeier is forging ahead with his first local solo exhibition. It will be held — fittingly — at AHA! Creative, a new graphic design/print shop in downtown Coeur d'Alene.
Entitled "Digital Vintage Syndicate," it originally involved artists whom he met exhibiting at Terrain, an annual showcase of different artworks. When those artists unexpectedly dropped out, however, Stiegemeier found himself with more space to fill and an opportunity to collaborate with owner Ali Koski, an area designer and signmaker.
The exhibit reflects Stiegemeier's varied influences, such as the German graffiti artistcollaborative Herakut, painter Lucian Freud and the revolutionary printmaking of Andy Warhol. Stiegemeier is also fond of vintage equipment and design, which resonated with Koski, who encouraged Stiegemeier to experiment with printing on clear plastic "cling" vinyl. The vinyl images ended up on old barn windows from Stiegemeier's grandfather's farm and will be the "head" to bodies from enlarged line drawings, including a wheelchair-bound figure from One Flew Over the Cuckoo's Nest.
Movies featured prominently in Stiegemeier's work, especially ones like American Beauty and Pulp Fiction, which explore cultural norms in unexpected ways. By inserting his "character" into enlarged stills from contemporary movies, Stiegemeier manages to explore personal narrative while still broadly questioning how pop culture influences identity.
"In a culture preoccupied with the acquisition of consumer goods," he writes in the exhibition statement, "our relationships as individuals have changed. Producers of consumer goods promise to make their buyers unique, enticing consumers such as myself to pursue an identity which becomes mediated through material objects."
In a series of lithograph prints, Stiegemeier depicted clothing worn by his invisible self, photographing and casting his body for the sketches. This was a springboard for discovery as he eventually began to address the objects themselves, making and printing diagrams of such things as sneakers that could then be refolded into three-dimensional work.
That multidimensional approach — from drawing to digital to print to sculpture and back again — was learned, in part, during college, including time spent at North Idaho College. It was later honed while serving as assistant to Ken Spiering, working on the Spokane Convention Center "Current Event" commission.
After two years with Spiering, Stiegemeier pursued a bachelor's in printmaking and painting from Western Washington University, an experience that amplified his process and rich conceptual approach to artmaking.
Stiegemeier says he misses the energy and collaborative environment from college, yet recognizes opportunities found in Coeur d'Alene.
"One benefit of working here is that there would be very little competition," he says, noting that area businesses don't yet support younger artists. "The challenge is that ... first you need to find the artists, get them visible, and then establish an audience that is going to support them."
Until that happens, Stiegemeier is forging ahead, mapping out his destiny one painting at a time, one conversation at a time, one moment at a time — and looking in earnest for the next "aha!"
"Digital Vintage Syndicate" by Austin Stiegemeier • AHA! Creative • 414 E. Sherman, Coeur d'Alene • Mon-Fri, 9 am-5 pm or by appointment • Free • Artist reception: Fri, Dec. 3, 5-8 pm • http://www.ahacreativeservices.com • 208-292-4074