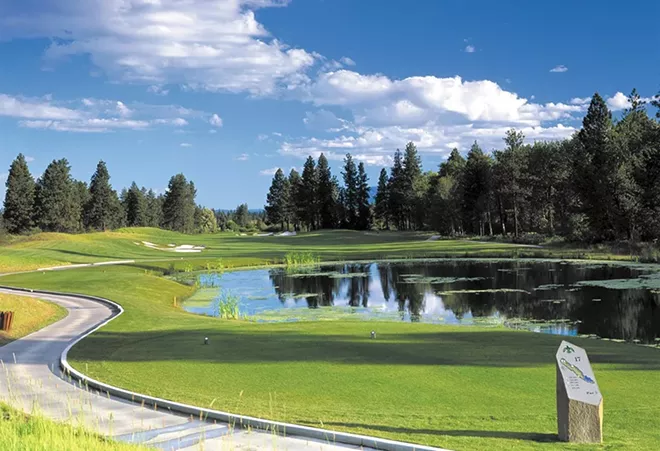 If there's even a scintilla of a silver lining to this coronavirus pandemic, it's that it's hitting us as life in the Inland Northwest turns to spring. And since we're not (yet) under any sort of "shelter in place" declaration, there are plenty of people taking advantage of the trails and bike paths while they can.
Golfers, naturally, are some of the most anxious recreationists when it comes to spring. Even when we're lucky enough to have mild winters, it can be tough to get a round in between October and April.
In a "normal" year, the area's courses would already be full of duffers and hackers (like myself) as well as people who actually know how to play the game. But even on the links, coronavirus has reared its head and put a delay to the spring season.
Washington Gov. Jay Inslee's March 16 emergency proclamation temporarily shutting down restaurants, bars, recreational and entertainment facilities does allow golf courses to remain open. Area courses, though, have to take special precautions before they can let anyone out to play.
"Our plans include increasing the frequency of cleaning, especially high-touch areas; social distancing protocols; payments via phone vs. at the counter when possible," says Doug Chase, director of
Spokane County Parks, Recreation and Golf
, in a statement Thursday. "When we re-open, we ask that participants please not attend golf facilities if you experience symptoms or have been in contact with someone experiencing symptoms; our staff will do the same."
The county has determined opening dates for its courses — Hangman Valley (Friday, March 20), MeadowWood and Liberty Lake (both Saturday, March 21) — while
Spokane city courses
Downriver, The Creek at Qualchan, Esmeralda and Indian Canyon, which are taking the same precautions as the county, are opening on Friday (except for Indian Canyon due to normal weather-related delays). You can bet that other area courses, like
Circling Raven
in Worley, Idaho (opening March 27 if all goes as planned) are doing the same to get ready for a whole new experience playing golf.
Be sure to check with your favorite regional golf course before just showing up to see if they're ready for you. And be patient, fellow hackers! Course time is coming, even if the rounds will move a little slower due to social distancing (and my hitting the ball into the woods, the lake, the creek — anywhere but the fairway! — as often as possible).
[Editor's Note: This post has been updated to reflect new announcements regarding opening dates since it was first published]