Meowing echoes down the long hall; loud and insistent. Upon entering the hotel ballroom where this sound emanates, the scent of odor-eliminating cat litter assails the senses. Women in leopard-print tops that match their Bengal cats bustle around the room. Cat-ear headbands are perched atop some heads. Fancy canvas-and-mesh cat kennels pop up along rows of tables in the center of the room. That meowing, and the smell of litter, drifts out from these deluxe cat huts.
Bengals were the special breed highlight of last weekend's On Safari all-breed cat show hosted by the Seattle-area Evergreen Cat Fanciers club at the DoubleTree Hotel in downtown Spokane. Nearly 60 of the popular, rosette-spotted cats resembling miniature wildcats traveled — some from as far as the East Coast, and even Italy — to test how well they conformed to the breed's standards against fellow competitors.
In all, 31 breeds were represented at the three-day event, including championship Maine Coons, Sphynxes, Ragdolls, Norwegian Forest Cats and others.
On Friday evening, the Bengals are judged only against their fellow breed members during an event called the "Bengal Congress." In ring two, a row of wire cages behind judge Heather Roberts are filled with adult Bengals waiting for their turn.
"If you spray in there, I'm going to be mad," a young woman warns under her breath to her male Bengal as she loads him into one of the units.
Roberts brings out one of the sleek-coated cats and sets him on a raised platform in front of her. Lifting the cat up by his front armpits, she examines the body's length, quickly sliding her hand down the torso. She sets him down and picks up a feather wand toy.
"You'll see me playing with the cats, which is an easy way to get him to look at me to see his ears and face and the set of his eyes," she explains to a group of cat owners and spectators gathered around.
Most of the cats are incredibly calm during the judge's handling, and while being carried through the loud, crowded room of other cats and excited feline fans. When not being judged, most of them snooze in their fancy cat tents.
On Safari is sanctioned by The International Cat Association (TICA). Cats are judged in several categories, based on coat length (short or long hair), age (adults and kittens) and whether the cat is spayed/neutered, or unaltered. Household or non-pedigreed cats and kittens also could enter the show, and several did.
When Spokane resident Carlie Doepker first heard about the cat show, she knew she had to enter her 3-year-old domestic shorthair, a leash-trained rescue she found on a farm as a kitten.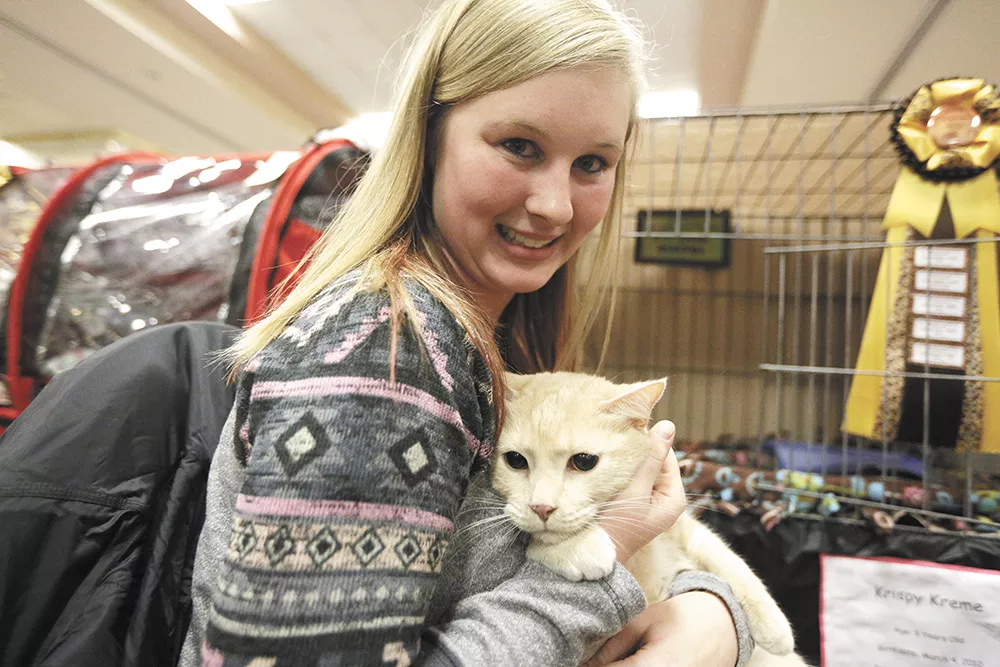 "I've always loved cats since I was little, and I thought, 'What better place to hang out with my cat and other cat people?'" Doepker says as she cuddles her large buff-colored kitty, Krispy Kreme.
So far he's done well at his and his owner's first cat show, being judged with three other adult competitors in his category — shorthaired adult household pets. Though Doepker asserts Krispy is "all talk and no bite," he's a bit grumbly after Saturday morning's judging, so she decides to pull him from competition the rest of that day to give him a break.
"If he's not enjoying it and having fun, it's not worth the stress on him," Doepker says, giving the wide-eyed cat a kiss on the head.
Unlike Doepker, Stefani Dell has been going to cat shows for most of her life. When she was 6, her parents brought home a pedigreed Maine Coon which they decided to enter into competitions. The large-sized, majestically fluffy cats are a native breed to the U.S., celebrated for their color variety, sociable personalities and gentle demeanor.
Eighteen years later, Dell and her 8-month-old Maine Coon, a black-and-white female named Pearl, are at On Safari, the first show in years she hasn't had to pack up and travel to, since Dell currently lives in Spokane Valley. Most of the shows she and her mom, Jan Dell, a Maine Coon breeder from Yakima, attend each year are across the state or farther away.
Pearl is competing in the adult longhair category for the first time, having previously competed as a kitten. Most cat show exhibitors start entering pedigree cats in that division to get them used to the chaotic show setting as early as possible.
"She handles it OK," Dell says of Pearl. "She doesn't do well with strangers — sometimes she hisses, and she doesn't like other cats very much, either. She's a little princess."
Lounging inside her cat tent while Dell and her mother work as show clerks, recording the judges' scores in a comprehensive log, Pearl seems unfazed by the chaos around her — other cats yowling, the crowd's cacophonic chatter, and strange faces peering in to admire her bushy black tail and wide, golden eyes.
By the show's end, Pearl has received several "best of color" and "best of division" awards, but she doesn't make it to the finals this time. For Dell, these events aren't just about winning, though.
"I just love the cats and the people — it's just fun," she says. "It's my way to relax and have fun. Everyone has their different things, and this is mine." ♦