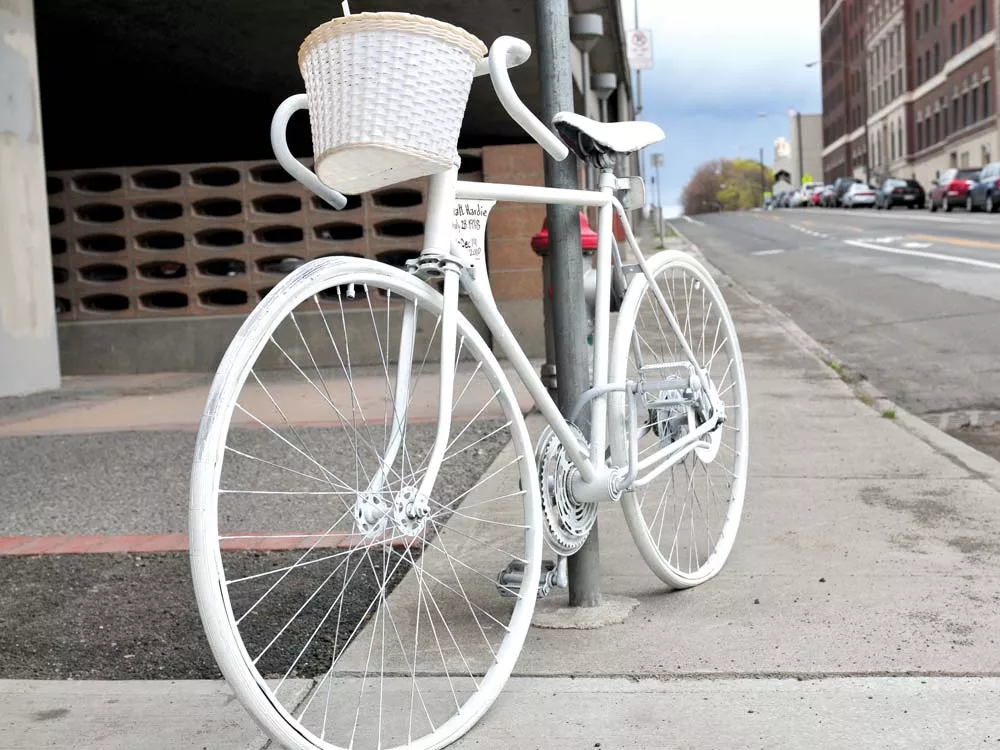 CHERRY-PICKING WILDLANDS
Funding for parks, open space and working farms is threatened in the Washington State Senate capital budget, and those representing Eastern Washington feel targeted.
"The Senate cherry-picked $16 million worth of projects to fund," says Chris DeForest, executive director of the Inland Northwest Land Trust.
The final acquisition phase for Antoine Peak, overlooking Spokane Valley, and the Jeff Dawson Ranch near Colville face funding cuts in favor of projects on the west side of the state.
While the House voted to grant the Jeff Dawson Ranch $300,000, matching a federal grant that would protect 115 acres of viable farmland from development, the Senate completely cut funding for the ranch, as it did for all other farmland preservation projects.
The House designated $1.6 million — equaling the county's $1.6 million match — for the third and final phase of Antoine Peak, but the Senate cut it to $764,000. The Senate instead fully funded the NW Stream Center Interpretive Trail in Snohomish County.
BULLETS KILL VULTURES — NOT LEAD EXPOSURE
U.S. Rep. Cathy McMorris Rodgers, R-Eastern Washington, joined 38 House members in sponsoring a bill that would exempt fishing and hunting gear from regulation by the Environmental Protection Agency.
According to the Northwest Sportsman, the legislation came after the online scientific journal PLoS ONE published an article describing a spike in lead exposure in turkey vultures during and immediately following deer hunting season. A similar spike was seen after pig hunting season.
The Hunting, Fishing and Recreational Shooting Protection Act was introduced last month and would modify the Toxic Substances Control Act. Four senators, including Montana's Jon Tester, sponsored similar legislation.
CYCLIST REMEMBERED
A new "ghost bike" has appeared in Spokane at Fourth Avenue and Lincoln Street. The bike, painted completely white, commemorates Matt Hardie, a 32-year-old Spokane cyclist who died last December from injuries he suffered from an Oct. 4 incident at the intersection.
Spokane City Councilman Jon Snyder says he knows who put the bike there but didn't feel comfortable releasing their names. He did say they are "very involved in Spokane's bike community."
Snyder, who previously put a ghost bike at Sprague and Division in honor of another killed cyclist, assures us he didn't place this latest bike.
"My bikes don't look that good," he says. "But I did donate the lock."
FREE SPEECH ZONE DEFENSE
Two years ago, The Inlander ranked local colleges by their free expression rights. North Idaho College ranked first: We wrote, "Free expression still runs free at NIC."
That may change, in the aftermath of the Westboro Baptist Church protests this fall. North Idaho College wants to establish a "free-speech zone," a term that makes the free-speech activists at the Foundation for Individual Rights in Education (FIRE) cringe.
Last week, the college's board of trustees voted unanimously to give administrators the right to restrict times or places on campus where free expression, like picketing or passing out leaflets, can take place.
So far, most of the restrictions (like prohibiting expression near exits or roadways, or expression that obstructed walkways or disrupted learning) seem reasonable, says Robert Shibley, senior vice president of FIRE.
But one policy, requiring giving 48-hour notice before demonstrations, is more legally questionable, says Shibley.
"I wouldn't consider it completely within the bounds of the Constitution," Shibley says. He cites the spontaneous campus demonstrations celebrating the death of Osama bin Laden — those certainly didn't have 48-hours notice. Instead, he says, campuses should create provisions for those types of spontaneous demonstrations.