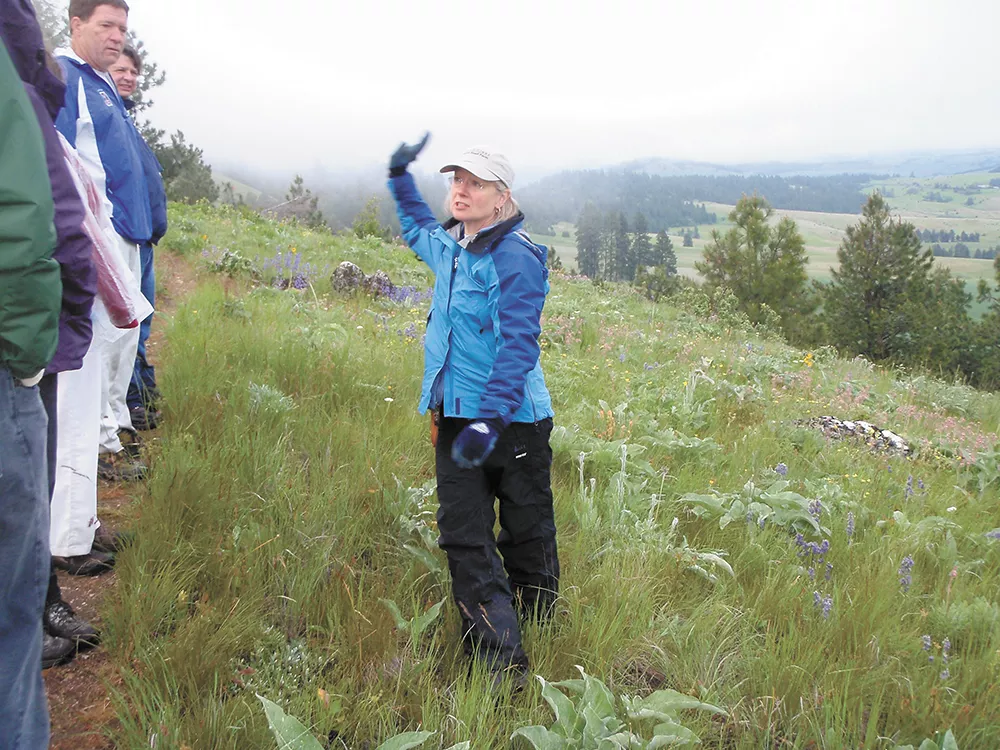 If you want to see what the Palouse looked like two centuries ago, you might look for a stretch of land south of Moscow called Paradise Ridge. Here, wildflowers and bunchgrasses cover the land like they once did, before agriculture transformed the Palouse into what it looks like today.
Jacie Jensen and her husband are stewards of 100 acres on Paradise Ridge. It has become a Palouse prairie remnant — a piece of land that reflects the former prairies of southeast Washington and North Idaho.
The prairie used to be filled with native plant species, but those species no longer dominate the landscape. Instead they're confined to small areas, or the side of the road. To help people identify these native plants, Jensen co-authored a book called Palouse Prairie Field Guide: An Introductory Guide to Native Plants, Agricultural Crops and Invasive Weeds for the Curious. Released April 1, it's for anyone who may wonder about the plants they see around the region, the crops that took over, and the invasive plant species threatening them.
The climate in the Inland Northwest — with cold, wet winters and dry summers — is ideal for the shortgrass prairie that once covered the Palouse. Native plants survive with roots that go deep in the soil.
But that deep soil also made great land for farming. During the 1900s, the land almost completely transformed from prairies of perennial bunchgrasses and wildflowers to land used for agriculture. Only about 1 percent of the native prairie remains, making it one of the most endangered ecosystems in the United States. According to the U.S. Geological Survey, 94 percent of the grasslands and 97 percent of the wetlands in the Palouse bioregion have been converted to crops, hay or pasture.
Jensen says it's important to keep the native plant species because they can help inform current agricultural practices and make them more sustainable.
"As our prairie diminishes, so does the knowledge that's locked in those soils," she says.
The common snowberry, in the honeysuckle family, is one of the "defining species of the Palouse Prairie," according to the field guide. They have pink to white bell-shaped petals with five lobes, and white, berry-like fruit. They thrive in "mesic grasslands, shrub thickets, riparian areas and open forests," and they're the host plant for the larva of the snowberry checkerspot butterfly.
If you come upon a Palouse prairie remnant, however, you may not find its defining species, Jensen says. Even the remnants don't encapsulate the vast native plants of the old prairie.
These days, you may be more likely to see Ventenata, an invasive grass weed native to central and southern Europe. Starting about five years ago, Ventenata exploded in this region and has diminished native grass species, Jensen says. It's difficult to mow in winter months because it flattens out. It turns vibrant green with dark red or black nodes in spring, and it outcompetes other native plants. By late summer, Ventenata looks tan, wiry and has few leaves.
Invasive species like this can have negative effects on the entire ecosystem, Jensen says. It has no nutritional value, so animals won't eat it. And there aren't many insects on Ventenata, which impacts the bird population.
"To try to keep things in balance, we need all parts of the ecosystem," Jensen says. "And part of that is the native plants."
Jensen has been studying the Palouse's native plant species for a while. A decade ago, she and her husband, both farmers, decided to turn a piece of their land that's adjacent to the prairie remnant into a farm, called Thorn Creek Native Seed Farm, that produces native seed for landowners and home landscapes.
Dave Skinner, who devoted a good portion of his life to studying native plants in the region, helped mentor them through that process. Jensen came up with the idea to write the Palouse Prairie Field Guide, and Skinner and Gerry Queener helped create it. It took about a year to complete the book.
Skinner died in January after a battle with cancer, just months before the book's release. Creating the book, however, gave him more of a sense of purpose as he lay at home in hospice care. He wanted people to know about the native plants of the mostly vanished ecosystem.
"It's kind of [Skinner's] legacy," Jensen says, "taking information, or his knowledge, and putting it in a format for people to start learning about the prairie plants." ♦