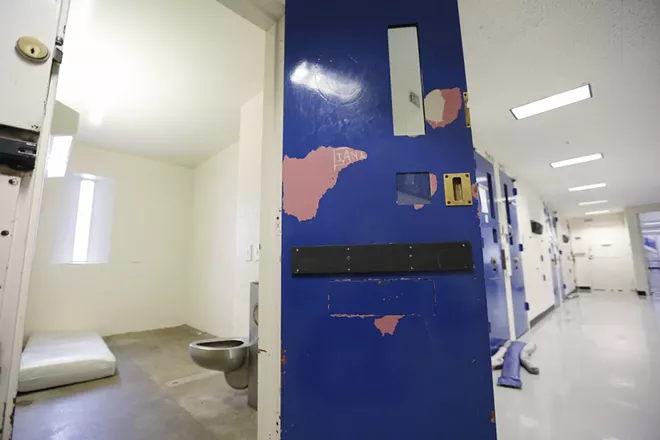 O
n average, 17 people died annually over the last decade
while incarcerated in county jails across the state of Washington, a result of people with mental illness, drug addiction and serious medical conditions being locked up with inadequate care, a new report argues.
And many of the deaths were "entirely" preventable, the analysis states.
The report, which was produced by Columbia Legal Services, a statewide progressive legal firm, after a multiyear investigation, documented 210 deaths in 54 jails across the state between 2005 and 2016 using records obtained through state public disclosure laws (as well as media reports, federal data, and other sources). Roughly 43 percent of the deaths were suicides — 80 percent of which were hangings — followed by fatalities from severe medical conditions and deadly drug addiction withdrawals.
Spokane County presided over the fourth most deaths of all jails examined by the report, logging 20 deaths between 2005 and 2016. (King, Clark and Pierce Counties were the only counties with higher numbers of inmate fatalities.) Five of those were suicides, while the other 15 stemmed from a variety of causes.
The report attributes its findings to both widespread deficiencies in county jails' ability to provide effective care and treatment for mentally ill inmates and inmates with drug addiction, inmate overcrowding in jails, as well as broader societal failure to help people with behavioral health issues who subsequently end up in the criminal justice system.
"Many of these deaths were entirely avoidable, caused in part by society's failure to properly care for the many people with mental illness, traumatic brain injuries, cognitive disabilities, and substance use disorders who end up behind bars," the report asserts. "Unfortunately, society has abdicated its responsibility to provide humane, cost-effective, community based housing and treatment services for people with serious medical, mental, and behavioral health needs. Instead we spend millions of dollars a year warehousing people in our jails — institutions ill-equipped to provide appropriate and adequate care."
"Far too many die behind bars as a result," it goes on to say.
"Our report demonstrates that those universal shortcomings [of jails] lead to people being injured and, in some cases, unfortunately dying," Nick Straley, an attorney with Columbia Legal Services and lead author of the report, tells the
Inlander
. "An appropriately functioning health care system would not have the number of people that are [currently] forced to be treated behind bars."
The report also found over 60 percent of all deaths occurred within a week of the inmate getting booked into jail. Cases involving suicide or substance-use disorder made up over 80 percent of deaths that occurred within 72 hours of admission.
In addition to overdoses, a number of deaths stemmed from fatal drug and alcohol withdrawals and jail staff's improper management of the process, the report said. Symptoms for both opioid and alcohol withdrawals — such as vomiting, muscle aches, diarrhea and insomnia — can be fatal if not treated, and are "likely" to begin shortly after a person suffering from addiction is booked into jail. (The report also noted that substance use disorder and withdrawal symptoms contributed to "many" of the recorded suicides.)
In some cases where inmates died from severe medical issues like sepsis and staph infections, jail staff failed to diagnose or treat them because their symptoms were mistaken for (or masked by) drug or alcohol withdrawals.
"Jail staff in a number of cases failed to properly diagnose and treat serious medical conditions because it appears they attributed reported symptoms to withdrawals," the report says.

The release of this analysis from Columbia Legal Services comes after KUOW and other public radio news outlets published their own self-compiled data set on regional jail inmate deaths. Their findings showed jail deaths increasing in recent years with roughly 300 people dying across Washington and Oregon since 2008.

Last year, eight inmates died in 14 months within the Spokane County Jail — three of which were suicides. (County officials hired a consultant to assess their inmate suicide prevention policies and practices in response.) The internal investigations into those deaths have not yet been released.

"There are many actions that can be taken to reduce the number of deaths inside Washington's jails," the report reads. "Anything less will condemn other men and women to needless injury and death behind bars."
Additionally, the report also called for requirements that jails report all inmate deaths and serious incidents. Washington is one of 17 states without state oversight of county jails, per the report report, and jail officials frequently refuse to release internal records, citing a broadly interpreted exemption written into state public disclosure laws. (Last year, Spokane County denied the
Inlander
's request for internal investigations into
sexual assault and harassment
within the jail.)
Below is the full report: