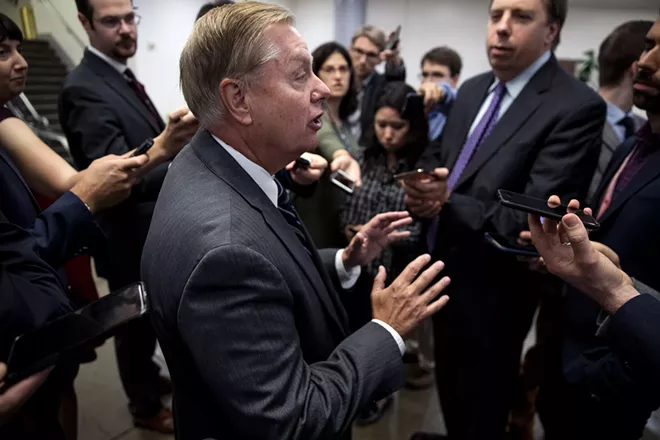 By Michael D. Shear and Nicholas Fandos
The New York Times Company

W
ASHINGTON —
Senate Republicans plan Thursday to introduce a resolution condemning the Democratic-led impeachment inquiry, offering a symbolic objection to the investigation a day after Republicans in the House stormed a secure room in the Capitol to disrupt it.
Under pressure to defend President Donald Trump amid damaging revelations about his conduct, senators appear to have settled instead on denouncing the impeachment inquiry that has uncovered them.
Led by Sen. Lindsey Graham, R-S.C., chairman of the Judiciary Committee, the Senate resolution will accuse Democrats in the House of conducting an unfair, secret inquiry designed to embarrass Trump without giving him the ability to defend himself.
The back-to-back efforts to attack the impeachment process in the House and Senate are an attempt to undermine public support for the inquiry as a stream of witnesses from inside Trump's own government have delivered day after day of damning testimony about the president's campaign to pressure Ukraine for his own political gain.
Revelations from the investigation so far have been increasingly difficult for some Republicans to defend, but opposition to the way the inquiry has been conducted has more or less unified the party.
The approach also reflects a recognition among Republicans that polls show a majority of the public now supports the impeachment inquiry — if not Trump's removal — putting additional pressure on some of their members to either support it or explain why they do not.
Frustration among Republicans about impeachment — and their need to deflect attention from it — intensified after Tuesday's explosive testimony from Willian Taylor, the top U.S. diplomat in Ukraine, who offered excruciating detail of a Ukraine quid pro quo by Trump.
House Republicans on Wednesday sowed chaos with a protest in the secure rooms of the House Intelligence Committee that delayed testimony by Laura Cooper, deputy assistant secretary of defense for Russia, Ukraine and Eurasia, for more than five hours.
The resolution condemning the House investigation will be co-sponsored by Sen. Mitch McConnell, R-Ky., the majority leader.
Senior Republican aides said the resolution was not expected to come to the Senate floor for a vote until next week at the earliest.
Democrats are shrugging off the Republican complaints about the process as they march forward with at least another week of closed-door depositions.