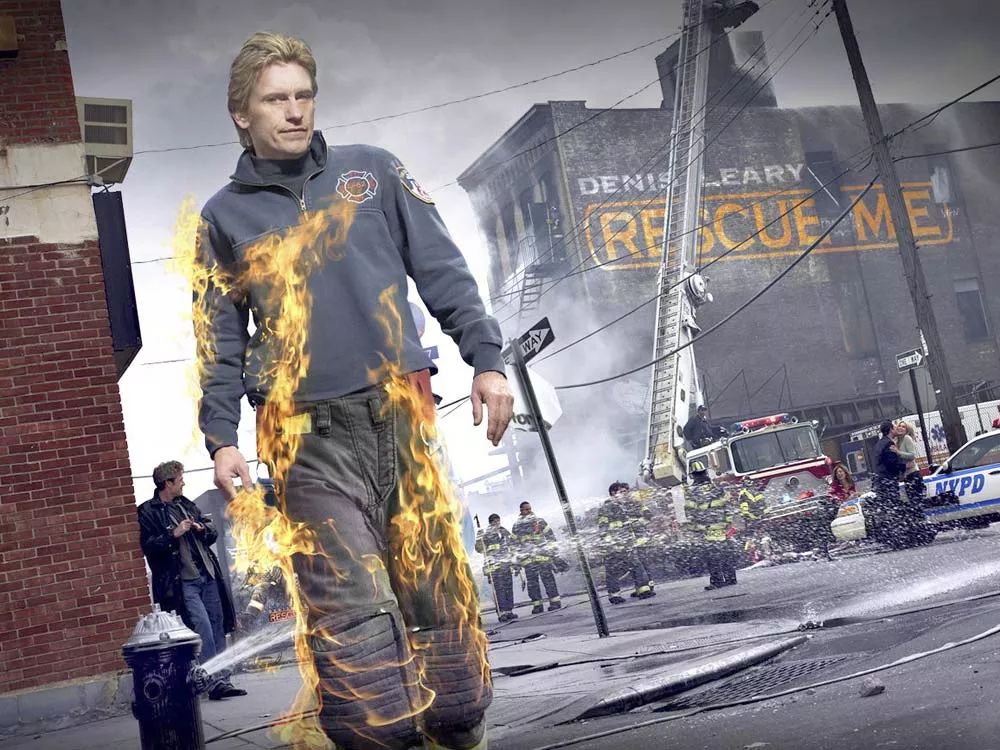 By virtue of staying in a co-dependent viewer relationship with a hopeless drunk like firefighter Tommy Gavin (comedian and co-creator Denis Leary) — for the reckless thrills and the makeup sex — faithful viewers of FX's Rescue Me need a recovery program.
Here's what I'd say at my Rescue Me Anonymous meeting: The highs are all gone, but the thrills were worth it.
The last few seasons have been lame — particularly the first few episodes of this, its final season. Wife Janet (Andrea Roth) and ex-lover Sheila (Callie Thorne) are now friends? Tommy has stayed sober after being kicked off the fire department? The story lines seem pathetically disloyal to Rescue Me's carefully crafted characters.
Still, I revel over the comic and dramatic genius of the first three seasons. The vicious sarcasm that somehow appropriately tackled racism and homophobia. The taunting of the developmentally disabled.
For those of you unwilling to sort through the now 87 episodes — and less than impressed by the last few — here are the four best:
"Butterfly" (Season 1, Episode 7): The guys from 62 Truck steal hours of free therapy from a psychologist as they build a deck in his backyard. "Inches" (Season 1, Episode 8) was the erect-penis-size contest. How does girth factor in? This could have ended up puerile, but smart writing and flawless comedic timing from Lt. Kenny "Lou" Shea (John Scurti) and Franco Rivera (Daniel Sunjata) made it priceless.
"Rebirth" (Season 2, Episode 9) shows Tommy transformed by Janet's antidepressants: giddy, showing up early for work and saying all kind things. "Zombie" (Season 3, Episode 6) gave Steven Pasquale the chance to shine. Mistaking sleeping pills for painkillers, his character, Sean Garrity, overdoses on Ambien, sleep-drives to a grocery store, eats food off the shelves and insults an ugly child before being arrested.
Rescue Me addicts have stayed loyal to this series because it has consistently given voice to the firefighters who died on 9/11, and the potential pitfalls of the career in general. It's fitting that co-creator Peter Tolan and Leary chose to end it just before the 10-year anniversary.
At its best, Rescue Me was a brilliant ensemble. Despite the slow, bland ride back to the gate, Rescue Me has been an outrageous, daring and naughty thrill ride.
(Wednesdays, 10 pm, FX)

---
TIVO-WORTHY

Awkward
Even if the show's creator hadn't admitted she is John Hughes' protegé, I would have seen the similarities between Awkward and every Molly Ringwald movie. The quirky-hip heroine, dorky-cool guy friend and uber-popular crush? Check! Yet Awkward's Jenna and her ensemble are more edgy, deep and darkly funny. (MTV, Tuesdays, 11pm)
Same Name
If David Hasselhoff weren't artfully self-deprecating, he may have fizzled out like other 1980s icons. Why is the old guy from Knight Rider still darling? Watch him on the season premiere of CBS's Same Name. He's the first of a handful of celebrities to switch places with non-famous people who share their names. I cried. (CBS, Sundays, 9 pm)
Damages
FX execs say they loved Damages, but couldn't afford to make it anymore. So Daddy Warbucks (Direct TV) swooped in with a wad of cash and bought exclusive rights to the critically acclaimed, low-rated legal thriller. Glenn Close is still badass as Patty Hewes, and Rose Byrne returns, with John Goodman playing the villain. (DirectTV, Wednesdays, 10 pm)