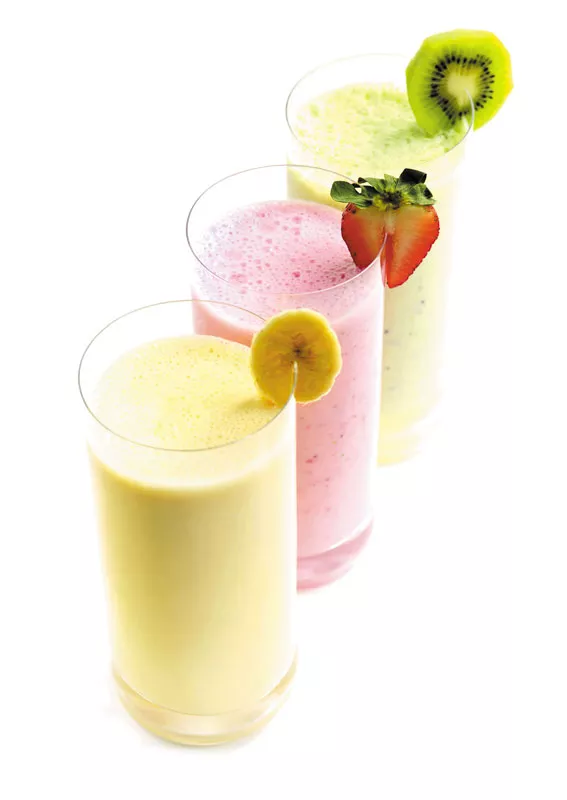 A Tasty Final Project
Hands-on learning increases retention. Amy Meredith, a clinical associate professor of speech and hearing sciences at WSU-Spokane, decided that even though dysphagia (swallowing issues) are covered in depth in the graduate program, an introduction to the topic makes a good conclusion to her speech anatomy class.
And nothing spurs creativity like a little competition. So Meredith has her students prepare dishes appropriate for people with swallowing problems and stages a little Iron Chef smackdown of her own. This year's entries included smashed sweet potatoes, liquid banana pancakes, red beans and rice and golden mango smoothies. All were easyto- swallow dishes or thickened drinks that provide sustenance and are appropriate for people with swallowing issues. The recipes have been compiled into a cookbook available free of charge at the WSU Spokane website.
"Speech-language pathologists sometimes see patients whose ability to chew and swallow is compromised, for example after a stroke or traumatic injury, or as part of a progressive neurological disease," Meredith says. "The potluck provides a fun, end-of-the-semester way to bring in problem-based learning, in addition to cultural competency."
Student Shannon Scribner was a participant in the first potluck and served as a judge in the second one. "My mother-in-law has Parkinson's. She is doing well right now, but may start to experience difficulty swallowing as the disease progresses. This exercise gave me lots of good ideas."
— Patty Seebeck
One City, Two Worlds
Between Spokane's Riverside and Southgate neighborhoods are four miles of city streets, a freeway and an 18-year difference in how long the residents of each neighborhood will live. This is one of the conclusions of a soon-to-be-released Spokane Regional Health District report that quantifies how race, neighborhood, income and education level affect Spokane County residents' health.
"It's not just the haves and have-nots … it's gradients," says Joel McCullough, public health director for the district. "So everyone is affected by health inequity."
By analyzing birth and death certificates and the Washington State Population Survey, among other sources, the district was able to quantify how a person's health is affected not just by their access to health care, but by the lives they lead.
A baby born to a mother without a high school diploma, for instance, is nearly three times more likely to die before its first birthday than one born to a mother with a college degree. Diabetes rates among adults who make less than the poverty level are twice as high as those among adults who make 400 percent of the poverty level or more.
And then there's the gap in life expectancy.
According to the report, people in Southgate, which hugs the southeast corner of Spokane's city limits, live 84 years on average. In Riverside, the neighborhood that encompasses downtown Spokane, it's about 66 years.
"Such a large gap of 18 years," says Adrian Dominguez, an epidemiologist for the health district and the author of the report, "it was very disturbing to me."
Some problems require addressing culture rather than commerce, Dominguez says. She points out the finding that women in the West Central neighborhood are 17 times more likely to smoke while pregnant than women in the Manito neighborhood.
"Why is it OK for women to smoke in West Central … whereas if you go to Manito or an affluent area, maternal smoking is not present?" she asks.
The report is short on reasons for the health disparities in the county. Rather, Dominguez hopes that it acts as a stepping-stone to push governments to address the factors that lead to the inequities — from students dropping out of school to streets that lack sidewalks. The Health District will release the report in June
— Chris Stein
Your Brain, On Sleep
Surprisingly, for something we all do every day, or night, scientists still aren't just sure why we sleep. Sure the body needs a rest, but what's in it for the brain? That's something Washington State University/WWAMI sleep scientist Jonathan Wisor is hoping to figure out.
"When we sleep, everyone knows you're not interacting with the world, you're not moving," says Wisor. Turns out brain cells are also tuning out. "The neurons essentially turn themselves off. It gives us a break from the metabolic intensity of the brain."
The brain is like a glucose-burning furnace, gobbling up as much as 25 percent of the body's glucose, while accounting for only 5 percent of its weight. It turns out that massive energy consumption can leave things a bit of a mess.
"We pay a price in that when the glucose is burned, there are byproducts — if you had a furnace, there is soot and ash and smoke that is continually pumped out," says Wisor. "What sleep is doing for us is it is clearing out the sort of 'soot' and 'ash' from the burning of glucose."
Armed with at $1.3 million National Institutes of Health grant and new technology, Wisor's lab will evaluate simultaneous changes in the energy uptake and electrical activity of brain cells during normal waking and sleeping, and in conditions of sleep deprivation in mice.
Eventually, "if we can understand what it is about sleep that suppresses the use of glucose and oxygen, we could harness the brains' ability to sleep when you don't have enough glucose or oxygen," situations that can occur with a stroke, diabetic coma or in babies struggling during childbirth.
— Anne McGregor