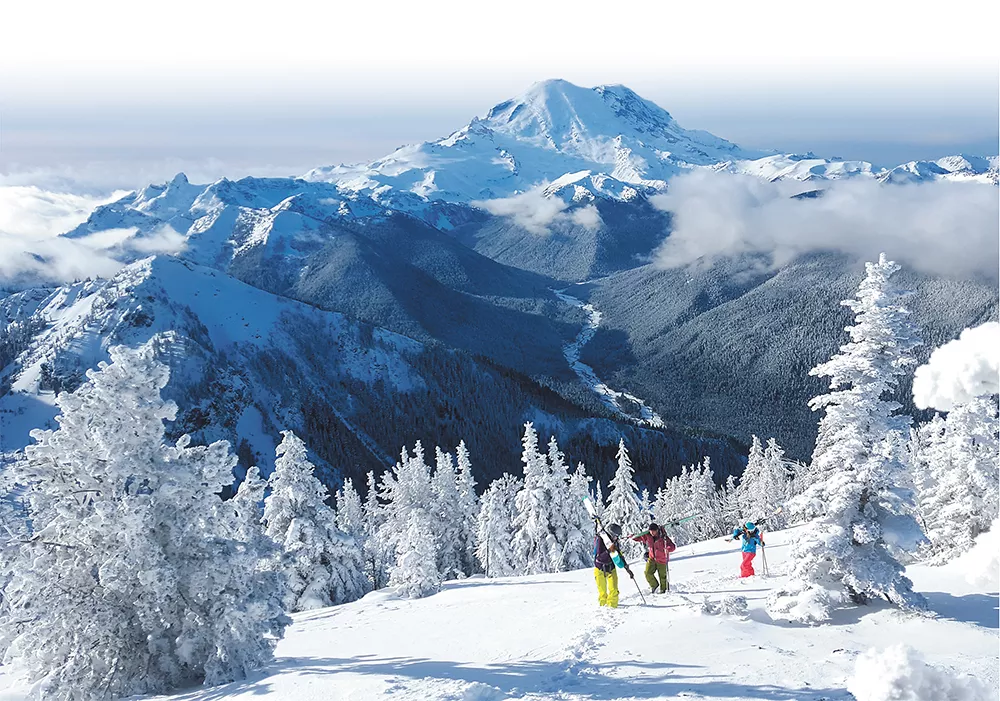 49° North
Chewelah, Wash. • ski49n.com
1,850 vertical feet • 82 runs
49 Degrees North, one of Washington state's largest ski areas, has a lot to be excited about coming into this season, with the transformation of the Sunrise Basin in full swing. Always regarded as one of the Northwest's favorite family-friendly resorts, terrain challenges and excitement are waiting for the entire family, with groomers, glades, two base areas, the lively Boomtown Bar and two peaks that tower over 2,325 skiable acres.
Anthony Lakes
North Powder, Oregon • anthonylakes.com
900 vertical feet • 21 runs
Located in a town called North Powder, this northeastern Oregon resort is a true hidden gem and lives up to the town's name. The 1,100-acre ski area boasts an average of 300 inches of light, dry powder with three chairlifts. After a day on the slopes, make sure to warm up by the fireplace overlooking the slopes with huge panoramic views.
Apex Mountain Resort
Penticton, B.C. • apexresort.com
2,000 vertical feet • 73 runs
The terrain at Apex Mountain Resort, located outside of Penticton, can only be described as awesome, with smooth cruisers and steep chutes covering 1,112 acres. An average winter temperature of 23 degrees Fahrenheit and annual snowfall of 20 feet results in true champagne powder. The village is intimate and cozy but well-equipped, with five restaurants and multiple lodging options to fit most needs.
Big Sky
Big Sky, Montana • bigskyresort.com
4,350 vertical feet • 300 runs
The birthplace of cold smoke, Big Sky is just that. In fact, it's the biggest ski resort in North America, with 5,800 skiable acres over four connected mountains. On sunny days, enjoy long laps with dramatic Lone Peak views from most places on the mountain. There's plenty to like about Big Sky, between its 23 chairlifts, 11 surface lifts and several terrain parks. There are multiple lodging, dining and retail options in the village, with numerous eateries on the mountain.
Big White Ski Resort
Kelowna, B.C. • bigwhite.com
2,550 vertical feet • 118 runs
Big White is the perfect big adventure for the entire family, with more than 2,765 acres of skiable terrain to explore and a full assortment of village amenities, including plenty of activities for kids of all ages — from snowmobiling and ice climbing to horse-drawn sleigh rides and an array of dining and après-ski options. In addition, the mountain boasts the most night skiing in western Canada.
Blacktail
Lakeside, Montana • blacktailmountain.com
1,440 vertical feet • 24 runs
Nothing says family-friendly, affordable skiing like Blacktail, located above the beautiful west shore of Flathead Lake in a quaint northwestern Montana setting. Perched above the town of Lakeside, skiers and snowboarders will experience a top-to-bottom run of varied terrain before ever riding the chairlift at this upside-down mountain, with the base area village at the mountaintop. The village offers expansive views of the lake below and Glacier National Park in the distance.
Bridger Bowl
Bozeman, Montana • bridgerbowl.com
2,700 vertical feet • 75 runs
Located near the mountain town of Bozeman, Bridger Bowl is a mix of big-mountain skiing and funky college town ski hill. Bridger boasts a friendly, local vibe with a hip village area, where everyone seems to know everyone. There are 2,000 acres to explore with a vertical drop of 2,700 feet, 2,600 of which are lift-served. Bring your backcountry gear and explore the upper part of the mountain with steeps and glades that will get your heart rate pumping.
Brundage Mountain Resort
McCall, Idaho • brundage.com
1,920 vertical feet • 46 runs
A mountain that boasts "The Best Snow in Idaho" should be on any skier's or boarder's bucket list. Brundage Mountain is located only 8 miles from the charming lake town of McCall in central Idaho. There are 1,920 acres of skiable, patrolled, in-bounds terrain, with an additional 420 acres of lift-accessed backcountry terrain, meaning no patrol or control work is done. For those looking to explore what seems to be an infinite amount of backcountry via guided snowcat tours, there are 18,000 acres adjacent to the resort for further adventure.
Crystal Mountain
Crystal Mountain, Washington • skicrystal.com
3,100 vertical feet • 57 runs
Located in the shadow of Mt. Rainier, Crystal Mountain Resort feels a lot farther away from the hustle and bustle of Seattle, less than two hours away. The resort is the state's largest, with 2,600 acres of skiable terrain, 2,300 of which are lift-served. The mountain also operates the Mt. Rainier Gondola for summer rides, for beautiful views of iconic Mt. Rainier all year long.
Discovery
Anaconda, Montana • skidiscovery.com
2,388 vertical feet • 67 runs
The mountain affectionately known by locals and long-distance fans as "Disco" is located off the beaten path near the Montana towns of Anaconda, Georgetown and Phillipsburg. There are more than 2,200 acres of skiable terrain, with a high summit elevation of 8,158 feet and an average annual snowfall of 215 inches in the form of light, fluffy powder.
Fairmont
Fairmont, B.C. • fairmont.com
1,000 vertical feet • 13 runs
It's like being on a hot-springs vacation with a ski hill smack-dab in the middle of it. Fairmont boasts a world-class setting, with oversized hot springs and a quaint ski hill so you can earn that hot-springs soak. The resort is located in southeastern British Columbia, with options for a family looking for an adventurous holiday.
Fernie Alpine Resort
Fernie, B.C. • skifernie.com
3,550 vertical feet • 142 runs plus 5 alpine bowls
Fernie is the type of ski town that most people dream about when thinking of a mountain vacation. The resort offers dramatic and picturesque panoramic views, with world-class skiing across more than 2,500 acres, five distinct alpine bowls and the coolest little mountain town just below the village. In addition, there are plenty of non-skiing activities on the mountain and in town.
Kicking Horse
Golden, B.C. • kickinghorseresort.com
4,130 vertical feet • 128 runs
Kicking Horse not only boasts the fourth highest vertical drop in North America, it also has a huge number of inbounds chutes — more than 85 — over the 2,500 acres of skiable terrain. Its location in the northern Canadian Rockies gives it that perfect champagne powder to test those legs on the steep and deep. Combine the sheer vastness of the terrain and the many non-skiing amenities, and Kicking Horse quickly becomes the perfect location for those seeking an adventurous holiday.
Kimberley Alpine Resort
Kimberley, B.C. • skikimberley.com
2,465 vertical feet • 80 runs
Kimberley Alpine Resort combines gentle, meticulous groomers on the front side and challenging glades and steeps on the backside under the sunniest skies in Canada. Mix in perfect Purcell powder covering 1,800 acres, a funky Bavarian-themed town, breathtaking views and a laid-back atmosphere, and you've got yourself a unique Canadian ski holiday.
Lake Louise
Lake Louise, Alberta • skilouise.com
3,250 vertical feet • 145 runs
Lake Louise is the Canadian Rockies' biggest ski resort, boasting an incredible amount of varied terrain for all ability levels over 4,200 skiable acres. There are endless chutes, glades and gullies and immaculate groomed runs that go on for what seems like forever, all in the heart of historic and beautiful Banff National Park.
Lookout Pass Ski Area
Mullan, Idaho • skilookout.com
1,150 vertical feet • 34 runs
The only thing missing from Lookout Pass is... nothing. The mountain, located conveniently off of Interstate 90 on the Idaho/Montana border, is a genuine, family-friendly resort with world-class grooming and an average of 400 inches of annual snowfall, boasting the lightest and driest powder in the region, with the terrain being mostly north- and northeast-facing in the Bitterroot Range. The snow remains pristine long after a snowfall due to the lack of crowds and the sheer amount that falls. In the base area, you'll find the second-oldest ski lodge in Idaho, which has undergone modern updates to keep you warm and cozy on all of those snowy days.
Lost Trail Powder Mountain
Sula, Montana • losttrail.com
1,800 vertical feet • 50 runs
A trip to Lost Trail Powder Mountain will have you yearning for another one — uncrowded slopes, challenging terrain, beautiful cold-smoke powder and the most quaint and quintessential Montana "Ma and Pop" ski area of them all. Located at the junction of scenic Highways 93 and 43 at the top of the Continental Divide, the ski area offers up 1,800 skiable acres over two mountains.
Loup Loup Ski Bowl
Okanogan, Washington • skitheloup.com
1,240 vertical feet • 10 runs
At Loup Loup Ski Bowl, skiers and boarders will experience dry Okanogan powder and perfectly groomed runs with little to no wait time on 300 acres of diverse terrain, with a family-friendly atmosphere in the beautiful north-central Cascades. The ski area, located near Twisp off Highway 20, has a lot to offer for both the beginning and advanced skier.
Mission Ridge
Wenatchee, Washington • missionridge.com
2,250 vertical feet • 36 runs
Mission Ridge is a hidden gem on the eastern — and sunny — side of the Cascades. It's an unexpected surprise in the hills above Wenatchee, with dramatic rock features lining the immaculate groomers, steep hidden chutes and spectacular views of the Cascades from the top of the chairlift. Due to its location on the dry side of the mountains, the ski area offers plenty of light powder and tons of sun, with a plethora of lodging and dining options nearby.
Mount Bachelor
Bend, Oregon • mtbachelor.com
3,365 vertical feet • 88 runs
Mount Bachelor, located above the mountain town of Bend on the eastern side of Oregon's Central Cascades, is known for its light, dry snow. The mountain offers more than 4,300 acres of lift-accessible terrain and the highest skiable elevation in all of Oregon and Washington. Round out the trip by toasting the day's adventures with one of the many outstanding microbrews in downtown Bend for a perfect Oregon ski adventure.
Mount Baker
Glacier, Washington • mtbaker.us
1,500 vertical feet • 32 runs
Internationally recognized for the huge amount of snow that falls annually, Mount Baker is humbled by its surroundings, with dramatic inbounds drops and steeps. The ski area sits in the shadows of its namesake, with exciting terrain scattered throughout its 1,000 acres of skiable terrain. The average annual snowfall is close to 700 inches, making it one of the most amazing ski areas in the Pacific Northwest.
Mount Baldy
Oliver, B.C. • skibaldy.com
1,350 vertical feet • 22 runs
Mount Baldy overlooks the Okanagan Valley in southern British Columbia, a 45-minute drive from the town of Oliver. The area offers plenty of sunshine, tree skiing and powder, with an average of 250 inches of snowfall annually on more than 500 acres of skiable terrain. The area is proud of its wine industry, so make sure to carve out some time off the mountain to explore one of the region's many award-winning wineries.
Mount Hood Meadows
Parkdale, Oregon • skihood.com
2,780 vertical feet • 85 runs
Mt. Hood Meadows, located on the protected side of Oregon's most iconic mountain, offers 2,150 acres of skiable terrain, lots of night skiing over 140 acres, and a huge average annual snowfall of 430 inches. In addition to their huge vertical drop, there's an additional 1,700 feet of hiking terrain — a big-mountain experience with convenient access.
Mount Hood Skibowl
Government Camp, Oregon • skibowl.com
1,500 vertical feet • 65 runs
Mt. Hood Skibowl dates back to 1928, making it one of the country's oldest ski resorts. The mountain offers options for the entire family: In addition to skiing and snowboarding on the 960 acres, they offer the Winter Adventure Park just for kids. While their parents are away, kids can frolic in the tubing area and playland. Enjoy several dining and lodging options nearby.
Mount Norquay
Banff, Alberta • banffnorquay.com
1,680 vertical feet • 60 runs
If a visit to Banff is on your list this winter, take the time to visit Mount Norquay, located above Banff National Park, only 4 miles away. The ski area offers a unique adventure, with 190 acres of terrain; 85 percent of the acreage is open for snowmaking. There's daily bus service to and from Banff, and the mountain's not far from Calgary, 75 miles away.
Mt. Spokane Ski & Snowboard Park
Mead, Washington • mtspokane.com
2,000 vertical feet • 45 runs
The most convenient ski area to downtown Spokane — only 28 miles from downtown — Mt. Spokane Ski & Snowboard Park has a lot to offer. It's located in the heart of Washington's largest state park, with 1,425 acres of skiable terrain, including fast groomers and thrilling glades, and the largest amount of terrain for night skiing — 16 runs — open four nights per week for riding under the stars. Get up there a little early and take in the beautiful sunset, as it makes it way into the western horizon.
Nakiska
Kananaskis, Alberta • skinakiska.com
2,412 vertical feet • 79 runs
Home to the 1988 Winter Olympics and the closest ski area to Calgary, Nakiska offers 1,021 acres of immaculate, wide-open groomers and is blanketed with man-made snow, with the capacity to make the good stuff on 75 percent of their terrain, enabling them to typically open the slopes as soon as early November. World-class dining, accommodations and spas can be found nearby in the Kananaskis Village.
Panorama Mountain
Panorama, B.C. • panoramaresort.com
4,020 vertical feet • 120 runs
Panorama Mountain boasts one of the top 10 verticals in North America, with a drop of 4,020 feet. The 2,847 patrolled acres of skiable terrain ranges from wide-open groomers to steep and deep glades. The family-friendly mountain also offers plenty of non-skiing activities, from snowmobiling and fat-tire biking to glass bead making. Make time to relax in the world-class hot pools back in the village.
Phoenix
Grand Forks, B.C. • skiphoenix.com
800 vertical feet • 18 runs
A mountain typically visited by local skiers from surrounding towns, Phoenix Mountain is charming and far enough off the beaten path to make for an unlikely grand adventure. The ski area offers beautiful views of the southern Monashee Mountains and is widely known by those in the know as "The Best Little Mountain in B.C."
Red Mountain
Rossland, B.C. • redresort.com
2,920 vertical feet • 110 runs
In a time of large, mega-resort mergers, Red Mountain is going in the other direction, currently selling shares of the mountain, with the result being a community-owned entity. The future ownership structure pairs well with the vibe that's existed for years — Red is truly a great, unspoiled resort, located just outside of Rossland. The mountain boasts 4,200 acres of steep and deep skiing, with recent terrain expansions adding more intermediate terrain. There are plenty of lodging and dining options in the village and nearby.
Revelstoke Mountain
Revelstoke, B.C. • revelstokemountainresort.com
5,620 vertical feet • 69 runs
Revelstoke Mountain Resort is located on Mt. Mackenzie in the Selkirk Mountains of British Columbia, one of the snowiest places in North America. The resort offers the biggest vertical drop on the continent at 5,620 feet, with a massive 3,121 acres of skiable terrain and four alpine bowls. There's a vast amount of gladed terrain, and endless groomers — the longest being 9½ miles. It's the only resort to offer heli, cat and lift-assisted skiing from the same base area; a true amenity for groups with different skiing abilities who want a common lodging area for evening activities.
Schweitzer Mountain Resort
Sandpoint, Idaho • schweitzer.com
2,400 vertical feet • 92 runs
Being able to take in the panoramic views from the summit just became that much more comfortable. This season, Schweitzer finishes up construction on their well-equipped mountaintop lodge with dining and drinking amenities and floor-to-ceiling windows to admire the view while warming up between runs next to the fireplace. Then, head out to explore the 2,900 acres of glades, groomers and hidden stashes. Back down in the village are multiple dining options to please any palate, and lodging options for any size group.
Silver Mountain
Kellogg, Idaho • silvermt.com
2,200 vertical feet • 73 runs
Silver Mountain Resort is all about convenience. Located off of Interstate 90, the Gondola Village is well equipped, with paved parking and a coffee shop to grab your morning cup of joe, before loading the scenic 3-mile gondola to take you to the mountain village and explore the 1,600 acres of glades and groomers over two mountain peaks. To make the most of your trip to Silver, plan to stay at one of the Morning Star condos and visit Silver Rapids Waterpark, Idaho's largest indoor waterpark, located in the heart of Gondola Village.
Silver Star Mountain
Vernon, B.C. • skisilverstar.com
2,500 vertical feet • 132 runs
Silver Star, which dates back to 1958, has evolved into a world-class winter holiday destination, with four distinct mountain faces and all sorts of progressive terrain for those just learning over 3,282 skiable acres, making this the third largest ski area in British Columbia. The village area is themed on a 1900s mining town and is well equipped, with many food and beverage outlets and lodging options — some even being mid-mountain, offering a true ski in/ski out experience.
Sitzmark Ski Area
Havillah, Washington • gositzmark.org
660 vertical feet • 10 runs
A charming ski area located 20 minutes from Tonasket, Sitzmark offers dry powder snow, lots of sunshine, great views, small lift lines and low ticket prices, with 80 acres to explore. Back in the village, the ski area offers Wi-Fi and a friendly lodge.
Ski Bluewood
Dayton, Washington • bluewood.com
1,125 vertical feet • 24 runs
The statistics say that Bluewood is small, but this southeastern Washington ski area is anything but. Located in the Blue Mountain Range, rising out of the high desert, Bluewood boasts clear skies, cold temperatures, dry, light powder, the second-highest base area elevation, the most memorable tree skiing offered in the region, 400 skiable acres and the reputation for the best snow in the state.
Snoqualmie Pass
Snoqualmie Pass, Washington • summitatsnoqualmie.com
2,280 vertical feet • 25 runs
The easiest resort to get to from the Seattle area, Snoqualmie Pass has four very different ski area options to fit any style. The pass is located 54 miles east of Seattle off Interstate 90, and the four areas total 1,981 acres of skiable terrain. In addition to amazing terrain parks at Summit Central, the steeps of Alpental and extensive night skiing at Summit West, the Pass also offers Nordic skiing and snow tubing adventures.
Snowbowl Ski
Missoula, Montana • montanasnowbowl.com
2,600 vertical feet • 42 runs
Snowbowl is located in the Lolo National Forest, 12 miles above the eclectic college town of Missoula. The area offers an entertaining mix of steep terrain, glades and wide-open cruisers. In addition to being known for having some of the most challenging terrain around, Snowbowl is also renowned for its food and beverage offerings, with a great base area atmosphere. Stay slopeside at Gelandesprung, a European-style lodge, or chose to stay in Missoula, with a wide array of lodging and dining options in the earthy college town.
Stevens Pass
Skykomish, Washington • stevenspass.com
1,800 vertical feet • 37 runs
Stevens Pass, conveniently located off Highway 2, is a must for skiers and boarders ready to bring their game up a notch. There are 1,125 acres of skiable terrain, though the way the mountain is laid out, it feels much larger than that, with dramatic steeps and chutes, glades and groomers to get your heart pounding. Stevens receives plenty of snow, with an average of 460 inches, and keeps a great base throughout the season. Back in the village, there are three lodges with eateries and bars to suit many palates. Lodging is available nearby in Leavenworth, a cute Bavarian-themed town on the eastern side of the Cascades.
Sun Valley Resort
Ketchum, Idaho • sunvalley.com
3,400 vertical feet • 100 runs
A trip to Sun Valley will keep you yearning for more, and yearning for the fall line to stop when your quads start burning halfway down one of their famous long, steep groomers. This mountain is all about infrastructure, with more snowmaking than you can imagine, a top-notch grooming fleet and the most extravagant amenities in the West. The skiing consists of two very distinct mountains, split by the town of Ketchum. Baldy is meant for those looking to ski hard, with long, true-to-fall-line runs and mountaintop lodges fit for kings. Dollar Mountain is geared for those who are still learning, with terrain park features.
Sunshine Village
Banff, Alberta • skibanff.com
3,520 vertical feet • 115 runs
At Sunshine Village, located in the heart of Banff National Park on the Continental Divide, you can ski two Canadian provinces — Alberta and British Columbia — in one run. The resort features 3,300 acres of skiable terrain, an average annual snowfall of 360 inches and the longest non-glacial season in Canada, from early November through late May. Stay nearby at Sunshine Mountain Lodge.
Tamarack
Tamarack, Idaho • tamarackidaho.com
2,800 vertical feet • 42 runs
Tamarack Resort features a blend of mountain, meadow and lakeside amenities. With 1,000 acres of diverse, lift-accessible terrain ranging from glades and steeps to cornices and groomers, the mountain is east-facing, offering minimum wind and maximum snow retention. The resort is located in the heart of Idaho's beautiful west-central mountains, overlooking Lake Cascade. The village offers multiple lodging and dining options to make for a perfect family adventure.
Timberline
Timberline Lodge, Oregon • timberlinelodge.com
3,690 vertical feet • 41 runs
Timberline is the only ski area in North America open all 12 months of the year. The mountain is located only 60 miles from Portland, near the summit of iconic Mt. Hood, Oregon's highest mountain, with historic Timberline Lodge serving as its base area. The resort boasts a vertical drop longer than any other resort in the Pacific Northwest — at least south of the Canadian border.
Turner Mountain
Libby, Montana • skiturner.com
2,110 vertical feet • 22 runs
Turner Mountain, outside the old mining town of Libby, is all true fall-line skiing from the moment you get off the lift to the time you get to the bottom. One chairlift funnels skiers and boarders through a variety of terrain back to the base area. They rent out the mountain for private functions, and lodging is available nearby in Libby.
Whistler/Blackcomb
Whistler, B.C. • whistlerblackcomb.com
5,280 vertical feet • 200 runs
Whistler/Blackcomb is the premier destination for skiers and boarders in the Northwest. Located two hours north of Vancouver, the resort boasts a vast 8,171 acres of skiable terrain, with 16 alpine bowls, 200 marked runs and three glaciers to explore. In addition, there are an endless number of dining options, with myriad nightlife options and a full range of activities for the entire family. After you get home, you may need a vacation from this vacation.
White Pass
Naches, Washington • skiwhitepass.com
2,050 vertical feet • 45 runs
White Pass is the hidden gem of Washington resorts. Located off Highway 12, about an hour away from Yakima, the mountain caters to skiers and snowboarders of all abilities with rolling, perfectly pitched groomers and glades that will keep your heart pumping. You'll find all of the amenities of a larger resort, but with a great local mountain vibe.
Whitefish Mountain Resort
Whitefish, Montana • skiwhitefish.com
2,350 vertical feet • 105 runs
Beautiful views surround Whitefish Mountain Resort, with breathtaking Glacier National Park in one direction and Whitefish Lake and the town of Whitefish in the other. The mountain boasts 3,000 skiable acres, with lots of great glades and hidden stashes to explore, as well as perfectly groomed terrain for ripping some corduroy. Back in the village area, you'll find a lively atmosphere. Whitefish is a very user-friendly vacation destination, with Amtrak stopping right downtown, a free bus system taking riders from downtown to the mountain and back. It offers numerous options when it comes to lodging, dining and après-ski.
Whitewater Ski Resort
Nelson, B.C. • skiwhitewater.com
2,050 vertical feet • 81 runs
Big snowfall — an average of 40 feet a year — challenging terrain accessible from the chairlift, with easy access to epic backcountry terrain for those properly equipped with the gear and knowledge, a gourmet cafeteria with unique offerings and a cool, eclectic mountain town not too far in the distance? You must be at Whitewater Ski Resort, outside of the lively town of Nelson. The mountain offers 1,184 skiable acres in one of the coolest settings imaginable. Lodging is available nearby in town, about 20 minutes away, and daily shuttles are available from town. ♦