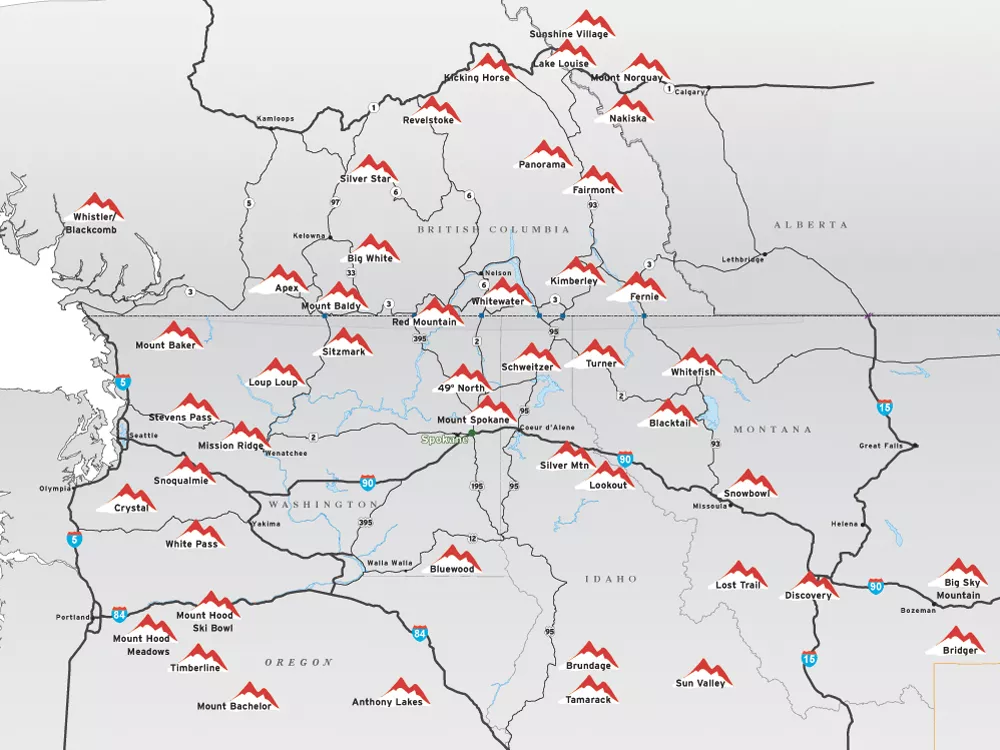 49 Degrees North
Chewelah, Wash. • ski49n.com
1,850 Vertical Feet • 82 Runs
The Northwest's most family-friendly resort is getting bigger this season. They have been in expansion mode for much of the last decade and this season 49 Degrees North will introduce their new chair lift, taking skiers and boarders to 170 acres of terrain off of Angel Peak. Adding to the already legendary tree and groomer skiing, there will be a run for everyone.
Anthony Lakes
Baker City, Ore. • anthonylakes.com
900 Vertical Feet • 21 Runs
Anthony Lakes Ski Area might be one of the most hidden gems in the region. This season they will be celebrating their 50th anniversary of awesome powder, breathtaking views and family tradition. Located in the northeastern corner of Oregon, outside of La Grande, Anthony Lakes offers 1,100 acres with a top elevation of 8,000 feet. Plus, lots of activities to chose from with natural glades, terrain-park, Nordic trails and cat-skiing.

Apex Mountain Resort
Penticton, B.C. • apexresort.com
2,000 Vertical Feet • 70 Runs
Apex Mountain, hidden in the heart of the Okanagan Valley near Penticton, British Columbia, offers 1,112 acres of the smoothest cruisers and the steepest chutes. This year, adding to their already expansive terrain park offerings is a skier and boardercross course for those looking for an exhilarating ride. The mix of large amounts of precipitation and low humidity makes for the lightest champagne powder imaginable and an unforgettable Apex Mountain experience.

Big Sky
Bozeman, Mont. • bigskyresort.com
4,350 Vertical Feet • 155 Runs
Montana is known as big sky country, and a visit to Big Sky offers just that. With dramatic views of Lone Peak from most places on the mountain and the biggest skiing in America, with 3,832 acres plus an add-on option of the Big Sky-Moonlight Basin interconnect, Big Sky gives you infinite options on some of the many powder days they experience, with more than 400-plus inches of annual snowfall. Most days will be considered epic even if you are a seasoned Big Sky veteran.

Big White Ski Resort
Kelowna, B.C. • bigwhite.com
2,550 Vertical Feet • 118 Runs
Big White Ski Resort is famous for their skiing and riding but is quickly becoming known for their BIG offerings in non-skiing amenities. From the "Mega Snow Coaster, a one-of-a-kind 60-foot ice climbing tower, to ice skating and the "Mini Z" children's snowmobile track, there are many activities to keep every family member entertained on a ski trip to Big White. With nearly 3,000 skiable acres and Canada's largest night skiing acreage, be prepared to go home happily exhausted.

Blacktail
Kalispell, Mont. • blacktailmountain.com
1,440 Vertical Feet • 32 Runs
Everyone gets to enjoy the expansive views of Flathead Lake, Glacier Park and the Mission, Whitefish and Cabinet mountain ranges from the top — which is actually the village — at Blacktail Mountain. This "upside down hill" offers 1,000 acres of beginner, intermediate and expert terrain. Stay on nearby Flathead Lake in charming Lakeside, Mont.
Bluewood
Dayton, Wash. • bluewood.com
1,125 Vertical Feet • 24 Runs
Located in the southeast corner of Washington, only 30 miles from Walla Walla, Wash., Bluewood is the perfect mid-winter getaway for those who want a unique ski/wine vacation. Bluewood, known by skiers for being the best tree skiing in the area, pairs nicely with the intimate feeling of wine tasting in Walla Walla. A truly different type of ski adventure waits for those looking to mix things up this winter.

Bridger Bowl
Bozeman, Mont. • bridgerbowl.com
2,700 Vertical Feet • 71 Runs
One of the only ski resorts in the area that requires avalanche transceivers to access its upper terrain, Bridger Bowl is a picturesque mountain with newer amenities but an old school charm. Hardcore locals and visitors, equipped with the proper backcountry tools, climb their way to the Ridge Terrain and descend steep lines in snow classically deemed as "Cold Smoke," while those a little more tame cruise wide open groomers, glades and bumps. Stay in nearby Bozeman for the classic college/mountain town experience.

Brundage
McCall, Idaho • brundage.com
1,800 Vertical Feet • 46 Runs
Do you love snow? Then you will love Brundage Mountain. Trademarked as the Best Snow in IdahoTM, Brundage is located in the high mountains of central Idaho and near the quaint lake town of McCall, Idaho. Brundage receives an average of 320 inches of annual snow over its 1,500 acres of lift-served terrain. The resort offers an additional 19,000 acres through a backcountry snowcat operation. That's a lot of snow, a lot of terrain and just a few good reasons to visit Brundage.

Crystal Mountain
Enumclaw, Wash. • skicrystal.com
3,100 Vertical Feet • 57 Runs
The first visitors to Crystal Mountain were seeking fortunes found in gold mining, not fresh snow. But after World War II, mining interests declined. Fast forward to 1962, and the first lifts started turning at Crystal Mountain Resort. Now, Crystal Mountain boasts the largest ski area in Washington state, the only gondola and the most easily accessible, up-close-and-personal views of the volcanic giant, Mt. Rainier. With a variety of dining and lodging options, easy access from the Seattle area and terrain variety, Crystal does not disappoint as one of the top skiing destinations in the Northwest.

Discovery
Anaconda, Mont. • skidiscovery.com
2,340 Vertical Feet • 67 Runs
Surrounded by three genuinely Montana towns — Anaconda, Georgetown Lake and Phillipsburg — Discovery Basin offers 2,200 acres of the purest Montana skiing around. A well balanced mountain with programs and terrain to help you learn and advance, wide open cruisers with even wider views and steeps that will make you weak in the knees, "Disco" has all the ingredients for the ideal skiing adventure.

Fairmont
Fairmont, B.C. • fairmonthotsprings.com
1,000 Vertical Feet • 13 Runs
Fairmont, known as the Powder Highway Basecamp, is a perfect destination for those looking to pamper and spoil their cold and tired bodies after a day of winter activities. In addition to a full array of winter adventures, Fairmont offers more than 1.5 million gallons of mineral-rich B.C. hot spring waters flowing through their pools daily. The hot springs feature Nordic-style hot and cold plunge pools, a steam room, sauna and a private outdoor soaking pool. Perfect after a long day learning on the slopes at the Aquafina SnowPlanet center, the best place in the Columbia Valley to learn how to ski and snowboard.

Fernie Alpine Resort
Fernie, B.C. • skifernie.com
2,820 Vertical Feet • 112 Runs
Fernie Alpine Resort has steeps and deep and a cool ski town to go with it. Aussies and Brits have known about it for years but the resort has quickly become a favorite for locals that are in the know. Skiing at Fernie is diverse and almost like skiing two completely different mountains with one lift ticket. There are five bowls, endless steeps, glades and groomers and a lively village that takes après ski to an expert level.
Kicking Horse
Golden, B.C. • kickinghorseresort.com
4,130 Vertical Feet • 120 Runs
Kicking Horse is a mountain that caters to every ability, but if you are looking for a vacation to remember, a trip to Golden, B.C. is in order. Kicking Horse boasts 85 in-bound chutes, as well as the fourth highest vertical drop in North America, giving it a raw ruggedness that is found nowhere else. More than 50 percent of their 2,800 skiable acres is designated expert/advanced, so be prepared for steeps, steeps and more steeps.

Kimberley Alpine Resort
Kimberley, B.C. • skikimberley.com
2,470 Vertical Feet • 80 Runs
Ever wanted the European dream ski vacation but time, lack of money of fear of flying got in the way? A trip to nearby Kimberley Alpine Resort might just be the solution to that problem. The resort is nestled in the sunny Purcell Range of the Canadian Rockies, right above the cute Bavarian themed town of Kimberley, B.C. While there won't be valleys of endless chairlift rides like those found in the Swiss Alps, you will find an efficient lift system with five lifts and a run that is nearly four miles long.

Lake Louise
Lake Louise, Alberta • skilouise.com
3,250 Vertical Feet • 139 Runs
Hard to believe that one of the largest ski resorts in North America is within a day's drive of Spokane. Lake Louise, located in the heart of historic Banff National Park, has 4,200 acres of skiable terrain and is surrounded by spectacular scenery. With so much acreage there are limitless off-piste adventures, exhilarating super steeps and more terrain than can be skied in a week. Are you up for the challenge?
Lookout Pass Ski Area
Wallace, Idaho • skilookout.com
1,150 Vertical Feet • 34 Runs
Lookout Pass is known for many things, all of which are things to brag about. Most notable is the resort's Free Ski School, which kicks off in January. Lookout also receives an average annual 400 inches of snow and usually gets to brag as the first ski area to open each season. If you like powder skiing and a cool little ski area to do it at, then you will love Lookout Pass.
Lost Trail Mountain
Darby, Mont. • losttrail.com
1,200 Vertical Feet • 45 Runs
Adding to the scores of mom and pop-type ski areas in Montana is Lost Trail Mountain, opened in 1938 and still family owned and operated. Receiving an average 300 inches of snow annually, Lost Trail is still undiscovered and a local secret to many. Lodging options are available in nearly Sula Basin or a little further up the road in Darby or Hamilton, Mont.
Loup Loup Ski Bowl
Twisp, Wash. • skitheloup.com
1,240 Vertical Feet • 10 Runs
Loup Loup Ski Bowl is a Nordic skiing area with a massive amount of cross country trails available over two trail systems and 23 kilometers of track set. The option of downhill skiing isn't something to forget, with 300 acres of terrain available off of Little Buck Mountain. Located on scenic Highway 20, on the eastern slopes of the North Cascades, Loup Loup is sure to offer some sunny skiing, no matter what discipline you choose.
Mission Ridge
Wenatchee, Wash. • missionridge.com
2,250 Vertical Feet • 36 Runs
Located on the eastern slopes of the Cascade Mountains — aka the sunny side — Mission Ridge is known for its sunny powder days. Located only 12 miles form the world famous apple growing community of Wenatchee, the resort offers a luscious 2,000 acres of wide-open terrain. It is bigger than you would expect and has some great steeps and hidden stashes, for those who want to adventure around in search of the goods. From the top enjoy amazing vistas of the volcanoes of Western Washington: Mt. Rainier, Mt. Baker and Mt. St. Helens, to name a few.
Mount Bachelor
Bend, Ore. • mtbachelor.com
3,370 Vertical Feet • 71 Runs
Funky mountain town hosting world famous breweries: check. Spectacular, sunny views of surrounding mountains: check. Soaring heights, light dry snow, diverse terrain and family-friendliness: check. With 3,700 acres — 1,600 of which are groomed daily — a 3,370-foot vertical drop and Oregon's highest ski resort summit (at 9,065 feet), Mt. Bachelor has it all and will deliver the experience you've been waiting for.
Mount Baker
Bellingham, Wash. • mtbaker.com
1,500 Vertical Feet • 32 Runs
Mt. Baker not only sets the standard for snowfall in the Pacific Northwest, but is internationally known for the epic amount of white stuff it receives. The mountain averages about 701 inches a year — shattering that in the '98-'99 season with 1,140 inches. During the last couple of seasons it has received somewhere in the 800-inch range, so don't forget your powder boards and smiles because Mt. Baker is sure to provide the powder… deep powder. Located only an hour outside of beautiful Bellingham, Wash., Mt. Baker will satiate the most hardcore powder hound.
Mount Baldy
Osoyoos, B.C. • skibaldy.com
1,300 Vertical Feet • 35 Runs
Mt. Baldy has come a long way since it opened in 1968, but it still offers untracked powder and superb tree skiing and snowboarding. This "hidden gem" is located in the heart of the Okanagon wine country, near the communities of Oliver, Osoyoos and Penticton. The resort celebrates the outdoors, people are valued and the timeless spirit of skiing and mountain lifestyle are cherished. And they have some fantastic skiing, to boot.
Mount Hood Meadows
Hood River, Ore. • skihood.com
2,780 Vertical Feet • 85 Runs
Mount Hood Meadows is only 90 minutes from the Portland metropolis, which offers big city convenience but an experience you'd expect to travel much further to enjoy. The variety of terrain is what makes Meadows unique and popular, with wide open groomers, steeps in the front bowls and a seemingly endless pitch in powder-filled Heather Canyon — more than 2,150 acres worth, with 140 acres lit up for night skiing. Stay in nearby Hood River for the most convenient access to the mountain.
Mount Hood Ski Bowl
Hood River, Ore. • skibowl.com
1,500 Vertical Feet • 65 Runs
With origins dating back to 1928, Mount Hood Ski Bowl has made its mark as one of the oldest ski resorts — as well as the largest night skiing operation — in the country. History and stats aside, Ski Bowl amenities go far beyond skiing. It's more like a snow lover's paradise, with snowmobiling, cross country skiing, sleigh rides and snow tubing. They even have "cosmic tubing" on the weekends — you know, regular tubing but with club lighting, black lights and music to accompany your ride down the mountain.
Mount Norquay
Banff, Alberta • banffnorquay.com
1,680 Vertical Feet • 28 Runs
Mount Norquay, the best kept secret in the Canadian Rockies, is currently celebrating its earliest opening — ever — and it's the first resort to open in Canada this season. Set above the picturesque village of Banff, nestled in the protected playground of Banff National Park, Mount Norquay offers an impressive summit elevation of 8,040 feet, 190 acres of skiable terrain and 28 runs.
Mt. Spokane Ski and Snowboard Park
Spokane, Wash. • mtspokane.com
2,000 Vertical Feet • 45 Runs
Mount Spokane is the closest ski area from downtown, conveniently located 28 miles from Spokane and offering the most night skiing terrain around. And when we say "most" we mean acreage and available hours — Wednesday through Sunday until 9:30 pm — in the Inland Northwest. Recently named one of the best areas to ski and ride by readers of The Inlander, Mount Spokane continues to deliver with a new lodge expansion being introduced this season and the long awaited opening of the "backside" slated for the 2013-2014 season.
Nakiska
Kananaskis, Alberta • skinakiska.com
2,560 Vertical Feet • 64 Runs
Nakiska, located only 45 minutes from the vibrant city of Calgary, Alberta is nestled in the heart of Kananaskis Country and is loaded with world-class amenities. There are 1,021 acres of skiable terrain, including everything from wide-open groomers to challenging upper mountain terrain. After a good day on the slopes, hotels and amenities are only five minutes away in Kananaskis Village.
Panorama Mountain
Invermere, B.C. • panoramaresort.com
4,000 Vertical Feet • 120 Runs
Continuing the tradition that the Canadian Rockies are known for, Panorama offers everything any skier or boarder may want: wide open cruisers, winding down the fall line from the summit to the village base; powder-filled tree lines to the steep; and deep exhilaration in Taynton Bowl, which consists of all black diamond runs and a great place to find powder stashes days after a dump. Wrap up your day with a relaxing soak in their conveniently located hot pools — the largest slope-side pools in Canada.
Red Mountain
Rossland, B.C. • redresort.com
2,920 Vertical Feet • 87 Runs
Looking for stupid deep and stupid steep? Then a visit to the closest Canadian resort to Spokane, Red Mountain, is your place. Though they do have terrain for intermediates and beginners, with 45 percent of their in-bounds terrain categorized as expert, it's no wonder that they caught the eye of the New York Times, which named Red one of the top three ski areas in North America for advanced skiers. This season, Red will also add another 1,000 acres to their stats with chairlift installation slated for summer '13 — one of the biggest single season ski resort expansions in North America in the last several decades. Not to worry, though, this season they will be shuttling skiers via an over-sized snowmobile, an Alpina Sherpa, up Grey Mountain so you can get a taste of what they are up to.
Revelstoke Mountain
Revelstoke, B.C. • revelstokemountainresort.com
5,620 Vertical Feet • 52 Runs
Revelstoke Mountain Resort is in its sixth season of operation and still holds the title for newest ski resort in Canada, as well as the most vertical in North America — 5,620 feet. The accolades don't stop there: 3,121 acres of varying terrain, phenomenal groomed runs and wide open high alpine bowls, all with incredible fall lines. This year offers a brand new village-based beginner area and tube park. Additionally, Revelstoke offers cat skiing, heli skiing and other backcountry programs for a total 515,000 acres for adventurous skiers and boarders to explore. What's more, Revelstoke is the only resort in the world to offer all three options from one village base.
Schweitzer Mountain Resort
Sandpoint, Idaho • schweitzer.com
2,400 Vertical Feet • 92 Runs
Schweitzer Mountain Resort, the largest resort in the Inland Northwest, boasts a full menu of lodging, shops and restaurants and a zip line to boot. In addition to its array of amenities, the resort is getting regularly praised on a national level by the likes of SKI and Skiing and Powder magazines, highlighting its friendly local village and uncrowded terrain. Schweitzer offers 2,900 acres of glades and groomers and two bowls for your skiing pleasure, and broke the summit snow depth record in the 2011-2012 season with a 211-inch base.
Silver Mountain
Kellogg, Idaho • silvermt.com
2,200 Vertical Feet • 73 Runs
Smiles come easily and in many forms at Silver Mountain in Kellogg, Idaho: finding your powder stash somewhere in the 1,600 skiable areas, sipping on a hot cocoa after a long day in one of the well appointed Morning Star Lodge condo hot tubs, or catching the perfect wave in an evening surf session at the Silver Rapids Waterpark. Whether you are visiting for the day or for a weekend, Silver Mountain makes your trip easy. Convenient access from Interstate 90 with a paved parking lot across from the gondola, it's as simple as crossing the street.
Silver Star Mountain
Vernon, B.C. • skisilverstar.com
2,500 Vertical Feet • 115 Runs
Silver Star Mountain, a Victorian-themed ski village, offers something for the entire family and a well-rounded ski vacation with unlimited dining, shopping, nightlife and lodging options. There are many activities to chose from, including 270,000 acres of heli ski terrain, kid snowmobiling, a climbing wall and more than 3,000 in-bounds acres. There is enough to keep even the most energetic kids entertained.
Sitzmark Ski Area
Tonasket, Wash. • gositzmark.org
660 Vertical Feet • 10 Runs
Sitzmark Ski Area, located just 20 minutes from Tonasket, has been a fixture in the beautiful north Okanagan highlands for more than 50 years. Sitzmark has 10 runs that make up this quaint little ski area, in addition to cross country trails located nearby.
Snoqualmie Pass
North Bend, Wash. • summitatsnoqualmie.com
2,280 Vertical Feet • 25 Runs
Each of the four areas that make up Snoqualmie Pass offer something unique to make up a total of 1,981 skiable acres. Whether it is the steeps of Alpental, skiing fresh tracks during night skiing at Summit West, the terrain parks of Summit Central or throwing back to the skiing of yesteryear at Summit East. Only 54 miles east of Seattle.
Snowbowl Ski
Missoula, Mont. • montanasnowbowl.com
2,600 Vertical Feet • 42 Runs
Who doesn't love a good Missoula road trip? This winter, take the time to ski Montana Ski Bowl, featuring an average of 300 inches of snow, a summit elevation of 7,600 feet and a great mix of steeps, beginner and intermediate terrain. Lodging is available nearby at the Gelandesprung Lodge or in Missoula, just 20 minutes away.
Stevens Pass
Leavenworth, Wash. • stevenspass.com
1,800 Vertical Feet • 37 Runs
One visit to Stevens Pass and you'll know why there are thousands of passionate locals who call this their home mountain. Stevens Pass is all about convenience, steeps and passion. One of the closer mountains to the metropolis of Seattle, Stevens is closer to the charming Bavarian themed town of Leavenworth — 35 miles — and that vibe carries up to the mountain. They are known for their powder days and have a good mix of challenging upper terrain and wide open groomers. Quench your thirst and satisfy your hunger at one of their three lodges.
Sun Valley Resort
Ketchum, Idaho • sunvalley.com
3,400 Vertical Feet • 75 Runs
It's called Sun Valley for a reason — 80 percent of the ski season is under sunny skies. Sun Valley is internationally known for its perfection, where "roughing it" in style is modus operandi. Sun Valley has been a jet-set magnet since its beginnings in 1936, and local wildlife still regularly shares the slopes with European nobility and Hollywood royalty. The terrain is also suitable for kings, with a perfect pitch and consistent vertical from the summit.
Sunshine Village
Lake Louise, Alberta. • skibanff.com
3,520 Vertical Feet • 107 Runs
After last season, you can describe Sunshine Village as terrain, terrain, terrain and snow, snow, snow — breaking their all-time snowfall record with a whopping 33 feet over their generous 3,358 skiable acres and three mountain tops. Sunshine's longest run is more than five miles long, and the mountain boasts more than 15 acres of terrain park features, a new high-speed quad (the Strawberry Express), a village elevation topping 7,000 feet to ensure dry snow, and is surrounded by the stunning scenery of Banff National Park, just 90 minutes outside of Calgary. You'll also find full menu eateries and watering holes for all of your après ski needs.
Tamarack
Donnelly, Idaho • tamarackidaho.com
2,800 Vertical Feet • 32 Runs
Looking for more powder but fewer skiers? Tamarack, located in the Payette River Mountains of central Idaho, beckons. Known for some of the finest snow in the west, the resort offers 900 acres of everything, as well as an efficient chairlift system to get you to the goods: five lifts, three of those being high-speed quads, get you to perfectly groomed corduroy or off-piste steeps quicker. Open Thursday through Sunday, with extended holiday hours, Tamarack is family friendly with amenities for everyone.
Timberline
Hood River, Ore. • timberlinelodge.com
3,690 Vertical Feet • 41 Runs
You won't find anything like this anywhere else. A historic lodge surrounded by national forest with a resort that annually celebrates the longest ski season in the region. Yep, we're talking about Timberline, located on Oregon's Mt. Hood. This mountain nicely combines old world charm with new school skiing and riding — with freestyle terrain that has an emphasis on progression-based learning. Two season openers are a regular occurrence at Timberline, winter and summer, typically offering an average of 11 months of skiing and boarding each year.
Turner Mountain
Libby, Mont. • skiturner.com
2,110 Vertical Feet • 25 Runs
A little secret located just outside Libby, Mont., Turner Mountain has the best fall line skiing in the Northwest. Once unloaded from the only chairlift, it's 2,110 feet of pure bliss. You'll find every descent to be exciting, satisfying and thrilling. Turner is located in the Kootenai National Forest and is open Friday through Sunday — plus holidays — and is even available for private rental on non-operational days.
Whistler/Blackcomb
Vancouver, B.C. • whistlerblackcomb.com
5,280 Vertical Feet • 200 Runs
Whistler/Blackcomb hardly needs an introduction, as it is the premier ski and snowboard destination on the West Coast. As the most recent host city of the Winter Olympics, Whistler was all about letting the world know they got a million reasons to visit. The resort is all about acreage, with 8,100 acres of skiable terrain, vertical drop of a mile, a massive average snowfall of 469 inches annually, a sophisticated chairlift lift system encompassing 37 lifts over 16 alpine bowls, and, if you have energy to make it out after a long day on the slopes, enough nightlife and lodging to keep you going late into the evening/early morning.
White Pass
Yakima, Wash. • skiwhitepass.com
2,050 Vertical Feet • 45 Runs
White Pass, located on U.S. Highway 12, celebrated a huge expansion last season — 767 acres — into the Paradise Basin. The new area is served by two quad chairlifts: Couloir Express and the Basin Quad. With this expansion the resort essentially doubled in size. The new acreage offers rolling alpine terrain and a good selection of tree skiing with glorious views of nearby Mount Rainier. A generous 18 kilometers of cross country skiing trails, a terrain park and, on-mountain lodging round out the options for visitors to White Pass.
Whitefish Mountain Resort
Whitefish, Mont. • skiwhitefish.com
2,350 Vertical Feet • 95 Runs
There are many ways to enjoy a Whitefish ski adventure, with many options of how to get there (trains, planes and automobiles) and unlimited opportunities for lodging between the village and the well-established ski town of Whitefish located near the mountain. There is even a free mountain bus system to get you around. Ease, amenities, terrain and a good time await you. "The Big," as it's affectionately called by locals, boasts more than 3,000 acres of terrain; sweeping views of Glacier National Park, surrounding mountains and Whitefish Lake; and enormous snow-covered trees called Snow Ghosts.
Whitewater Ski Resort
Nelson, B.C. • skiwhitewater.com
1,300 Vertical Feet • 46 Runs
Whitewater Ski Resort was named "one of the best powder mountains on the continent" by Powder Magazine. The well-deserved accolade is backed up with average annual snowfall adding up to 40 feet. Whitewater is located outside the eclectic and funky mountain town of Nelson, B.C. and is in the heart of the Selkirk Mountains. If you are looking for simply deep snow in a simply real ski resort, a visit to Whitewater should be on your bucket list.