Think Italian cuisine and you might say pasta, but there's another satisfying starch served in the boot-shaped country, especially in the northern region bordering France and Switzerland. That's where the Po River irrigates a nearly coast-to-coast swath of Italy's northern range, where more rice is grown than in any other European country.
No wonder it's also the birthplace of risotto, a hearty dish that elevates rice to an art form and illuminates its long-lasting versatility.
"Risotto is actually a cooking technique," says chef Cheyenne D'Alessandro of Tony's on the Lake in Coeur d'Alene. "In most of the world, rice is boiled or steamed, but in a traditional risotto it must be braised following certain procedures."
D'Alessandro notes that two types of rice are suitable: superfino and fino (which refers to the size of the grain, not its quality). "Arborio, which is widely available, is the most popular variety of superfino," she says, adding that other options are Carnaroli and Vialone Nano.
Sprinkled with Italian terminology, making risotto can sound exotic. Tostatura is the toasting of the rice grains in oil or butter, along with finely chopped onion. It is done to form a crust on the rice and seal in the grains' inherent starch, explains D'Alessandro, a graduate of the Culinary Institute of America in Hyde Park, New York, who also studied in Florence, Italy.
After the tostatura, hot liquid is stirred into the rice and allowed to cook until the rice is almost dry and all the liquid is absorbed. Most recipes call for soup stock — vegetable, beef, chicken — although wine can be used in addition to stock. Regardless, the process is repeated until the rice slowly releases its starch.
Then the real magic happens: the mantecatura, when butter and/or cheese are beaten in — a process called mantecare — further enhancing risotto's creamy texture. The resulting dish should be firm, or al dente, similar to pasta. But because of its cooking method, it makes its own sauce.
Of course, risotto variations abound. For her Risotto alla Milanese, D'Alessandro incorporates the unmistakable flavor and color of saffron. She pairs the dish with veal Osso Buco at the Coeur d'Alene restaurant her family has run since 2004.
A recurring theme of risotto flavor profiles appears throughout the Inland Northwest. Seasons of Coeur d'Alene uses vegetable broth, garlic and forest mushrooms to create their mushroom risotto ($19). Their arugula-and-pistachio version of the classic Italian gremolata — a pesto of parsley, lemon zest and garlic — adds a brightness to cut some of the richness of this entrée, which can also be ordered with grilled shrimp or scallops ($6).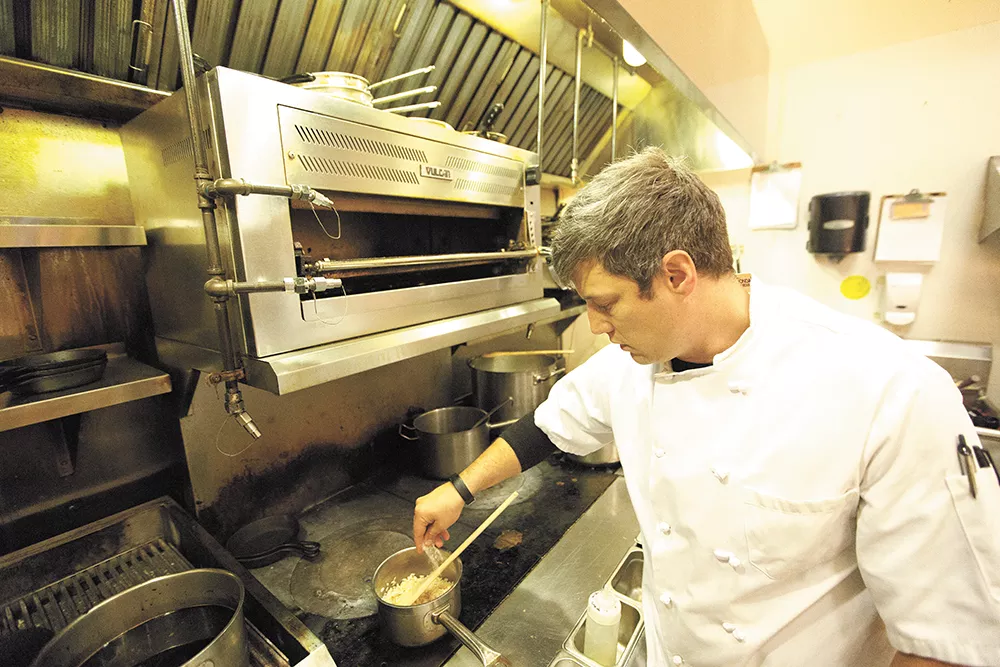 Also in CdA, Uva Trattoria finishes their mushroom risotto with truffle oil and serves it as an appetizer or alongside salmon. Meanwhile, The Fork's seasonal menu currently features risotto with grilled sea bass.
In Spokane, Scratch amplifies the richness of risotto by adding seafood directly to the dish. The Ultimate Seafood Trio features lobster, scallops, shrimp and smoked salmon risotto, while the pan-seared duck breast is nestled against a savory oyster mushroom risotto. And Hay J's Bistro features risotto that varies from an accompaniment to chicken Marsala to their current offering of lemon chicken risotto with asparagus, fire-roasted tomato and red onion.
At Mizuna, roasted shallots and shiitake mushrooms are added to the risotto served with the stuffed Portobello ($20), while another dish harkens to risotto's stick-to-your ribs appeal.
Arancini, or rice balls, are the Italian croquette: risotto rolled into a ball, dipped in bread crumbs (which nullifies risotto's otherwise gluten-free appeal) and fried. Mizuna incorporates spinach and a basil-walnut pesto in their arancini.
Perhaps the most unusual — and delightful — variation in our journey to bring you risotto was found at Santé. Their beet risotto has a brighter, lighter flavor profile than mushroom risotto, yet shares the same earthiness. On our visit, the risotto was made with red beets, although the current offering features yellow beets, as well as a mint salad and tangy paneer cheese.
It doesn't matter whether you're looking for an alternative to pasta or investigating gluten-free options: risotto is a comfort food with wide-ranging appeal. And the great thing is, it's starting to pop up on more and more menus. ♦