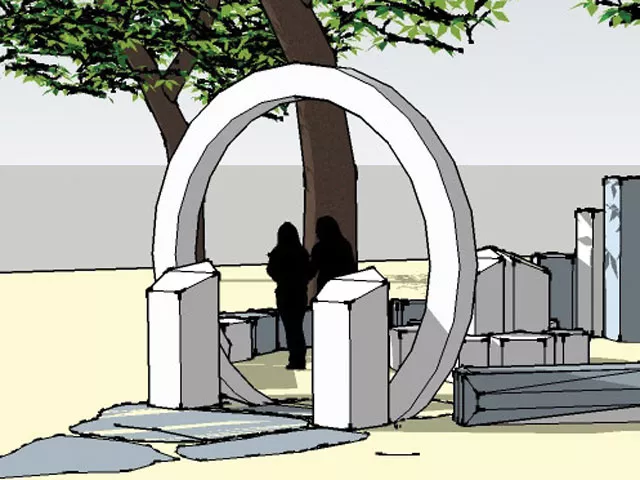 Nearly two years after a vandalized and neglected statue honoring one of Spokane's Indian leaders was abruptly demolished and hauled away from a park that bears his name, Spokan Garry is coming back.
In spirit, if not in physical form.
The Spokane Tribe has unveiled plans for a landscaped, meditative space dedicated to more than the memory of just one man. Instead of a replacement statue, the tribe has settled on reshaping a corner of Chief Garry Park into a place for reflection and information on the indigenous people the city is named for.
"It's going to be called The Gathering Place, and it has the theme of this is our aboriginal homeland and the fact that the city is named after the tribe," says Jamie Sijohn, public relations director for the Spokane Tribe.
The design is a landscaped circle about 20 feet across with a 16-foot-tall circle of Corten steel planted upright and columnar basalt for benches.
The design brings to a happy end a period of shock and outrage among area Indians when the statue of Garry was demolished with scant notice. When it was replaced with a surplus abstract sculpture of a totem pole, outrage grew — since totems are not part of the Plateau culture that the Spokane and other interior tribes are a part of.
The episode served to remind Indians they are still largely invisible in a place that once was an important gathering place.
The project is expected to cost $50,000, with about $20,000 in hand. Work is set to begin in a matter of weeks, and fundraising begins Friday at the Spokane Shock home opener.
Singer Jim Boyd will perform at halftime and is again donating his time and money from DVD sales to the cause. The Spokane Tribe will staff tables to take donations.
"It is really much more creative than I had anticipated," Mayor Mary Verner says. "This is more of a living representation of what Spokan Garry lived his life all about — which was bringing people together."
For information on donating, call Jamie Sijohn at (509) 458-6586.