While other women's clubs across the U.S. are fading away, Spokane's 108-year-old chapter is experiencing a rebirth.
This fresh breath of life is visible in the newly planted, blossoming rose bushes bordering the brick facade of the clubhouse at the corner of Ninth and Walnut. It's captured in the clubhouse's eccentric artisan gift shop and café, Artemisia, set up in the nostalgically musty basement that had long been the club's "Rose Tea Room." Yet most of all, this revival comes from an influx of new members in the past year that's pushed its ranks to the highest in decades. From last August through the end of this past May, the Woman's Club of Spokane's roster grew from less than 30 members to 130.
But the club's return to relevance almost didn't happen. When current president Rosemary Small and her husband moved to the lower South Hill's Cliff-Cannon neighborhood in 2004, into a house just around the corner from the Woman's Club, the couple was charmed by its historic nature but worried about the building's future survival.
"The first official meeting I attended, in January 2007, they were about to vote to sell the building," Small recalls. "The vote went down with just a couple people over, voting they weren't going to sell."
At the time, Small, 60, also volunteered to become the club's house superintendent, a position mainly involving overseeing maintenance and cleaning of the building, constructed in 1928 to replace a smaller clubhouse at the same site. She served in this role up until last month, working with other club leaders to bring the organization that had diminished into somewhat of a historical relic — just like its aging facility — back to prominence.
"My biggest concern, coming into the building, was that the average age was 75 in the club at the time," Small recalls. "They needed someone to hold it together."
Now, members' ages range from women in their mid- to late-20s up to those in their 80s and 90s.
"One of the things we knew we needed to do was get the next generation in here. That was a real failure of the organization," she reflects. "We have not had a great way to reach out to recruit, partly because we didn't know how to tell people what they were joining. If you don't have anything for people to do, why would you join?"
The recruitment of members young and old has notably been spurred by the clubhouse being open to visitors during the day, thanks to the basement retail shop which opened late last year and is partly staffed by Woman's Club rental chair Heather Villa.
Small notes that all members have access to the facility for classes or events they'd like to host, as long as the purpose falls under the Woman's Club's community service guidelines and values.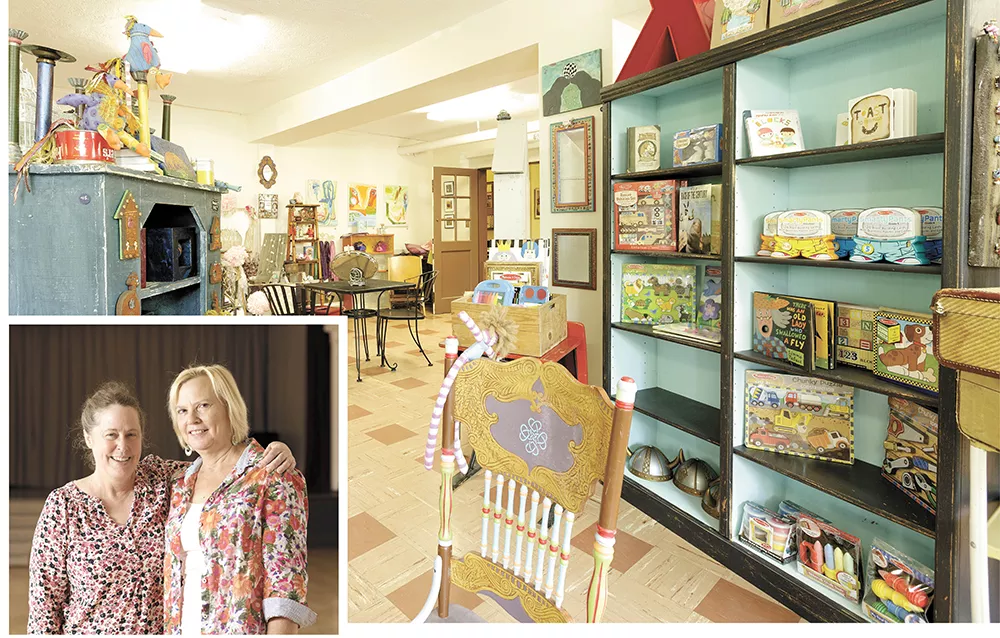 The Woman's Club of Spokane was officially incorporated in 1907 as a member of the General Federation of Women's Clubs, a national organization overseeing local chapters across the U.S. to this day. Women's clubs with various focuses were born in vast numbers during the post-Civil War progressive era, and besides self-improvement and learning opportunities for upper- and middle-class women with leisure time at hand, clubs like Spokane's also got involved in reform efforts relating to local and state government, education, the working class and women's suffrage.
As one of the earliest philanthropic groups in Spokane's fledgling days, the Woman's Club started Spokane's first daycare in the nineteen-aughts, charging working women 5 cents a day for childcare. In the 1950s it served as the site of Spokane's first kindergarten, and during both World Wars the club supported families of troops fighting overseas.
Nationally, the membership of women's clubs started to decline drastically in the 1970s and '80s, after the modern women's movement encouraged women to take on careers and seek equality in the workplace with men.
Membership in the Woman's Club is $50 a year, and members (men can join, too) are asked to attend a minimum of three meetings per year, as well as serve on various committees.
As major hindrances to the Woman's Club's growth are being addressed by current leadership, club president Small and past president Susan Bresnahan are eager to share their many hopes for its future. They firmly believe that more members will bring structure and regularity to the club's mission to better the community, and help reestablish its early role as a hub of support for Spokane's women and children.
Though it currently serves mainly as a venue for dance and exercise classes, support group meetings and event rentals, a pending application for a $300,000 federal grant would fund necessary building upgrades to host even more activities. To host, for example, a satellite extension of the local Women and Children's Free Restaurant, the building needs to comply with Americans with Disabilities Act standards.
"We don't want to just stand here and be a club. We have a sense of place, and are a place to be for women to gather to get things done in the community," Small says. "We are just so excited and looking forward to what we can do now that we have energy going again." ♦
The Woman's Club of Spokane, at 1428 W. Ninth, hosts a membership appreciation event on Friday, June 26, from 4-8 pm, which is open to those interested in learning more about the club.