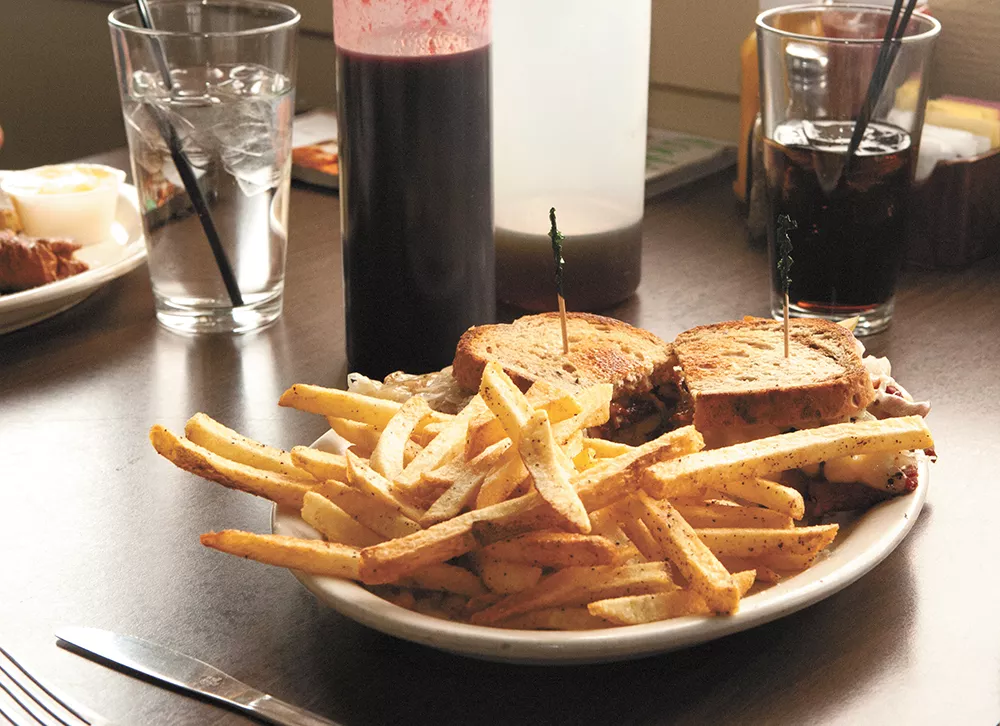 The Handle Bar is a world that revolves around booze, bikes and babes. In the morning you'll catch a crowd eating an early morning breakfast before they head off to work. By lunch, they'll be back, covered head-to-toe in grease, ready to dive into a homemade burger. Patrons will thumb through their stapled paper menu, leaving it stained but perfectly readable.
The Handle Bar isn't out to impress with the presentation of its menu — the Spokane Valley bar and restaurant would rather spend its time pleasing guests with its food. With a long list of breakfast, lunch and dinner items, there's something for everyone.
At night, when the drinks start flowing, the bar comes alive. It's a spacious room with pool tables and a projector screen that covers a wall from floor to ceiling, sparing only a centimeter, if that. Once the snow melts and summer rolls around, a back patio area is set to give guests even more room to hang out and enjoy a drink.
After a fire in November 2012 destroyed the original location on Appleway Avenue, erasing the endless hours spent remodeling it, the Handle Bar reopened at the current location on Trent Avenue. When the restaurant was damaged in the fire, so was Hell Yeah Cycles, the motorcycle shop attached. Naturally, the bikes came along to the new location.
The Handle Bar is covered in orange and black and frequented by motorcycle aficionados, but you'll be perfectly welcome even if you don't own a Harley. The goal here is to create a great atmosphere for all. A friendly, passionate staff is one way the restaurant achieves this goal.
Despite the setback, the Handle Bar seems to be doing just fine. It's far from a dive bar, but the unique combination of bikes, beer and food results in a biker bar with a splash of class that is open to all. Whether you're in need of a motorcycle repair, lunch or just a good time, the Handle Bar has got you covered. ♦
The Handle Bar • 12005 E. Trent • Open Mon-Thu, 11 am-close; Fri-Sun, 7 am-close • 474-0933