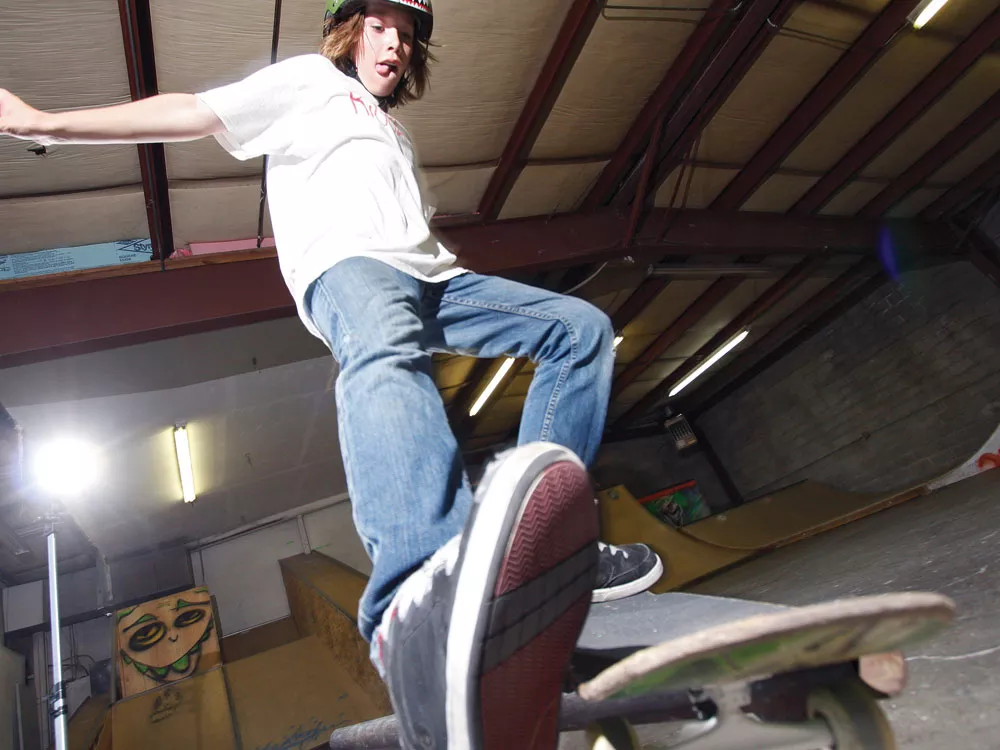 They're the type of kids you see and say, "Yeah. They skate." Scrapes and bruises on their elbows. Sideswept bangs they're constantly pushing out of their eyes during conversation. The uniform of washed-out skinny jeans, skate shoes and T-shirts boasting their favorite brand or shop — never "mall shops" like Zumiez. These kids are, as they would probably say, "legit." One, the tallest and the only one with any facial hair, has the Volcom logo tattooed on his chest.
But there's something different here.
Some of the shirts are homemade. Others are from a screen print shop but sport the same fluorescent green on black.
They all say "RIGGZ." Some in a graffiti-esque font, others scribbled by hand with a felt-tipped marker, but all bear the same word.
The skaters at Riggz — Spokane's newest and only indoor skate park — are a small, tight-knit group, fiercely dedicated to seeing this place succeed.
"I've been coming here since day one," says Krew Cunnington, 17, who has been skating for eight years and competing across the Northwest for the past three. Day one, for the record, was four months ago.
Cunnington is tall with sharp blue eyes and dark brown hair flipping out from under his hat. He uses words like "vibe" and "revolutionary." He's cocky and he's knows it, but he also knows what makes Riggz his favorite place to skate.
"Half the time I come here just to hang out. It's a positive environment. Nobody's trash-talking. We're about boosting others up," Cunnington says.
Though still in its infancy, a sense of community has begun to fill the space. Oddly, that wasn't the point going in.
Dale Rigg, a 39-year-old nurse in the Holy Family Intensive Care Unit, has never seriously skated. He can stand on a board and push himself around, but that's pretty much it, he says. In February, as he helped his friend and former neighbor, Chris Evich, 17, look for a car, the two passed by what had been the Boarders for Christ (BFC) indoor skate park in Hayden, Idaho. Evich told Rigg how the now-shuttered park had been notorious for being packed with local kids, especially during the winter months.
That gave Rigg an idea. Knowing that Chris and his brother Corbin had been struggling to find jobs in the weak economy, Rigg made a call and soon purchased the ramps that had once made the BFC park so popular. Then he found a building on Craigslist to house the ramps. Riggz opened less than a month after the car ride. Rigg's primary plan was creating jobs for the Evich brothers. By pure happenstance, he's created something much bigger.
The space — Rigg's ideal Craigslist find — happened to be in Hillyard, one of the city's hardscrabble neighborhoods.
Public parks in the area are havens for drugs and violence, the skaters say. They're dangerous and unsupervised. People trash-talk, skaters fight, and in the end you pack up your stuff and go home before you get involved.
It's different here. Near the cinder-block wall at the far end of Riggz, a massive eye is painted above the quarter pipe, a swirl of bright colors. It overlooks the skaters as they challenge each other with tricks. Some are executed perfectly. Others end with a loud crash onto hollow wood. When that happens, everyone laughs. The laughter is not the mocking kind, though. It's a "Dude, I've totally done that" sort of laugh, the laughter that precedes another try, and another after that.
Nick Katruska and Thaishaun Hunter are 12 years old, but they look even younger. They're short and skinny. Nick has braces. Their voices are high, and both try to hide that. When they skate, they're fast, serious and unafraid. They do the tricks they know they can, and try the ones they know they probably can't. Katruska and Hunter both say they feel safer at Riggz than at an outdoor park.
Simply put, "It's slicker here. They don't smoke. There are no fights," Katruska says. He glances impatiently at the other skaters, eager to get back to it.
"I didn't purposefully put it in a low-income neighborhood," Rigg says, but he's glad to have filled a need, "Parents come up to me all the time and say, 'Thank you, thank you, thank you for opening this place.'"
Katruska is a member of the recently formed nine-man Riggz team, which competes in local skate competitions. At a recent competition in Cusick, Wash., he took first place in the beginners division. His teammates placed first in the experienced rider division and in the best trick category, sweeping the competition.
With the team, the park's own monthly competitions and decreased admission prices, Rigg says he's barely breaking even on the park. But he's hopeful that finances seem to be on an uphill track and that an early winter could bring back the crowds he saw in February and March. Ultimately, though, that's not the focus of Riggz. It's not about big-name talent on the team or cash in the register.
"We didn't want the team based on who's the best, but who supports us, who's all about us — the nice kids," Chris Evich says. "[The Cusick competition] was pretty cool. We weren't expecting to come home with anything."
But then that's the way it's been with Riggz: doing more than anyone expected.
Riggz is located at 2943 N. Lee St. and is open 3-9 pm Sunday-Thursday and 3-11 pm Friday and Saturday. For more information, call 509-218-0843.