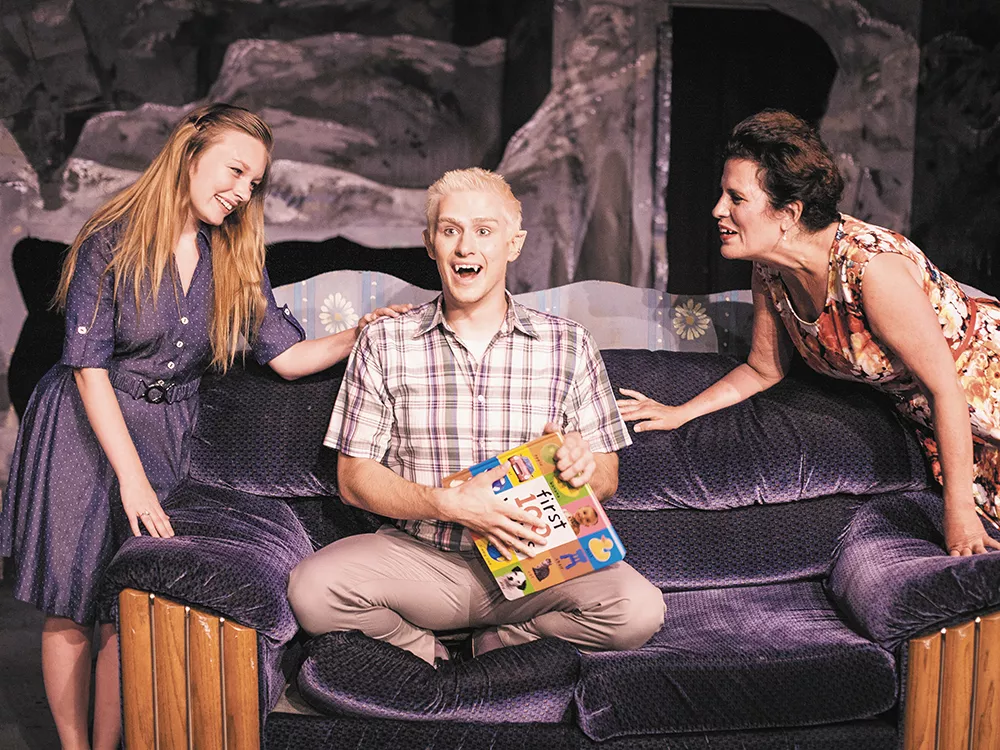 Apparently, there's a Hollywood saying that runs something like this: "Start with the explosion. And then build." For this philosophy as praxis, look no further than the work of directors like Michael Bay and Jerry Bruckheimer; their knack for blockbusters would suggest that it's a winning formula.
Perhaps in search of similar box-office draws, Lake City Playhouse appears to have taken this to heart for its current production of Bat Boy: The Musical, which begins with people yelling and screaming in a cave, continues with people yelling and screaming in any number of super-terrestrial venues, and ends full-circle with people yelling and screaming in a cave.
Granted, Keythe Farley, Brian Flemming and Laurence O'Keefe's musical isn't exactly famed for its restraint. Consider its source: a front-page headline in the Weekly World News about the discovery of a freakish half-boy, half-bat. The creative trio transformed that story into an overblown operatic farce in which a once-feral bat-child (played here by Cody Bray) comes to sing of compassion and acceptance with BBC-inspired diction, his mouth ringed with the blood of live animals. The musical's tone, like its protagonist, is therefore an odd hybrid — part solemn with earnest life lessons, part outlandishly tongue-in-cheek.
That all might sound entertainingly fresh, but the Bat Boy's (aka Edgar) plight is one we've encountered before, albeit without the same indulgence in gore, absurdity and, as it happens, incest. George Bernard Shaw's classic Pygmalion, which later morphed into My Fair Lady, watched a Cockney flower girl make the transformation — outwardly, at least — into a duchess. The frightened and misunderstood monster in Mary Shelley's Frankenstein is a kindred spirit to Edgar, as is Charlie in Flowers for Algernon. And the classic fairy tale of Beauty and the Beast, even in its twee Disney-fied version, covers much of the same ground too.
So what does Bat Boy add to all this? Is it an original take on fear, prejudice and the paper-thin veneer that we call civilization, or does it just echo elements of its predecessors?
The answer to that largely hangs on Edgar himself, and Bray's performance is certainly up to the task. His leap from speechless, cave-dwelling beast to articulate (yet still fanged) young man is seamless and natural, with all the requisite humor and sympathy the part requires. His interplay with his adoptive sister Shelly (Madison Rasmussen) and mother Meredith (Marianne McLaughlin) is, to all the actors' credit, emotional and credible. When Edgar has evolved out of his snarling phase, Bray's voice brings a very deliberate, very welcome soothing counterpoint to the general hysteria.
That general hysteria is the undoing of this production. The am-dram screams that were delivered at the close of last season with such zeal in Into the Woods, also directed by Troy Nickerson, seem to be multiplied here exponentially. The ensemble is so loud and raucous that the lyrics to songs like "Comfort and Joy" and "Another Dead Cow" are all but incomprehensible (not that O'Keefe's lyrics are the zenith of musical theater); but then, they're only straining to be heard above the music, performed by an unseen band situated backstage. The playhouse's PA sounds as if it's being taxed to its limits throughout.
It's true that the pacing of Bat Boy relies on palpable tension, but the obvious danger in building from the explosion is that, even with the right equipment, the knob can only go to 11. After several early scenes of paranoid mobs, hysterical mother/daughter strife and threatening raps, when Dr. Parker (Daniel McKeever) and his wife Meredith finally give us an emotional lull in the semi-tender tango of "Dance With Me Darling," it's not enough to offset the relentless fever pitch. The angst, paranoia and panic lose their distinctive features as a result, descending into a shrill and shouty pile-on that lacks the nuance and polish that audiences have come to expect from this community theater powerhouse, and Nickerson in particular.
Bat Boy does have brief moments of redemption. Edgar's feeding scenes are emotionally raw and unsettlingly grotesque. The erotic forest interlude overseen by Pan (guitarist Zack Baker) is as entertaining as it is well orchestrated. The family room couch that stashes away in the cave wall is an ingenious bit of set design. But it's also probable that these delights only stand out insofar as they offer a fleeting reprieve to a musical that often feels more like an assault.
Bat Boy: The Musical • Thu-Sat, 7:30 pm; Sun, 2 pm; through Aug. 10 • $15 • Lake City Playhouse • 1320 E. Garden Ave., Coeur d'Alene • lakecityplayhouse.org • (208) 667-1323