ON INLANDER.COM
NATION:
"Stop Sanders" or "Feel the Bern"? The
New York Times dives into the Vermont senator's 2020 momentum
.
READS:
Author Bryce Anderson
will be at Auntie's today
to talk about his new book
Down From the Mountain.


IN OTHER NEW...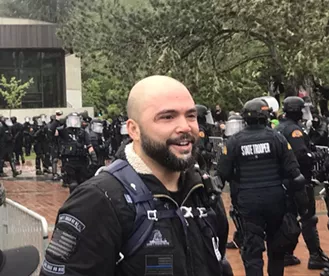 Meager turnouts at WSU College Republican rally
Right-wing activist
Joey Gibson went to Pullman yesterday for a College Republican rally
, alongside a state "militia" leader. Turnout results were meager, according to the
Spokesman-Review
, though some counterprotesters met with him.
Veni, vidi, veto!
The
president has issued the second veto of his presidency
, this one in response to a resolution ending U.S. support for the Saudi-led campaign in Yemen. (
Washington Post
)
Seniority rules
According to Axios,
the Trump 2020 campaign is spending almost half of its Facebook ad dollars to target seniors
on the social media site. Conversely, Democrats are only spending about a 25 percent on the same demographic on Facebook.
Notre Dame investigation
An
investigation into the Notre Dame fire
has begun. (
Washington Post
)