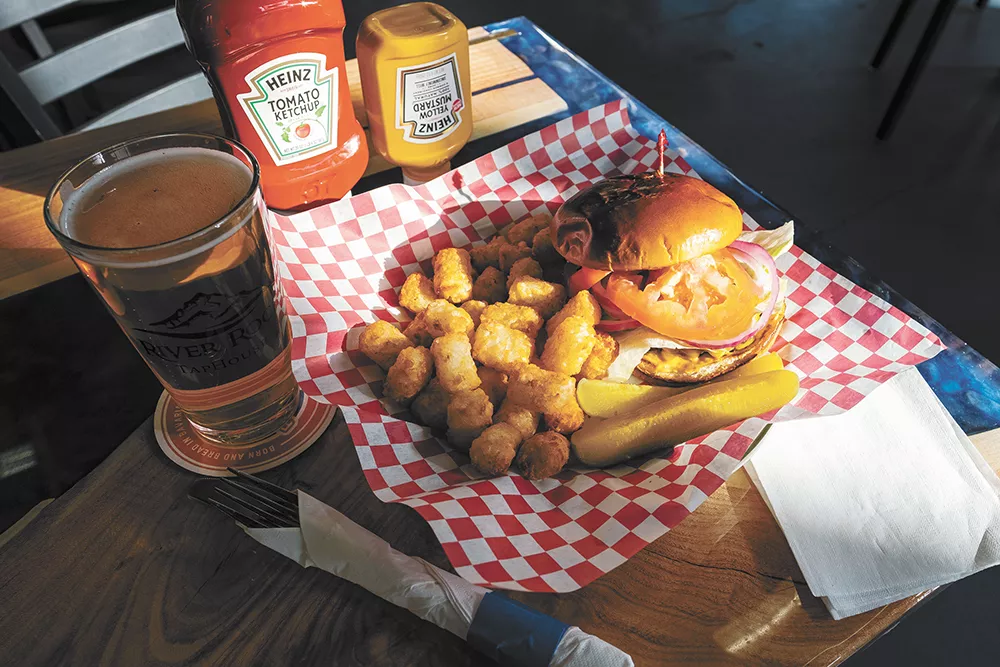 When Mike and Denise Magee decided to open a new downtown spot for beer lovers, their early plan was to expand on their passion for homebrewing.
"I've always loved craft beer," Mike Magee says. "I started home brewing and I have a passion for the science part of it. I'm a techie — that's my career — so that was a big part of the interest that I developed for craft beer."
He and his wife initially looked into opening a brewery, but after learning about regulations around things like what has to happen with all that leftover water and ingredients, they pivoted to the idea of a taphouse. As lovers of pubs and breweries, the idea would still allow them to continue sharing their love of brews.
"It lets us stay in the industry we have a passion for," Magee says.
With that, River Rock Taphouse was born, opening on the main floor of the Chronicle Building earlier this year, the same weekend as Hoopfest.
Inside the taphouse, the first thing that draws your eye is the custom bar, made from giant slabs of wood, rocks and resin poured to create a light-up riverbed within the bar itself. Belly up to it and TV screens show the current tap list, which includes a well-curated list of 32 rotating craft beers along with eight taps of wine, cider and kombucha.
"We have more of a local and regional focus. Part of our business model was to try to serve the small breweries in our area," Magee says. "It's hard for them to get exposure and there's so much great beer around here."
The rotating list, which changes with the seasons, is updated live on River Rock's Facebook page. There, guests can see local breweries currently on tap, including Little Spokane, Post Falls and Steam Plant Brewing, alongside dozens of other beers from Washington, Oregon, Montana, Idaho and Colorado.
In addition to its focus on brews, River Rock also serves up a menu of comfort food, which continues to evolve.
So far, the most popular item has been the Taphouse Burger ($14), a 1/3-pound beef patty topped with cheddar, onions, lettuce and tomato, and served with a mustardy "river rock sauce." The burger comes with a side salad or fries, and pairs well with many of the local beer options, including the Archtop Amber by Spokane Valley's Twelve String Brewing.
The menu also includes plenty of shareable appetizers like nachos ($13), tots ($7), beer-battered cauliflower ($12) and artichoke dip ($12). Other mains include a selection of hot and cold sandwiches ($14-$15) and flatbreads ($13).
"As we go along, we're trying to adjust to what our customers want and we've been finding they really want more of what would be considered traditional taphouse fare," Magee says. "We have some different ideas we're kicking around. We want it to be more like comfort food."
With the burger being so popular, River Rock may add a few more burger options to its menu, as well as some fall salad offerings.
One of the most popular shareables, Magee says, has been the giant Bavarian pretzel ($11) which is served hanging from a hook above a platter with house-made beer cheese dipping sauce.
The restaurant also offers a sweet deal for downtown concert-goers: bring in your ticket for that night and get 25 percent off your alcohol purchase. Plus, happy hour is from 4-7 pm each day (except Mondays, when they're closed) with pints at $4 and appetizers for 20 percent off.
In addition to roughly 100 seats in the main dining area, there's a meeting space that can hold about 30 people. It's free for groups to reserve, Magee says, and the restaurant is able to design buffet-style offerings for events held there.
The bar is in the process of applying for its spirits license, since that's one of the most frequent requests from after-concert visitors.
"Once we get that, it'll add quite a bit more to our overall offering," Magee says. ♦
River Rock Taphouse • 926 W. Sprague • Open Tue-Thu, 3-10 pm; Fri-Sat, 1-11pm; Sun, 11 am-10 pm • facebook.com/riverrocktap • 473-9301