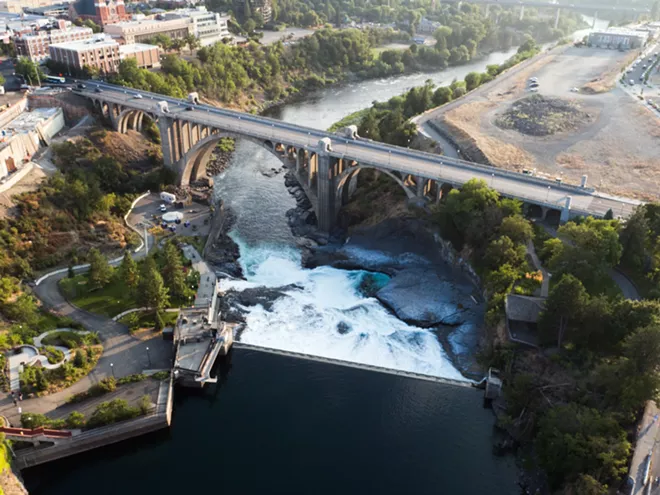 ON INLANDER.COM

NEWS:
First, Spokane GOP Chair Cecily Wright wanted to punch James Allsup in the nose. Then she invited the
bigot-bro, white supremacist to the Northwest Grassroots Movie Night
to talk about how he's being "label-lynched" by the media.
Yesterday, Wright announced her resignation and says she regrets her decision to give Allsup a platform.
Meanwhile,
we dug into the origin of the term, "label-lynching,"
which Washington State Democrats Chair Tina Podlodowski calls "a grotesquely uniformed phrase that trivializes the violence inflicted on people of color by actual lynchings throughout our country's history."
Turns out, the phrase began with the patriot movement and LaVoy Finicum, the only man to be killed during the armed standoff at the Malheur National Wildlife Refuge in 2016.
THE SPOKANE RIVER:
We dedicated an entire section to
stories surrounding the centerpiece of this region — the Spokane River
. You'll meet a prolific painter, a passionate Spokane tribal member, the Spokane River Pirate and more.
Our 2018 River Issue is out on stands. Get a preview here and pick up a copy.

Posted by The Inlander on Wednesday, August 1, 2018
MUSIC
: From his childhood in Meraux, Louisiana to his longtime home in Portland, Ural Thomas brings his
soulful seven piece to Spokane this Saturday
. The man's been making music for longer than most of us have been alive. Don't miss Portland's Godfather of Soul at the Bartlett.
IN OTHER NEWS:

Schools and a stadium
The Spokane Public Schools board approved a
$495 million bond measure
to build three middle schools and replace three more among other improvements. But the majority of the meeting was
dominated by discussions over a request for taxpayers to pitch in $10 million
for a new, 5,000-seat stadium in downtown. (
Spokesman-Review
)
No duty to retreat
A Portland tattoo artist shot and killed a homeless man who pulled a knife. Oregon, which has one of the most lenient stand-your-ground laws in the country, says that's totally OK. "Overly broad self-defense law essentially give individuals a license to act as judge, jury and executioner," Oregon state Rep. Jennifer Williamson tells the
Willamette Week
.
Pretty fly...
As special counsel Robert Mueller's investigation into foreign influence of American elections continues, we now have an incredible look into the trial of Paul Manafort, the former Trump campaign adviser currently facing fraud charges. Exhibits in Manafort's trial, which began earlier this week, include a $15,000 ostrich jacket to go with a $9,000 ostrich vest and a $18,500 python jacket — all evidence, prosecutors say, of a lavish lifestyle supported by avoiding paying taxes on tens of millions of dollars he was paid by a pro-Russia politician. (
The Guardian
)
President Trump compared Manafort to mob boss Al Capone, whose undoing was not for all the murder and bootlegging, but for tax evasion. (
Washington Post
)
Manafort appears to have purchased not just an $15,000 ostrich jacket, but also a $9,500 ostrich vest. And the cost of that Python jacket? $18,500, according to invoices from Alan Couture entered into the case's evidence collection. https://t.co/e5otj27Pqj

— Shimon Prokupecz (@ShimonPro) August 2, 2018
Thou shalt not

The Pope says the death penalty isn't legit in any circumstance, reversing a previous stance that capital punishment could allowed in rare cases in order defend "human lives against an the unjust aggressor." (
Washington Post
)