Kay O'Rourke likes to tell her own stories.
For that reason, the local painter doesn't typically do art commissions, where someone hires an artist to do a specific creative piece. But when her old friend Jim Frank, a Spokane art collector and developer associated with the Kendall Yards neighborhood, contacted her last year about creating a series of paintings telling the story of the Spokane River, she couldn't turn him down.
A year later, The River Remembers: A Visual History of the Spokane River Gorge is complete, and all 30 paintings, contained in 20-inch-by-20-inch frames, hang from the walls in the Spark Center, a nonprofit learning center in Kendall Yards.
The Spokane River is something people often see daily, but they're not always aware of its past. O'Rourke says the project, open to viewing by the public, is intended to give the viewer a deeper perspective about the body of water that's so integral to the city's identity by telling the history of the river, from pre-human times up to Expo '74, through art.
"History only gives you facts," says O'Rourke. "But the mythology and the folk tales give you the sound and the smells. [I tried to go] beyond the facts and capture the essence of what was happening."
The paintings depict the relationship between Native Americans and the river's once abundant fish. They also capture first explorers, settlers and the ensuing clashes with Native Americans, as well as historical figures such as Spokane Chief Garry, James Glover (the "Father of Spokane"), city benefactor Col. David Jenkins and other people who shaped the city. Major events, including the arrival of railroads and the Great Fire of 1889, are also present.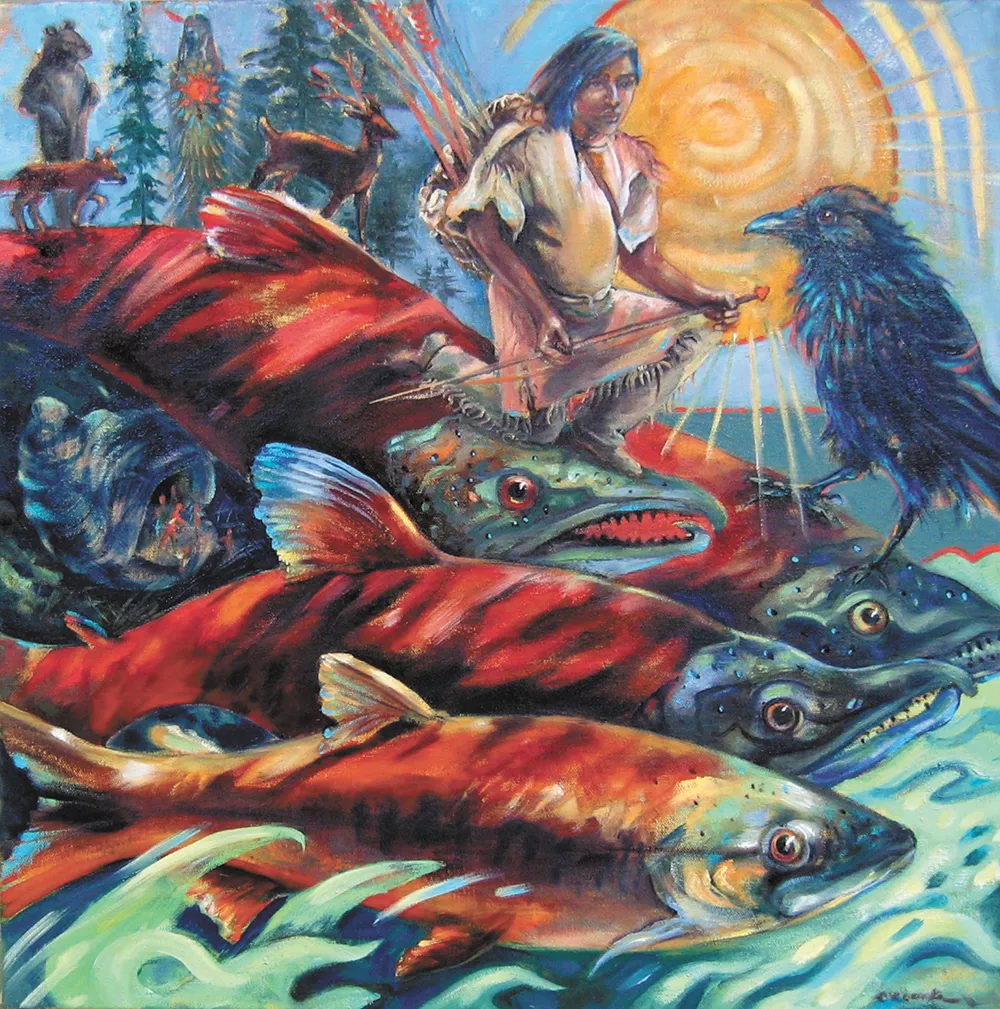 Known for her surreal paintings, O'Rourke says it was a challenge to depict real events, people and places. To complete the project, she says she conducted historical research, sometimes having to reconcile competing narratives, and also drew on Native American folk tales to tell the story of the river as completely as she could.
"We've always had the good and the bad," says O'Rourke. "And a lot of time we gloss over it, but I think it's important to know what the truths were." ♦
The River Remembers: A Visual History of the Spokane River Gorge • Spark Center • 1214 W. Summit Pkwy. • kayorourke.com