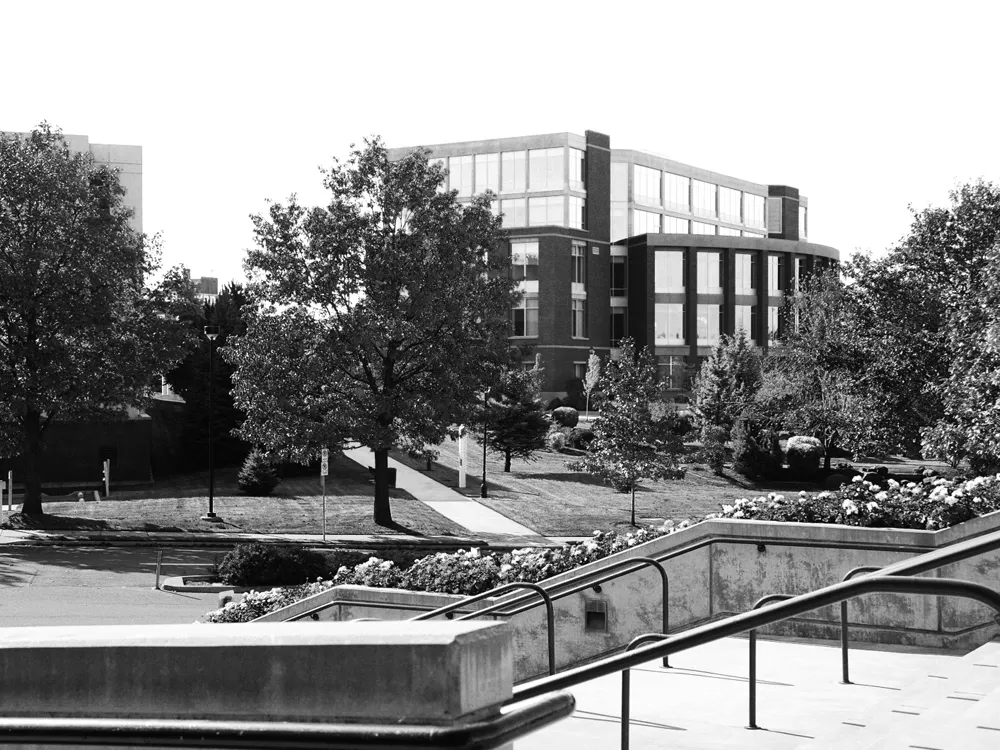 S
et in the heart of Spokane,
the Riverpoint Campus is unique among most colleges and universities. For one thing, Riverpoint is not its own entity; it's actually a convergence of students from WSU, EWU and the Innovate Washington technology incubator. Typical college experience? Maybe not. But for students in a variety of professional fields it can be a perfect fit.
MYTH EXAMINED: "Riverpoint is a commuter college, so forget connecting with other students." Attending a school where most people live away from campus is a classic "get what you give" situation. Yes, it's possible to avoid any interaction with your fellow students. But if you make an effort to be involved, it's easy to make friends.
Lisa Garza, vice president of Associated Students of Washington State University Spokane, says student government is trying to bring in more intramural sports, and instead of planning events in the evening, organizers are making them happen during the lunch hour or in the early afternoon.
Verdict: Busted. The campus community won't kick down your door and drag you to events like they will at four-year colleges, but it has also made great strides toward livening up the commuter campus.
MYTH EXAMINED: "Riverpoint is for health care careers only." While the Riverpoint Campus is known as a health sciences haven, there are several options within that sphere and plenty that have nothing to do with the health industry at all. Not only does Riverpoint offer degrees in nursing, heath policy and many medical fields, but also criminal justice, engineering and education. It's not just a place for potential doctors and pharmaceutical reps, but those seeking education in a variety of fields. Choices, people, choices.
Verdict: Busted. Riverpoint is already the health education hub of the region, but it is striving to be much more.
Transformation: Construction has been under way on Spokane Falls Boulevard and on campus to accommodate the growing health sciences programs and the growing needs of Riverpoint students. The biomedical and health sciences building should be completed in the fall of 2013. However, not everyone is a fan of process. Loud noise from the construction crews make some people wonder if education is being disrupted, and the building's current state has been called an "eyesore."
Habla Español: While many students are wedded to classes within their programs, the one thing that all can agree on is the usefulness of language classes. Spanish and Russian in particular can be extremely helpful for many careers in the Pacific Northwest. Fluency can increase your job prospects, and if nothing else, make you a more rounded student. Riverpoint veterans know the importance of taking classes that lie outside your intended career path — if only to give yourself a bit of much needed mental variety.
The Parking Lot Whisperer: The secret to getting a good spot? A parking pass. Downtown parking sucks. Unless you want to pay for a meter or lot spot every day, or risk parking illegally and getting towed, it's worth the couple hundred bucks it takes to get a yearlong permit.
Take Control: Riverpoint students stress the importance of individual effort. At a more independent campus full of commuters, being self-driven is all the more vital. Get your butt to class, join one of the many study groups that meet at hip hangouts Atticus or Madeleine's, go out of your way to meet people in class or at lunch. Whatever you do, you'll have to do it yourself. No handholding here.