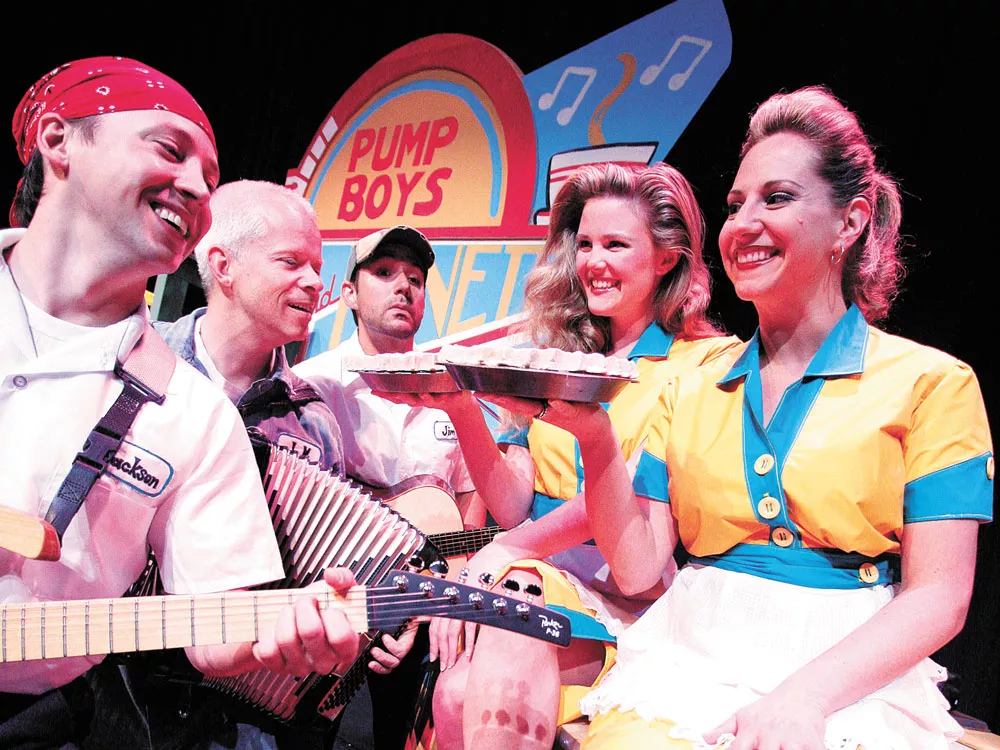 Pump Boys and Dinettes is a musical revue: five singers, 20 songs, no desire to tell much of a story, not really. Just scoot those boots across the floor, darlin'.
Director Kasey R.T. Graham says that you really have to think of revues "as a different genre, as a kind of concert that takes place onstage and with very little dialogue. If you enjoy the music, you'll enjoy the show." And Pump Boys (July 22-Aug. 1 at Coeur d'Alene Summer Theatre) presents songs in many genres: country, folk, rockabilly, bluegrass, Cajun, cowboy, Western, blues and gospel.
Back in the early '80s — well before this show's extended Broadway and West End runs — a married couple were appearing in two separate revues. Why not throw the fillingstation boys and diner girls into the same show and wait for the tuneful results?
Graham's CdA production outdoes the original in having not one but two couples who are married (or nearly so).
Because in this version, when Pump Boy Jim feels his heart a-thumpin' over Rhetta Cupp the Dinette, they'll be played by Dane Stokinger and Jessica Skerritt — who appeared together as husband and wife in Miss Saigon last summer and who, more importantly, will become husband and wife for real next month. In addition, Graham has recruited a married pair of Equity actors, J. Michael and Jillian Zygo, to play Jackson and Prudie Cupp, respectively. (The former played Will Parker in a touring production of Oklahoma! that Graham was part of.)
Rounding out the quintet of singing and dancing onstage musicians will be longtime CdA music director Steven Dahlke (Carmen Ghia in The Producers in last summer), who will play L.M. the accordion man.
"This in the Spokane-area market. "It has been done all over the South, and in every little theater in the Northeast. But it's hard to find guitar-playing actors."
But Graham found them in his two leading males. Stokinger played the Elvis figure in All Shook Up two years ago at CdA, and "J. Michael is a great dancer," Graham says. "In 'Mona' — the Elvis song in this show — he shows that he's a fantastic guitarist and a good mover, too." Zygo, in fact, says Graham, "plays acoustic guitar and electric guitar — and he threw a mandolin in his suitcase, so we're using that, too."
As for Skerritt and Jillian Zygo as the two dinettes, Graham says "they'll play spoons and cheese graters, cups and whisks — you know, basically just kitchen equipment."
Graham, 29, is from Spokane. He directed and choreographed Scrooge in 2001 and Damn Yankees in 2003 at Spokane Civic Theatre, and has spent the last four years, mostly as music director and conductor, on national touring versions of Oklahoma!, The Producers and The Wizard of Oz. (For one night in January, he'll appear at the INB Center as music director of the national tour of Spring Awakening.)
Graham and Dahlke (who's music-directing Pump Boys, in addition to appearing onstage) will be leading their singers through that wide range of styles — including one of the Dinettes' song, "Tips," that seems to be taken from the songbook of flirtatiousness: "Give it to me quick, I'll drop it in a dish./ Slip it in my pocket, I want my little bit./ Leave it on the table, I know just where to sit."
The genre of that song? Innuendo. This show isn't called Pump Boys for nothin'.
Pump Boys and Dinettes will harmonize on Thursday- Saturday, July 22-24, and Wednesday-Saturday, July 28- 31, at 7:30 pm, and on Sundays, July 25 and Aug. 1, at 2 pm, at NIC's Boswell Hall, 1000 W. Garden Ave., Coeur d'Alene. Tickets: $39; $35, seniors; $25, children. Visit cdasummertheatre.com or call (208) 769-7780.