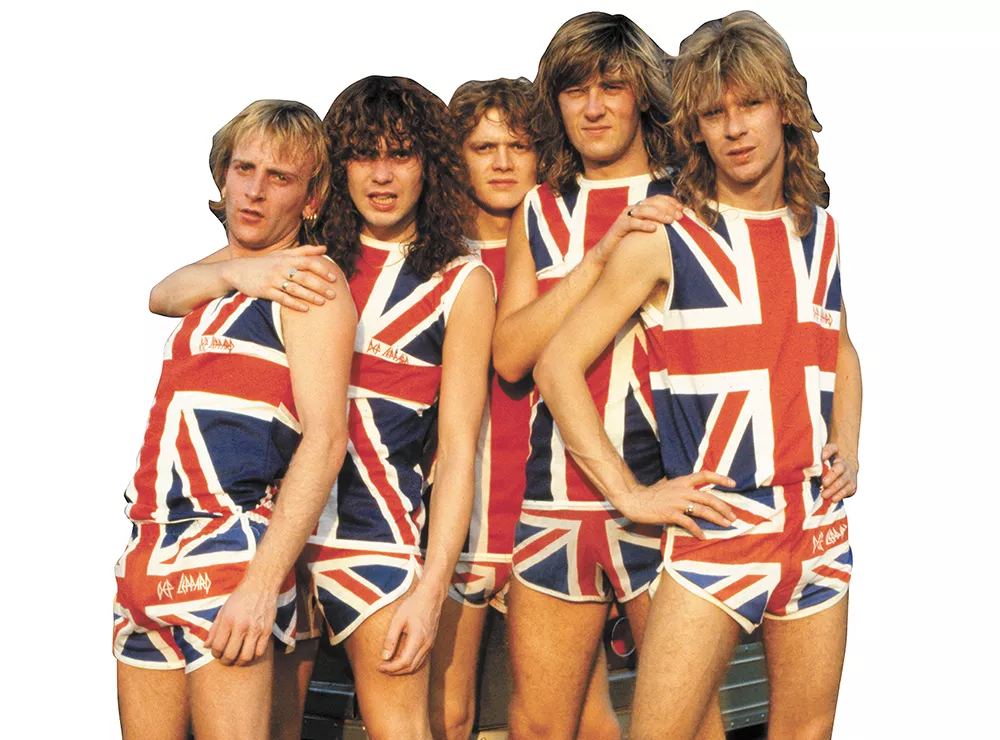 Wow, Def Leppard at the Arena — that's a blast from my past. I saw them play live in Spokane... all the way back in 1983. I remember it all so clearly, their album Pyromania came out in January of '83, the middle of my senior year at Gonzaga Prep. They provided the soundtrack to that pivotal year, but what was really cool was that before their concert here in, like, April, they played soccer at our school. Their tour bus pulled up, and the baby-faced band (they were all in their early 20s) piled out while we wandered around taking pictures with giant "can-you-freakin'-believe-this" grins.
To relive the glory, I call my old buddy Todd Weaver, who was there with me.
"No," he tells me. "I don't remember any of that."
Wait, what? But you were taking the pictures!
"Maybe," he says. "But maybe we just heard about it. Maybe we missed it?"
Ah, the human brain — now I get why memoirs are so tricky.
"I'm doing a Bing search," Todd tells me over the phone. "Def Leppard Tours."
Bing search? Why didn't I think of that? That Weav is always one step ahead.
"There it is," he says after a minute. "Spokane Coliseum, August 5, 1983 — the day before my 18th birthday."
August 5? I thought April. I swear we went to that concert... didn't we?
"We definitely saw Def Leppard that night," says Todd. "I remember the sleeveless shirts with the Union Jack flag. Chicks dug that."
So we haven't settled anything about whether there was a soccer game, and I still feel like it was definitely April, not August. Am I crazy?
OK, that whole part you just read — Weaver fact-checking me, the soccer game I probably imagined — I wrote all that back in 2009. Def Leppard was coming to play in Spokane again, but at the last minute the show was canceled. I filed this story away in the nether folders of my desktop, only to be fished out when the word came down in February that the band was coming back.
That's when I started thinking about it all over again: Did Def Leppard play soccer at Gonzaga Prep? Todd and I played soccer at Prep, so maybe we heard about it via our teammates. I start calling the ones who not only were on the team, but who were also into music.
I first heard Spinal Tap, the album, in Tom Carriker's basement; he'd remember.
"Def Leppard? Yeah, I loved those guys. I definitely went to that concert," he tells me from Seattle. "But a soccer game? At Prep? I do not remember that at all."
C'mon, Tom, you're leaving me high and dry here!
OK, how about Dan Vollmer? His brother worked at the Magic Lantern, so he was hip to cool music — and he was our team manager.
"Oh my goodness, I'm thinking..." he says from Pullman, leaving a long, uncomfortable silence during which I could ponder my sanity, or fall back on my training and start asking more questions.
"Were you a Def Leppard fan?"
"Oh, for sure," Dan says. "I went to that concert — I think I had a backstage pass I won from Rock 106. But a soccer game? Nope. Nothing."
OK, people's memories are shot, that much is clear. But computers never forget. If Weaver could drop some Bing on me, well, two can play that game. So I dial up the Google and punch it in: "Summer 1983 Def Leppard Soccer."
Jackpot. Turns out, the boys from Britain were playing benefit soccer matches against teams from local radio stations during that 1983 tour; stories from Pennsylvania and Hawaii popped up.
Wait, radio stations... Dan mentioned Rock 106, our go-to Spokane station back in the day. I know a few people around town who go back that far. So next I call Brian Paul, longtime KXLY exec who is now the GM of the Tri-Cities TV station KVEW.
"Wow, I would have just missed that — I started with KXLY in 1985," Brian says. "But have you talked to GA? I'll give him a call."
Oh, I could feel it — I was this close to breaking this mystery wide open. Now I know how Woodward and Bernstein felt when they met Deep Throat.
"So," the voice on the other end says, "I hear you've been asking around about Rocker Soccer '83?"
That's right, not crazy! Gary Allen — aka "GA," currently the program director for Rock 94.5 — says it did happen, they did pile out of their tour bus that August afternoon up at G-Prep, and they did wear those little Union Jack shorty-shorts.
"Just the way they got off the bus, they were totally livin' the dream," GA recalls. "And they were ready to kick some Yankee butt."
But in a Welcome-to-Spokane-NOT! prank, Rock 106 laced their team with ringers. Instead of a bunch of scrawny, asthmatic DJs, they brought in the Spokane Skyhawks.
"I remember [lead singer] Joe Elliott running by, yelling, 'That guy ain't no bloody DJ!' about our goalie," says GA, still gloating after all these years.
(What is it with KXLY and ringers? In a Hoopfest game between Team Inlander and KXLY's Star 96.9 back in the late '90s, the quartet of 6-foot-4 22-year-olds who pummeled us would only say they were "interns.")
"Have you talked to Calvin?" GA asks. "He was the first one off the bus."
Calvin? Turns out, one Calvin Lew, a regional director with Polygram Records back in '83, was the band's handler in the Northwest. Now he works at KXLY.
"The guys in the band and the crew, they loved soccer," Calvin tells me. "So I called up GA, and he put it all together."
So how'd they take the bum-rush treatment?
"On the road, they were talking smack about Spokane for a week or two," recalls Calvin. "I felt bad for my boys, but it was really funny."
I proudly tell him that I, too, was there, with a friend whose identity I'm having a little trouble with.
"Do you remember what happened at the end?"
A twist? Of there's a twist.
"A couple days before, in Seattle, we did a public appearance for Seafair," Calvin recalls. "The boys were christening the radio station's hydroplane — bottle of champagne, the whole thing. Like, 3,000 fans showed up. No security whatsoever. And afterwards, the crowd started coming closer... and closer. Finally, it was feeling like the Beatles in Hard Day's Night, and I screamed, 'Run, and run fast! Go now!'"
Having barely escaped whatever scrum of adulation may have befallen them, Calvin was quick to rush the boys back on the bus when the Spokane crowd started to move in after the match. Safely back on the bus, Def Leppard went on through that night in Spokane — and kept going. That summer, powered by MTV and their hairdressers, they went from rockers on the rise, to, in the immortal words of Donald Trump, "Huuuge!"
You know that song that's been lodged in your brain since you were 18? At the Music Cognition Lab at the University of Arkansas, professor Elizabeth Margulis argues that the "earworm effect" is neuroscience. In her book On Repeat: How Music Plays the Mind, she writes about that condition where people feel "that the boundary between the music and themselves has dissolved."
Everybody has music that hit their central cortex at just the right time, and those songs never let you go. For me, Def Leppard's "Photograph" instantly evokes a moment in time.
Todd Weaver still doesn't remember going to that soccer match. But he remembers exactly where we sat that night, when he was literally on the edge of 17, listening to the sounds of our youth in the old Boone Street Barn. Life was about to change for both of us; within a few weeks, we'd be sitting in our first classes at the University of Washington.
"Yeah, that was the last summer with all our friends, before everybody spread out," Todd says when I call to tell him I finally cracked the case.
We're different now, far from those two kids rocking out after school to Def Leppard and whatever else Rock 106 was beaming into our brains. But like the music we're powerless to resist (hey, that's just science), we've kind of stayed the same, too.
"So when's the concert?" Todd asks. "We're going, right?" ♦
Def Leppard with Styx and Tesla • Wed, Sept. 30, at 7pm • $75 tickets only • All-ages • Spokane Arena • 720 W. Mallon • spokanearena.com • 279-7000