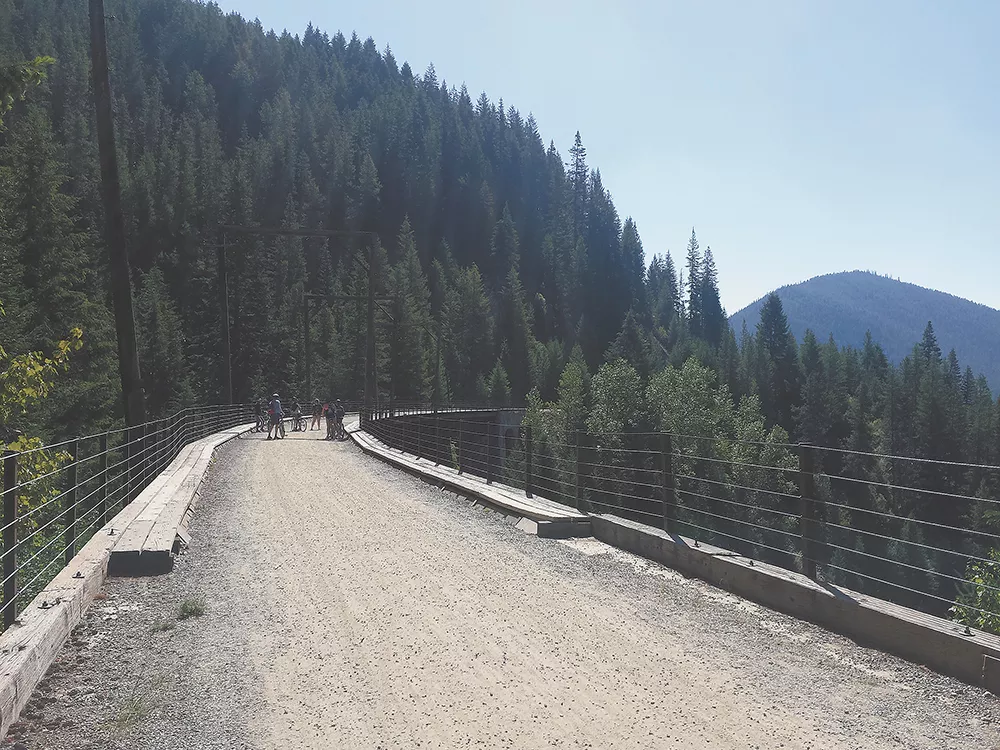 Rolling into the black maw of a Montana mountain, the images in my head were of one Wile E. Coyote. Countless times I'd watched the Western native — far more acclimated to outdoorsy pursuits than I — go into a tunnel only to find his body pancaked by a train rushing through from the other side.
Happily, no trains have traversed the St. Paul Pass Tunnel (aka Taft Tunnel) since 1980, offering my friends and I an easy, albeit wet and chilly, trip through the mountain's passage, a nearly 2-mile feat of incredible engineering and labor undertaken in the early 1900s to connect the Milwaukee Railroad line to the West Coast.
The Taft Tunnel is, for most, the starting point of the Route of the Hiawatha, a rails-to-trails success story that set a record in 2015 for the number of bicyclists — 39,400 — cruising its 15-mile expanse along the Montana/Idaho border. Jason Bergman of Lookout Pass Ski & Recreation Area, which operates the trail for the U.S. Forest Service, says the record likely will be broken this year; July's 15,100 riders set a one-month visitation record, no doubt helped by the lack of forest fires and heat waves that filled last summer.
As a relative newcomer to the area, I considered a ride down the Hiawatha a rite of passage necessary for becoming a true Inland Northwesterner, like reading Jess Walter's Beautiful Ruins, sampling any craft beer in arm's reach and losing any sense of surprise at Spokane Police Department scandals.
Not being much of a bicyclist, the Route of the Hiawatha was last on that list to get crossed off, but ride it I did recently, spending a glorious morning rolling through the trail's 10 tunnels and across its seven acrophobe-challenging trestles boasting both incredible views and frightening drops over their (well-guarded and utterly safe) edges.
I would hazard a guess that the 17 or so miles I rode that morning (because of where we parked, we had to ride the St. Paul tunnel twice) is more distance than I've ridden on a bike, collectively, in the previous 20 years. Getting hit by a car in college scared me off two wheels for the most part. The utter lack of car traffic — save for the occasional maintenance truck or shuttle bus — is just one reason the Hiawatha proved a great ride for an amateur like me.
Here are a few more things to consider for your riding purposes if you've never taken a cruise down what the Rails-to-Trails Conservancy named one of just 15 "Hall of Fame" trails:
You can do it. Most of the trail is a gentle downward slope, so gravity does a lot of the work for you. There are flat stretches, and some loose rocks requiring some bicycling savvy, but the Hiawatha is friendly for kids through somewhat-fit seniors, and everyone in between.
No bike? No problem. You can reserve wheels in advance to pick up at Lookout Pass, and they'll throw a bike rack on your car and include the helmets and lights you need. It's not super-cheap — adult bikes are $32 or $38; kids' are $22 — but it's the cost of convenience. And you can always bring your own bike and just pay for the trail's day-use pass ($10 for adults, $6 for kids). A mountain bike or hybrid cruiser both work well; you won't want to ride your road-racing bike.
Pack light, and pack efficiently. Your cruising speed to cover the trail can vary wildly, so you'll want to bring some small snacks or a light lunch along with plenty of water and sunscreen, although there's plenty of shade depending on what time of day you ride. You'll also want a layer just for traveling through Taft Tunnel, since the temperature in there hangs around the low 40s at all times. Plan on at least three hours on the trail and riding the shuttle bus.
The return trip. Unless you're one of those psychopaths who actually wants to ride the trail uphill, too, you're going to want to catch a shuttle back to your car near the start of the trail at Taft Tunnel. Through Sept. 5, there are five shuttle trips daily, and then through Sept. 25 there are only four. You can buy your shuttle tickets in advance at ridethehiawatha.com, or in person when you ride. Seating is first-come, first-served. ♦
Route of the Hiawatha • Open daily through Sept. 18, plus Sept. 23-25 • ridethehiawatha.com • 208-744-1234