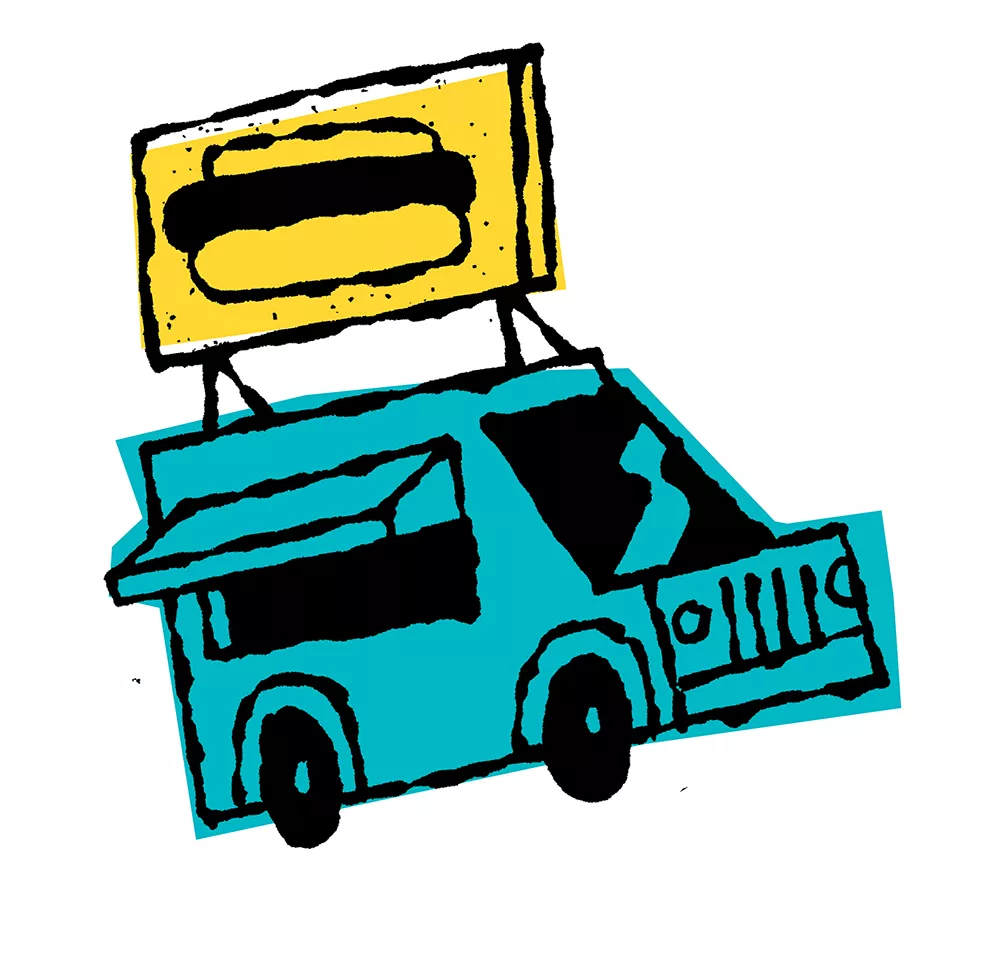 CURRY CHICKEN ($6)
Jamaican Jerk Pan, 1925 W. Fourth
Spokane's only Jamaican food truck cooks up authentic Jamaican food made with spices straight from chef-owner Doc's homeland. Their curry chicken is served over rice and peas, and their rotating weekly specials include curried goat, jerk pork, whole fried fish, stewed oxtail and more. They are open Monday through Friday from 11:30 am to 7 pm in their typical Browne's Addition location.
SHAMELESS BEER BRAT ($5)
Shameless Sausages,
location varies
Shameless Sausages prides itself on creating out-of-the-ordinary hot dogs. Their beer brat is topped with banana peppers, jalapeños, grilled caramelized onions and spicy brown mustard. They're also well known for their Hawaiian dog ($8) — a 9-inch sausage with Swiss cheese, cream cheese, pineapples, caramelized grilled onions and a teriyaki glaze. Beyond their regular hot dogs, they offer veggie dogs and 100 percent beef dogs. Find them on Facebook (facebook.com/ShamelessDogs) for their current location.
GRILLED CHICKEN TACOS ($6)
King of Tacos, location varies
This food truck has been sticking to a simple menu since it expanded from booths at events into a truck back in 2012. Their street tacos are their best seller, closely followed by their burritos ($7-$9), and they focus on their flavorful meats, especially their carne asada beef. Their tacos are served on corn tortillas with fresh chopped onions and cilantro, and all of their entrées include a side of Juanita's chips and the King's salsa. Check their Facebook page for their current location.
JONELL'S COMBO ($4.50)
Toby's BBQ, location varies
Look no further for your BBQ cravings, because Toby's brisket, pulled pork, chicken thighs, ribs or sausage are sure to satisfy them. Their menu items are priced per pound, but they also have combo specials, including Jonell's Combo (two bone-in chicken thighs with a side of baked beans or coleslaw). Their hours are 11 am to 6 pm, and you can find them at the Freeman Store on Highway 27, southeast of Spokane, on Tuesdays, Fridays and Sundays, and two Spokane Valley locations, Barney's Harvest Foods at 11205 E. Dishman-Mica Rd. on Wednesdays and the Cum Inn Bar & Grill at 18221 E. Appleway on Thursdays.
H LA TURQUE ($5-$8.50)
Coeur de Breizh Crêpe-Mobile, 3615 N. Government Way, CdA
These crêpes are made from a family recipe from Brittany — the birthplace of French crêpes. They sell halves and wholes of both savory and sweet crêpes, also allowing you to create your own. The H La Turque includes hummus, black olive tapenade, feta, grated carrots and balsamic reduction, all wrapped up. They flip crêpes Wednesday through Sunday from 9 am to 3 pm and Friday until 7, and can also make gluten-free crêpes. ♦