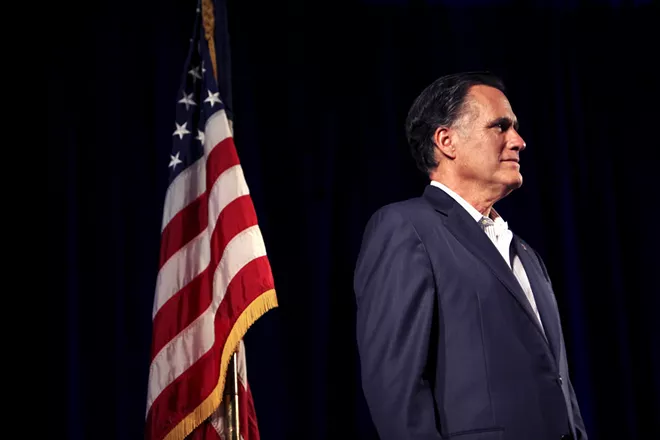 By Sarah Mervosh
New York Times News Service
M
itt Romney
, the incoming senator from Utah and former Republican presidential nominee, revived his rivalry with President Donald Trump on Tuesday with an op-ed essay in The Washington Post in which he said Trump "has not risen to the mantle of the office."
Days before joining a Republican-controlled Senate, and as the 2020 presidential race begins to take form, Romney issued a pointed critique of the president's character.
"With the nation so divided, resentful and angry, presidential leadership in qualities of character is indispensable," he wrote ahead of his swearing-in Thursday. "And it is in this province where the incumbent's shortfall has been most glaring."
The piece set off widespread speculation online, with some suggesting that Romney aimed to position himself as "the new Jeff Flake," the departing Republican senator from Arizona who tangled with Trump.
Or, others asked, was Romney, a two-time presidential hopeful, signaling he might challenge the president in the 2020 Republican primary election?
Brad Parscale, the campaign manager for Trump's 2020 re-election bid, fired back at Romney, saying in a tweet Tuesday night that Trump had "saved" the country while the senator-elect could not.
"Jealousy is a drink best served warm and Romney just proved it," he said. "So sad."
Romney and Trump have long had a complicated political relationship.
Trump has called Romney "irrelevant" and once bragged that he was a more successful businessman. "I mean, my net worth is many, many, many times Mitt Romney," he said in 2011.
When Trump was running for president in 2016, Romney called him a "phony" and a "fraud." In 2017 he excoriated the president after the deadly white supremacist rally in Charlottesville, Virginia, for causing "racists to rejoice" and "minorities to weep."
But Trump backed Romney's 2012 run for president, an endorsement that the nominee said meant a "great deal."
The two tried to play nice during an awkward dinner in late 2016, when it was thought Romney could be a candidate for secretary of state in the Trump administration. Last year, Trump supported Romney's campaign to become Utah's junior senator.