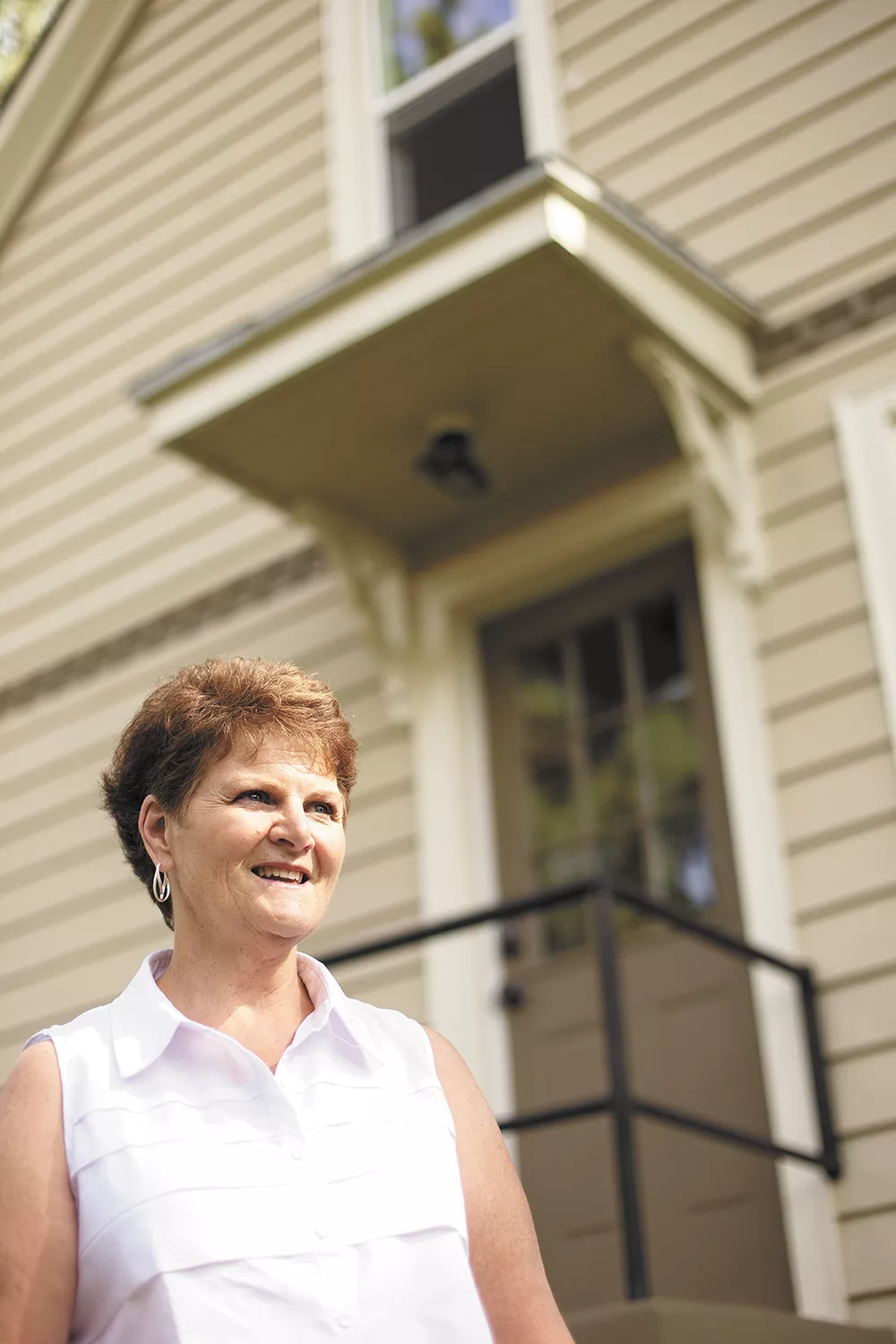 Under tall pine trees in a quiet South Hill neighborhood, Mari-Pat and Steve Corrigan are inviting strangers into their home. Through an entrance on the side of the house and down a narrow stairway, they're welcome to make themselves comfortable. Netflix and Wi-Fi are available, and a map dotted with pushpins directs guests to Huckleberry's and the Rocket Bakery.
"If you go to Spokane and stay downtown, you get Starbucks and chain restaurants," Mari-Pat says. Instead, spaces like this two-bedroom apartment allow visitors to "come into your family and your neighborhood and see what Spokane looks like from a neighborhood perspective."
Spooled inside that sentiment are many of the threads of the controversy surrounding rentals like this spot offered on Airbnb, one of the most popular websites allowing people to rent out rooms or houses to visitors. Their appeal — that they feel like home because they are in someone's home — is also their potential downfall. If money changes hands, should rentals like this be considered a business? Once a home becomes a business, does it demand more regulation? Does it change the identity of the neighborhood around it?
This spring, after Spokane's code enforcement department warned Airbnb hosts they could be breaking the law, the city put a halt to any further action while it convened a group to discuss how they should be regulated. Now that group is nearing the time it had planned to take the discussion public, and major questions still remain.
While Airbnb hosts say they're willing to pay taxes, they say other regulations could cause them to shut down. Most notably, state building codes require buildings rented for less than 30 days at a time to be equipped with fire sprinklers, and federal law requires them to be accessible for those with disabilities. (The sprinkler requirements aren't in place for homes rented by the month because longer-term residents should be more familiar with how to get out of the building in the case of an emergency.)
Meanwhile, in another so-called "sharing economy" upheaval, Spokane City Council President Ben Stuckart is looking at ways to relax regulations for taxi drivers in order to allow fast-growing startups Uber and Lyft, which allow people to offer and find rides through a smartphone app, into the local market. His proposal would require Uber and Lyft to pay the city 10 cents per ride, but would exempt drivers from getting the city business licenses taxi drivers must have.
"We're not able to do as much [for Airbnb] at all," Stuckart says. "Our hands are pretty tied."
Plenty of trends and fights come to Spokane late, but this is not one of them. Across the globe, local governments are scrambling to regulate new peer-to-peer services, with ride-sharing and room-renting among the most popular. Amid concerns about regulations, competition and decreasing access to affordable housing, governments from New York to San Francisco have warned Airbnb hosts they're likely breaking local laws.
In New York, officials and Airbnb have clashed over a state law barring people from renting out their apartments for less than 30 days. Airbnb has now given the state some anonymized host data and begun warning hosts they may be breaking state law if they rent in New York. San Francisco, where Airbnb got its start, has also begun enforcing its ban on short-term rentals operating without a special permit.
In the Northwest, Seattle hasn't yet taken on short-term rentals directly, but recently put a cap on how many Uber and Lyft drivers could operate there. The city council then backtracked and crafted regulations that allow them to operate. In Portland, regulators are cozying up to short-term rentals as the city's taxi board blocks Uber and Lyft. The city council looks poised to pass new rules legalizing and taxing Airbnb rentals in Portland's houses (the mayor reportedly wants to include apartments and condos too).
The argument over both short-term rentals and ride-sharing services focuses on creating a "level playing field." As a taxi company owner told the Inlander in May for a story about Uber and Lyft: "If I didn't have to pay all these fees, I could do it for a dollar a mile too."
"We put a lot of money into things like fire alarms, sprinkler systems, exit signs, emergency lighting," says Spokane Hotel Motel Association President Travis Tramp. "Currently none of these people have gone through any of that. They're not getting inspected by the health or fire department."
While Airbnb hosts argue they're offering a different type of service, a search of Airbnb and another popular site, Vacation Rentals By Owner, returns about 85 offerings in the Spokane area.
"That's a small hotel we're competing with, basically," Tramp says.
City Councilman Jon Snyder has called it "sprinkler creep," impacting more and more people.
The code in question — requiring fire sprinklers in buildings rented for less than 30 days — was added in 2012 and adopted last year, and has some local leaders worried about an unreasonable burden on homeowners and builders. Yet when the state received a proposal to remove the rule last year, nobody showed up to support the move during public testimony, says Dave Kokot, a fire protection engineer with the Spokane Fire Department and a member of the state council that sets building codes. The discussion over how to regulate short-term rentals will continue, with zoning changes likely to come up for a council vote later this year, but a change to state sprinkler code could require a multi-year process.
"Once a life-safety system is in the codes, it's usually very difficult to pull it out," Kokot says.
Since discussions started, local Airbnb hosts have held out hope that the city would find some flexibility in how it enforces these requirements. That now appears unlikely.
Jan Quintrall, head of the city's Business & Developer Services Division, says the city can work with Airbnb renters on how much time they have before installing sprinkler systems and elements to comply with the Americans with Disabilities Act, but can't waive the requirements altogether.
"ADA is a federal law and fire suppression is a state law," she says. "Our hands are always tied with federal and state law."
The costs of installing sprinkler systems can vary based on factors like the age and size of the house, but can start at $5,000 to $10,000. Quintrall says the city knows "people can't just flip a switch and come up with this money.
"But we can allow them to phase in," she says. "We need to sit down ... and talk about how can we phase this in and what looks like a reasonable phase-in. We haven't gotten there yet."
Local Airbnb hosts say that's not enough, and some may close by the end of the year.
"It's just not something that can happen," says Mari-Pat Corrigan. "Why are we even sitting at the table anymore?" ♦