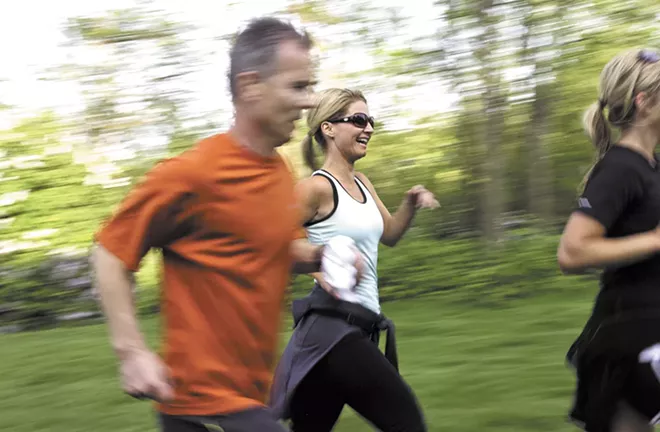 Bloomsday Road Runners Club The Bloomsday Road Runners club goes far beyond the annual 12k. They organize multiple races and weekly trail runs, all focused on long-distance walking and running. Check out their website for an extensive schedule of events updated each week. Annual membership is $20. • brrc.net
C:/NextIT/Run Meet this "fitness fun group" at Monterey Café every Tuesday at 5:45 p.m. between March and Thanksgiving for a 4.5-mile run. Sponsored by local company Next IT, the group has a tech theme. If you don't stay for the camaraderie, you'll probably stick around to collect the coveted group T-shirts after your fifth, 37th, 67th, 101st and 139th runs. Spokane. Find them on Facebook.
Fleet Feet Sports The local Fleet Feet shops don't just sell gear; they also offer a racing club and a variety of training groups for 5k, 10k, distance and trail running for a reasonable price. 511 Sherman Ave. Coeur d'Alene, Idaho • 208-765-7604 • fleetfeetcda.com • 1303 N. Washington St. Spokane, Wash. • 328-4786 • fleetfeetspokane.com • 13910 E. Indiana Ave. Spokane Valley, Wash. • 309-2174
Flightless Birds The FBRC meets at Zentropa Pizzeria and Pub in Cheney every Tuesday from April to November for a 3-to-4-mile jaunt. Runs are typically at 5:45 pm, with later meeting times to beat the heat in July and August. The group encourages everyone to "run, walk or crawl" at their own pace and stick around for post-run grub and drinks. After your eighth run, you can purchase a club T-shirt, but be prepared to share trivia about flightless birds before being "shirted!" Cheney, Wash. • facebook.com/FlightlessBirdsRunningClub
Flying Irish Running Club What started as an average running club for average Spokane runners has evolved into the largest social running club in the nation. But don't be intimidated; it's still all about having fun, meeting new people and living an active lifestyle. Meet the Flying Irish at 5:45 pm at Ripples Riverside Grill every Thursday, March through November. • flyingirish.org
Lantern Tap House Run Club To keep with the restaurant-based running club trend, join the Lantern Tap House Running Club on most Tuesdays and Fridays at 6 pm and choose either a "3-ish" or "5-ish" mile run, then stay for a pint. Extra runs are posted on the restaurant's Facebook page regularly. 1004 S. Perry St.
Liberty Lake Running Club Liberty Lake folks can meet the LLRC at Twisp Cafe on Thursdays at 6 pm for a 3-mile run or walk. Weekly runs occur March through October, with a few extra themed runs each month, like crazy sock runs, a strolling storytime for the kiddos, and a Halloween run. Complete six runs and earn a nifty T-shirt. Liberty Lake, Wash. Find them on Facebook.
Manito Running Club Intermediate and advanced runners meet at the 18th & Grand parking lot at Manito Park on Saturdays at 8 am for a 5-to-6-mile run, followed by coffee and socializing at Rockwood Bakery. You'll find the group running rain or shine — they only skip weeks when there are races during their meeting time. manitorun.net
Palouse Falls Beer Chasers If you're in the Palouse area and you like beer, join this group every Wednesday at 5:30 pm at Birch & Barley Restaurant in Pullman. They jog, bike and/or walk for a solid 30 minutes before enjoying beer and food specials. People of all fitness and beer-drinking levels are welcome. Pullman, Wash. • beerchasers.blogspot.com
Palouse Road Runners Club If you're in the Palouse area and you're looking for a slightly more intense jaunt, meet up with this group for a mix of long distance runs, speed work and mountain trail workouts. Annual membership is $15 and includes discounts at a few local running shops and on PRR race entry fees. Moscow/Pullman, Wash. • palouseroadrunners.org
SoHi Running Club This casual South Hill (SoHi) running club meets every Tuesday of the year at 6 pm for a 3-to-5-mile run followed by food and drinks at Hugo's on the Hill. facebook.com/SoHiRunningClub
Spokane Distance Project This men's group is for serious runners who are looking for a solid support system while they train They're a speedy bunch, with Bloomsday times maxing out at 50 minutes. Dues are $50 twice a year and include "buckets of camaraderie" and membership in the USA Track and Field organization. spokanedistanceproject.com
Spokane Swifts Running Team The Spokane Swifts is a group for Inland Northwest women who love running and want to increase their speed and endurance in the company of other women. Serious runners of all ages are welcome; the current team consists of women ranging in age from 20 to 60. Annual dues are $75. • spokaneswifts.com