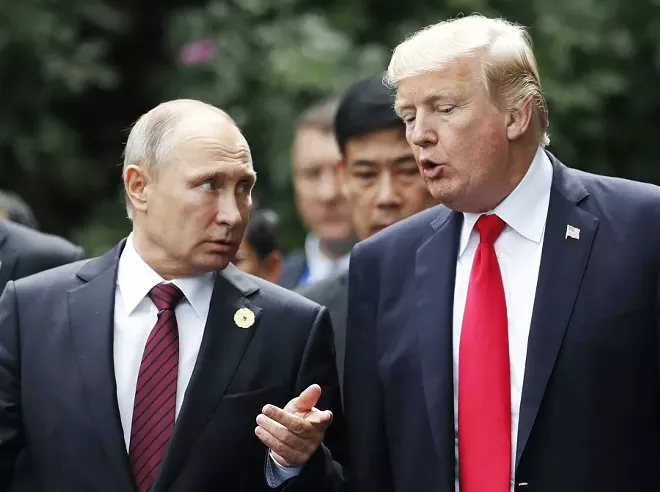 By ANDREW E. KRAMER
© 2017 New York Times News Service
Russia's Parliament approved legislation Wednesday that could require foreign media organizations operating in Russia to label news they produce as the work of a foreign agent, the latest step in the unraveling of relations since the United States accused Russia of meddling in the 2016 presidential election.

The measure will become law if passed by the Russian Senate and signed by President Vladimir Putin. Over the weekend, however, Putin expressed some doubts, saying the rule may go too far.
The proposed new regulation is evidently intended as retaliation for reporting requirements imposed by the Department of Justice on the U.S. affiliate of RT, the Russian state-run TV news outlet that U.S. intelligence agencies say is a propaganda tool of the Kremlin.
Last week, acting in accordance with the Foreign Agents Registration Act, a 1938 law that was aimed at Nazi propaganda organs, the Justice Department required RT to identify itself as a foreign agent. Under that law, foreign agents are required to file reports on the sources of their funding and on all activities intended to influence a lawmaker or other government representative. It is not clear what that would mean for RT's reporters.
The law is typically applied today to lobbyists representing foreign governments or state-owned companies, though some foreign state-run news outlets have been required to register. Pressure to take action against RT mounted after U.S. intelligence agencies accused it of playing a role in what they say was a Kremlin-directed campaign to discredit Hillary Clinton and elect President Donald Trump in 2016.
The proposed Russian law appears far broader in its potential application, covering all foreign media organizations, not only state-run outlets. That has news organizations scrambling to see how it would affect their operations, and Russian rights groups fearful of another crackdown on freedom of speech.
Russian officials, who fiercely condemned the registration requirement for RT, said they took the retaliatory measure reluctantly. "We didn't want to pass this law," said Pyotr Tolstoy, the deputy speaker of Parliament. "This is a law that might not have existed. In Russia, we never took measures limiting freedom of speech in any of its forms."
Though presented as reply to the United States' demand that RT register, the rule could affect all foreign news media, not just U.S. organizations.