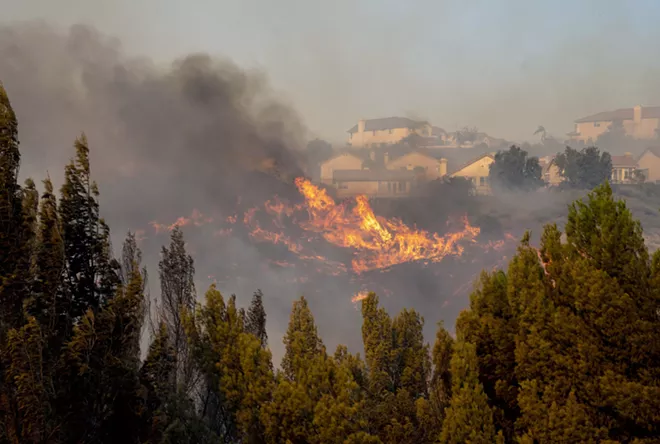 By Nicholas Bogel-Burroughs
The New York Times Company
A
fire tore through Southern California overnight into Friday
, forcing mandatory evacuations for more than 100,000 people and setting dozens of homes ablaze, just as power was being restored to hundreds of thousands of Northern Californians.
The Saddleridge fire was burning more than 4,700 acres in northwest Los Angeles as of Friday morning and was zero percent contained, according to Ralph Terrazas, the city's fire chief. Strong winds were pushing the fire north toward Santa Clarita, and Terrazas said the blaze was growing by 800 acres an hour.
More than 23,000 homes lay in the mandatory evacuation zones, which stretched to the border of Ventura County. Los Angeles shut down about 10 schools, and two shelters, in Granada Hills and in Chatsworth, had filled to capacity by Friday morning. Video aired by local television stations showed flames being blown along rooftops in Porter Ranch, a neighborhood that sits about 10 miles from the fire's origin and which Terrazas said was one of the hardest-hit areas.
One man in his 50s had died of cardiac arrest while he was speaking to firefighters, Terrazas said. Firefighters had tried to resuscitate the man, Terrazas said, but he died at a nearby hospital. Separately, a firefighter had gone to the hospital for treatment of a minor eye injury, but no other injuries had been reported.
Chief Michel Moore of the Los Angeles Police Department said some people in the evacuation zones had put lives in danger by staying at home and trying to fend off the fire with garden hoses, which he said stood no chance against the fast-moving flames.
The fire began about 9 p.m. Thursday near Interstate 210 in Sylmar at the northernmost edge of Los Angeles, where someone called 911 to report a brush fire. By Friday morning, more than 1,000 firefighters were trying to curb the blaze, which was fueled by high winds and low humidity.
Fire officials said at least 25 homes were already destroyed, and they feared the gusts would not let up.
About 312,000 customers in Northern California remained without power Friday morning, less than half of the roughly 738,000 customers whose electricity had been shut off by Pacific Gas and Electric, the state's largest utility, this week to prevent wildfires. Fire officials are not yet sure how the Saddleridge fire began.